M.B.A., Management Degree
A graduate degree for today's global marketplace
Built on a proud tradition of helping to prepare students for successful careers, Berkeley College offers the Master of Business Administration (M.B.A.) degree program in Management through the School of Graduate Studies. The intensive, highly selective program delivers an advanced level of education that continues Berkeley's commitment to providing academic excellence and practical knowledge based on current professional demands. 
Student Testimonial
"I'm learning a lot – not only from my professors, but from the students. It helps that we get to share our work experiences, and connect them with the subject of the day. My professors are well prepared - they have been all over the world."
-Luciana Quinones, Master of Business Administration (M.B.A.) Student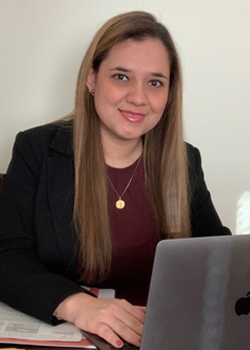 The Berkeley M.B.A. emphasizes
Knowledge to guide effective action
Communication in professional contexts
Information for planning and stewardship in the contemporary business environment
Practical skills for the professional workplace 
Master of Business Administration (M.B.A.) in Management
Not all programs are offered for completion at each campus or through Berkeley College Online®. Please review the academic program pages (https://berkeleycollege.edu/academics.htm) for information on where each program is offered. Additionally, all students may be required to take some courses at another campus or online. The Career Development and Internship courses are only offered online.
This program is offered in: Woodland Park, Online
Course Requirements
FOUNDATION COURSES
MBA5510 Business Statistics
3 Credits
This course covers the fundamental applications of statistics in business analyses and decision-making. It focuses on the theory and application of many of the commonly used quantitative methods in business, with emphasis on understanding and defining business problems, selecting appropriate quantitative problem-solving methodologies, and in quantifying the level of uncertainty and risk in statistical estimation and forecasting. The course will cover data analysis, both descriptive and inferential; forecasting using time series data; and estimation utilizing sampling distributions and linear regression systems.
MBA5515 Management and Organizations
3 Credits
This course explores the nature and scope of the business organization, examines its individual components, and describes how the parts synergistically fit together into a whole. It focuses on the basic roles, skills, and functions of management, with special attention to managerial responsibility for effectively and efficiently achieving organizational goals by working with people and other organizational resources. Emphasis will be placed on the managerial functions of planning, organizing, leading, and controlling the modern business concern.
MBA5520 Macroeconomics
3 Credits
This course provides students with the analytical skills and factual knowledge necessary to deal critically with the broad economic and financial policy issues confronting an open economy. We will explore economic theories that attempt to explain economic growth, business cycles, inflation, and unemployment within the context of an integrated and complex global economy. Additionally, we will draw upon current and historical economic events and explore the questions: How does an economy drive growth? Is such growth sustainable? Does inflation always accompany rapid growth? What are the choices confronting economic policymakers during the various phases of the business cycles?
MBA5525 Principles of Financial Management
3 Credits
This course is designed to develop a basic understanding of the fundamental principles of financial management, including financial theories and financial management practices. The course familiarizes students with the financial organization and operation of a business, including financial analysis, planning and control, budgeting and forecasting, and short- and long-term financing of the business entity.
MBA5530 Foundations in Marketing
3 Credits
Designed to introduce students to the functional area of marketing, this course will emphasize key concepts and tasks such as market research, consumer behavior, positioning, and branding, along with aspects of the marketing mix, including product/service, price, place, and promotion. Students will gain a foundational understanding of the marketing process, including the internal and external factors that influence it, and learn how to generate sound strategies that deliver customer and company value.
MBA5535 Introduction to Financial and Managerial Accounting
3 Credits
The course covers the basic financial accounting elements, definitions, and statements. Students learn how to read and understand financial statements and how to use them in making financial business decisions. The course also introduces students to the uses of accounting information for management planning and controlling, budget preparation, and the evaluation of cost behavior. Students learn how to prepare and interpret cash flow statements.
CORE COURSES
MBA6610 Operations Management
3 Credits
This course focuses on the business processes, procedures, and strategies used to transform various inputs into finished goods and services. The course consists of two main components: a body of knowledge component that is disseminated through the text and lecture material, and a critical thinking component that is acquired through case analysis, discussion, and project work. This course is designed for an intensive study of the strategy, design, and operation of productive systems. The course will use case methodology to study operations strategy, design and delivery, quality management, and operations planning and control.
Prerequisite: All foundation courses or approval of the Dean of the School of Graduate Studies
MBA6615 Organizational Behavior and Leadership
3 Credits
This course is designed to address how leadership impacts behavior in organizations and integrates the significant approaches to leadership, management theory, and organization behavior to shape organizational behavior and enhance organizational effectiveness. The focus is on understanding and influencing individual and group behavior, and aligning people behind a common vision or direction.
Prerequisite: All foundation courses or approval of the Dean of the School of Graduate Studies
MBA6620 Managerial Economics for Business Decision-Making
3 Credits
This course explores models of decision-making and the application of both micro and macroeconomic principles to business decision-making. The course has two parts: the first is focused on the study of markets and the application of marginal analysis and elasticity concepts to pricing, revenue, and profitability decisions. The second part is focused on relating general economic performance, government policies, and global market forces to the firm's business strategy, demand and supply forecasting, and valuation of economic risks.
Prerequisite: All foundation courses or approval of the Dean of the School of Graduate Studies
MBA6625 Managerial Finance
3 Credits
Even when actions or decisions are not motivated by financial considerations, financial measures such as earnings per share, return on equity, and the debt-to-equity ratio have become the yardsticks by which business performance is measured. Through the extensive use of cases, the course will provide a conceptual foundation for analyzing a firm's financial decisions and require students to make financial decisions in uncertain, real-world situations. It emphasizes modern finance theory and analytical tools, and uses them to analyze selected financial issues of the firm.
Prerequisite: All foundation courses or approval of the Dean of the School of Graduate Studies
MBA6630 Marketing Strategy in a Global Context
3 Credits
Extending the traditional marketing mix (product, price, place, promotion) to respond to global and technological opportunities and challenges, this course takes an innovative approach to the marketing function by developing strategic thinking along two lines – customer satisfaction and profitability. Through market analysis and research, students will develop a consumer mindset fundamental in the generation of successful segmentation, positioning, new product, and overall branding strategies. Through marketing analytics, students will develop a marketing return on investment mindset and learn how to evaluate the profitability of strategic options.
Prerequisite: All foundation courses or approval of the Dean of the School of Graduate Studies
MBA6635 Strategic Management of Technology
3 Credits
This course focuses on technology as a strategic weapon to enhance a business organization's competitive advantage in the marketplace. Students will investigate frameworks for assessing a firm's technological capabilities and capacity for innovation; explore the integration of technology with corporate and business strategy; evaluate technology as a means to drive change and knowledge diffusion throughout the organization; and probe how technology is used to control and manage a broad range of organizational functions and activities. Prerequisite: All foundation courses or approval of the Dean of the School of Graduate Studies 
ADVANCED CORE COURSES
MBA7710 Globalization: Analysis and Response
3 Credits
Recognizing the reality that business is quickly transcending geographic borders, this survey course defines the factors of globalization and describes the unique environment within which managers must plan and make decisions. The class will explore contemporary trends in global management (such as outsourcing and offshoring), along with broader political, economic, and financial factors that come to bear on strategic choices. Students will not only gain an understanding of these factors, but will also learn how to best anticipate and respond to global challenges.
Prerequisite: All core and elective courses or approval of the Dean of the School of Graduate Studies
MBA7715 Corporate Governance and Business Ethics
3 Credits
This course reviews the role of business in society, stakeholder relations, corporate responsibility, and corporate governance best practices. The course explores issues of the separation of ownership and control (owners vs. managers), shareholder advocacy, models of corporate governance, international corporate governance, and corporate social responsibility. It includes an intense study of how individual businesspeople express their values, leadership skills, and ethics through their business conduct – "Giving Voice to Values" – while practicing their profession. It adopts an integrative approach seeking to synthesize work learned in the M.B.A. foundation and core courses through the use of case studies.
Prerequisite: All core and elective courses or approval of the Dean of the School of Graduate Studies
MBA8810 M.B.A. Capstone
3 Credits 
Strategic management is concerned with managing the overall direction of organizations in an effort to develop insight into how firms achieve sustainable competitive advantage. The M.B.A. Capstone is an integrative course designed to capitalize on student knowledge of finance, organizational behavior, marketing, and other functional disciplines. This course encourages students to develop strategic insights through detailed analysis of external and internal environments, explores the role of strategic leadership in developing core values and assets that guide corporations in dynamic competitive markets, and introduces contemporary models and case analyses to build the student's understanding of successful strategic decision-making.
Prerequisites: MBA7710, MBA7715, or approval of the Dean of the School of Graduate Studies
ELECTIVES (Two Courses)
MBA6640 Compensation and Employee Benefits
3 Credits
This course focuses on how managers can design compensation and benefit programs to attract, retain, and motivate qualified employees. We will examine the context of compensation practice, the criteria used to compensate employees, compensation system design issues, employee benefits, and contemporary challenges faced by human resource managers. The concept of using compensation as an effective competitive tool to attract the highestperforming human resources will be an underlying theme in the course. The course will also maintain a global focus on how common compensation and benefits policies vary around the world.
Prerequisites: All foundation courses or approval of the Dean of the School of Graduate Studies
MBA6641 Employee Recruitment and Selection
3 Credits
This course is designed for students who desire to understand and master the intricacies associated with the recruitment and selection of human resources. Concepts addressed include staffing plans, recruitment and selection theories and practices, validity and reliability in testing, legal and regulatory factors affecting selection practices, making employment offers, and practices to ensure equal employment opportunity and affirmative action. The role of employee recruitment and selection in achieving competitive advantage is thoroughly discussed.
Prerequisites: All foundation courses or approval of the Dean of the School of Graduate Studies
MBA6660 Financial Markets and Institutions
3 Credits
This course focuses on the role of financial institutions and markets in a changing global economy. Students will study the structure and operation of various financial institutions and their influence on liquidity and the availability of long-term capital. Students will also study the structure and functions of global financial markets.
Prerequisites: All foundation courses or approval of the Dean of the School of Graduate Studies
MBA6661 Managing in the Governmental and Non-profit Sectors
3 Credits
In this course we will explore the unique leadership skills, organizational attributes, environmental constraints, accountability, and ethical demands of working in the governmental and non-profit sectors. The trillion-dollar nonprofit sector includes education, research, healthcare, art, culture, religion, communications, social welfare and services, advocacy, legal services, international assistance, foundations, and professional and trade associations. Students will be challenged to assess their own theories of non-profit accountability and excellence while confronting critical issues facing the sector. Students will also explore the situational dynamics of working directly for government from the perspectives of accountability, public policy analysis techniques, intergovernmental relations, and leadership in conducting the people's business.
Prerequisites: All foundation courses or approval of the Dean of the School of Graduate Studies
MBA6662 Project Management
3 Credits
Projects are major undertakings that have a limited duration and a finite completion point. As such, they require a unique approach to management and administration. This course covers designing, managing, and monitoring projects in organizations. The outcome of the course is an enhanced ability to identify requirements, necessary resources, and potential problems encountered while planning a project; to learn techniques designed to monitor projects; and best practices in keeping projects on time and within budget. The course examines the simultaneous management of multiple projects by an individual and the strategic orientation of senior management toward an organization's portfolio of ongoing and potential projects.
Prerequisites: All foundation courses or approval of the Dean of the School of Graduate Studies
MBA6663 Entrepreneurship
3 Credits
This course explores the theoretical and practical aspects of conceptualizing, planning, and beginning a small business. Students engage in readings, assignments, and cases that aid in understanding the importance of human, financial, and technical factors in successful business start-up. These elements are addressed with the aims of marketplace survival and growth. Development of a viable business plan is the centerpiece for understanding the difficult and complex challenges faced by the aspiring business owner. Students are expected to conduct robust research, analyses, and planning, and be able to present their ideas concretely and convincingly.
Prerequisites: All foundation courses or approval of the Dean of the School of Graduate Studies
MBA6664 Negotiation and Conflict Management
3 Credits
This course links both the science and art of negotiation and conflict resolution, but it is more art than science. It will give you the opportunity to identify your strengths as a negotiator and work on your relative weaknesses. More fundamentally, the course will provide both a conceptual framework to diagnose problems and promote agreement in a range of settings in your professional and personal life.
Prerequisites: All foundation courses or approval of the Dean of the School of Graduate Studies
Practicums: Students are required to add one credit to any three core or advanced core courses by completing a practicum. The assignment will require students to apply the concepts learned in their coursework to actual work experience