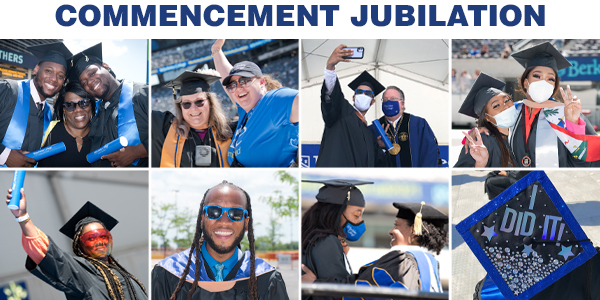 Berkeley College Grads Are Defined by "Guts and Greatness," Says U.S. Senator Cory Booker

Berkeley College celebrated more than 1,800 graduates at the in-person Commencement ceremony on Thursday, May 27, 2021, at MetLife Stadium in East Rutherford, NJ. The story of Berkeley College graduates is the story of families, immigrants, veterans, entrepreneurs and healthcare heroes who represent the rich diversity and resilience of students persisting during a difficult year. "Through all the challenges of the last year you have persevered," said Michael J. Smith, President of Berkeley College. "I am very proud of each of you for your determination during this time." Morning and afternoon sessions recognized certificate, Associate's, Bachelor's and Master's degree graduates from August 2019 through April 2021, giving those who could only celebrate their achievement virtually in 2020 a chance to finally walk across the graduation stage.
Double Sets of Twins, Quadruple the Pride
Commencement was an especially meaningful day for two sets of twins who relied on one another and the support of Berkeley College faculty and staff to make it to the graduation stage.
Mission Statement
Berkeley College empowers students to achieve lifelong success in dynamic careers.



Berkeley College reserves the right to add, discontinue, or modify its programs and policies at any time. Modifications subsequent to the original publication of this information may not be reflected here. For the most up-to-date information, please visit BerkeleyCollege.edu.
Copyright © 2023 Berkeley College