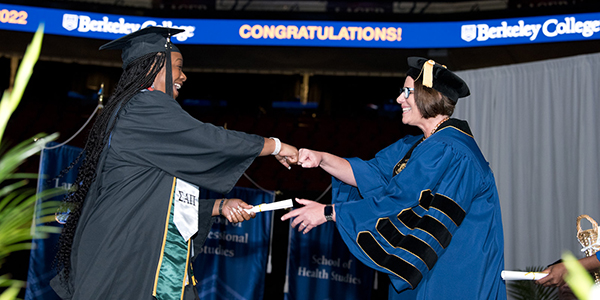 'DREAMS DO NOT COME EASY':

Berkeley College celebrated more than 1,400 graduates who persevered through the COVID-19 pandemic to earn diplomas, during a Commencement ceremony on Friday, May 13, 2022, at Prudential Center in Newark, NJ. The graduating class included 116 military and veteran graduates, 73 international students from 30 countries, 104 students earning Master of Business Administration degrees, future healthcare heroes and many first-generation college graduates who reflect perseverance and resilience as they step toward brighter, more equitable futures.
Upcoming Events

MAY 26

LPN to BSN Seminar

6:30 PM




Virtual

JUN 08

Business and IT Career Seminar

6:30 PM




Virtual

JUN 22

Master of Science in Nursing Open House

6:00 PM




Woodland Park, NJ

JUN 28

Diversity, Equity and Inclusion Webinar

6:00 PM




Virtual
Mission Statement
Berkeley College empowers students to achieve lifelong success in dynamic careers.



Berkeley College reserves the right to add, discontinue, or modify its programs and policies at any time. Modifications subsequent to the original publication of this information may not be reflected here. For the most up-to-date information, please visit BerkeleyCollege.edu.
Copyright © 2023 Berkeley College