Interior Design Programs Online and On Campus
Interior Design Associate in Applied Science Degree (A.A.S.)
Interior Design Bachelor of Fine Arts Degree (B.F.A.)
Interior Design Certificate Program
Learn to create the environments where we live and work.
As you prepare to enter the industry in a range of roles, you'll learn the creative and technical skills from experienced professionals who share their firsthand knowledge. Our graduates pursue careers in creative positions, as residential or commercial interior designers, exhibit designers, designers in architectural firms, and more.
In a curriculum developed with input from industry experts, you'll:
Explore design fundamentals, theory, visual communication, culture, and history
Work on projects exploring all aspects of design through sketching, drafting, and color composition
Learn modern computer-aided design using current design industry software, such as AutoCAD, Revit, SketchUp Pro, Rhino, and rendering with V-Ray
The art and technique of creating functional and aesthetic environments for living and working.
Interior Design degree programs at Berkeley College focus on the creative and technical aspects of this exciting industry. Graduates are prepared with the necessary skills and practical knowledge to enter the industry in a range of roles. The B.F.A. in Interior Design is accredited by CIDA (Council for Interior Design Accreditation).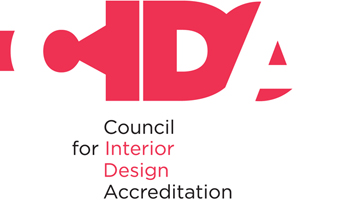 Berkeley's Interior Design degree and certificate programs are offered at the following locations:
Woodland Park

Certificate program
A.A.S. in Interior Design degree
B.F.A. in Interior Design degree accredited by CIDA (Council for Interior Design Accreditation)

Berkeley College Online®

Certificate program
A.A.S. in Interior Design degree
B.F.A. in Interior Design degree
Testimonial
"The classes I took at Berkeley challenged me to think outside of my comfort zone. The professors were very nurturing and instilled confidence in myself and my work. I graduated with the tools that I needed to be confident in starting my own business and I use those tools every day in my practice."
-Terri Fiori, Berkeley College Alumnus – Interior Design, 2001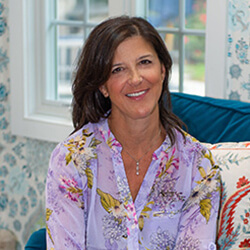 Here's what sets the Berkeley Interior Design program apart:
You'll learn in small classes with personal attention from instructors with real-world design experience
You'll be prepared for a wider range of career opportunities than many programs because of the rich and diversified curriculum and the professional experience of the faculty
You'll have access to current technology used by design professionals
An emphasis on critical thinking and creative problem solving
You'll have opportunities for field trips, guest lectures, and other design-related events
You may have the opportunity to participate in an internship or job-related assignment for a valuable learning experience
You'll have exceptional networking opportunities through faculty and alumni connections
Lauren DiGenova
Interior Design Alumna
Berkeley College Interior Design Team Transform the Ultimate NY Jets Fan Cave
Bachelor of Fine Arts Student Achievement Data
Berkeley College collects and publishes the following information in connection with its accreditation with the Council for Interior Design Accreditation (CIDA). A full-time student taking 15 credits or more each semester could complete the Interior Design B.F.A. program in four academic years or less. An academic year is comprised of two semesters. A part-time student taking nine credits each semester could complete the program in seven academic years or less. The following data was collected using institutional records and by Career Services outreach 6 months after a student completed his/her degree.
Note: Berkeley College is required to disclose program length, retention rates, graduation rates, and employment rates in accordance with federal disclosure requirements. The following data was calculated in accordance with CIDA rules, and may differ from the data used in federal disclosures.
Student Attrition and Retention
53% of students admitted in the fall of 2020 returned in the fall of 2021, putting attrition at 47%.
Completion Rate:
Of the students who completed the B.F.A. program between January 1, 2021 and December 31, 2021, 94% did so in 4 years or less. This rate includes first-time and transfer students. This rate is separate from and differs from the graduation rate used in federal disclosures.
Acceptance into Graduate Programs:
One out of 17 students (5.8%) who completed the B.F.A. program between September 1, 2021, and August 31, 2021, applied to graduate school. The graduate was accepted to the Masters in Art, Historical and Sustainable Architecture graduate program; 16 students did not apply.
Employment Rates:
84.6% of students who completed the program between September 1, 2020, and August 31, 2021, are employed in interior design or a related profession. 5.8% or one graduate is working in a field not related to Interior Design. 5.8% or one student is currently not employed.
Employment rates of graduates are calculated based on communications between graduates and Career Services staff. Those percentages include all graduates who were employed in a full-time, part-time, contract, and/or per diem position within 180 days after graduation. The numbers include graduates who have found employment through direct referrals provided by Career Services; students whose Berkeley College internships have led to full-time, part-time, contract, and/or per diem employment; students who have found employment on their own, including many who have benefited from coaching and resumé assistance offered by Career Services; and students who have remained in positions they held prior to enrolling at and/or while attending Berkeley.
Graduates who decline placement assistance from the College and those who cannot be contacted or choose not to provide information are not reflected in the calculations. Reasons for declining placement assistance may include a lack of U.S. work authorization for international students, relocation, continuing education, military service, and medical or other personal issues and preferences.
Interior Design Bachelor of Fine Arts Degree (B.F.A.)
The Interior Design program leading to the Bachelor of Fine Arts degree is accredited by the Council for Interior Design Accreditation, https://www.accredit-id.org/, 206 Grandville Avenue, Suite 350, Grand Rapids, MI, 49503.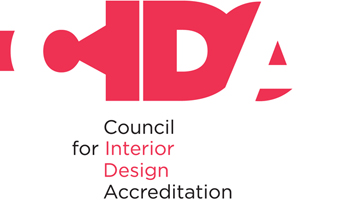 The CIDA-accredited program prepares students for entry-level interior design practice, for advanced study, and to apply for membership in professional interior design organizations. The B.F.A. in Interior Design granted by Berkeley College meets the educational requirements for eligibility to sit for the National Council for Interior Design Qualification Examination (NCIDQ Exam). For more information about NCIDQ Exam eligibility visit:
https://www.cidq.org/eligibility-requirements
.
You'll find additional information in our catalog, including the different degrees offered, descriptions of the courses you'll take, the department faculty, and much more. You can always live chat or contact us with questions.
Still have questions? Visit our Live Chat to speak with a representative.