Financial Services
Berkeley College has received specialized accreditation for its business programs through the International Accreditation Council for Business Education (IACBE) located at 11374 Strang Line Road in Lenexa, Kansas, USA. A.A.S., Financial Services and B.B.A., Financial Services are accredited by IACBE.

Student Testimonial
"I love the diverse environment at Berkeley. Building a social life in college is essential. I attend study sessions with my peers and participate in activities sponsored by the College. The whole experience has strengthened my self-drive."
-Alexandria Kallan, Financial Services Student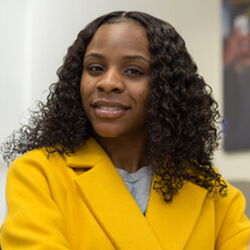 The Berkeley College Financial Services program can prepare you to help others invest in a better future.
The Financial Services program at Berkeley College is designed to prepare you for a range of career opportunities. Upon completion, you may choose to pursue the Certified Financial Planner® (CFP) designation or a career in Corporate Finance, including opportunities in:
Banking
Insurance
Estate and retirement planning
Investment portfolio management
Other fields related to finance
The program is built on solid business education, career readiness, and preparation for professional certification exams. In response to current professional market demands, curricula have evolved to include more advanced training in analytics and technology to better prepare you for the workplace.
Participation in student chapters of professional associations, student clubs, and alumni interaction can help students make important industry connections.
Here's what sets the Berkeley Financial Services program apart:
You'll build a solid business core

with an emphasis on corporate and personal financial planning

Integrated courses cover concepts, basic theories, and fundamental practices in business, accounting, economics, finance, management, and marketing
You'll get hands-on instruction from instructors chosen for academic excellence as well as relevant professional experience
The baccalaureate program offers courses required by the CFP Board of Standards, Inc.™
You'll gain insights into investment and securities management with emphasis on current trends
You'll master the software used by financial service professionals
You may have the opportunity to participate in an internship or job-related assignment for a valuable learning experience
You can seamlessly transition between Associate's and Bachelor's degree programs
Potential Careers:
Graduates of the Financial Services program pursue positions in:
For more information regarding a degree in Financial Services or another program of study at Berkeley College, click here.
Program Locations: 
Financial Services Associate in Applied Science Degree (A.A.S.) is offered in: New York City, Online
Financial Services Bachelor of Business Administration Degree (B.B.A.) is offered in: New York City, Online
You'll find additional information in our Catalog, including the different degrees offered, descriptions of the courses you'll take, the department faculty, and much more. You can always live chat or contact us with questions.
Still have questions? Visit our Live Chat to speak with a representative.