General Business
Berkeley College has received specialized accreditation for its business programs through the International Accreditation Council for Business Education (IACBE) located at 11374 Strang Line Road in Lenexa, Kansas, USA. B.B.A., General Business is accredited by IACBE.

Student Testimonial
"Enroll, take the risk. For me it has been worth it. Berkeley is a very understanding school with a high level of education. The tutoring service makes it easier to do well."
-Taylor Peel, Business Student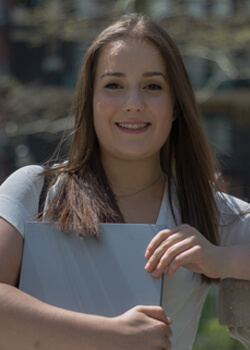 Gain a broad base of powerful business knowledge.
This flexible program allows students to study in a variety of business areas related to a range of employment opportunities. Courses expose students to various areas of business, including the principles of management, finance, business law, and marketing. Graduates gain the necessary skills for the competitive marketplace, yet also have the option of continuing their education or exploring different roles and industries.
Instructors are selected for excellent academic credentials as well as relevant professional experience. The result is a career-focused education that combines a background in business theory with practical know-how based on real-world situations.
For more information regarding a degree in General Business or another program of study at Berkeley College, click here.
Benefits of a Business Degree:
A well-rounded business curriculum that is ideal for students with transfer or prior learning credits
Understanding the workings of a competitive business marketplace
The opportunity to use critical-thinking and problem-solving skills and evaluate and apply legal and ethical principles in business settings
Hands-on experience with the current technology used in business
Valuable, practical experience through program-related, faculty-monitored internships or job-related assignments
An online B.B.A. option, which gives students the opportunity to take concentrated courses in 7-week intervals
General Business Bachelor of Business Administration Degree (B.B.A.)
Not all programs are offered for completion at each campus or through Berkeley College Online®. Please review the academic program pages for information on where each program is offered. Additionally, all students may be required to take some courses at another campus or online. The Career Development and Internship courses are only offered online.
This program is offered in: Brooklyn, New York City, White Plains, Newark, Paramus, Woodbridge, Woodland Park, Online
Course Requirements
MAJOR CORE COURSES
BUS4451 Business Strategy and Policy
3 Credits
Provides an overview of the most recent theories and the current practice in strategic management. Examines the development and implementation of strategies in various areas of business activity (finance, sourcing, production, human resource management, marketing, and international business).
Prerequisites: FIN3302, IBS2201, MGT2220, MKT2220
Business Electives- 27 Credits
BUSINESS CORE COURSES
ACC1111 Financial Accounting I
3 Credits
Introduces the basic structure of accounting terminology and procedures of a business organization. Students learn about recording and reporting functions, adjusting entries and closing entries, the preparation of financial statements, accounting for merchandising operations, valuation of inventories, purpose and significant features of internal controls, preparation of bank reconciliations and the valuation of receivables.
BUS2231 Business Law I
3 Credits
Provides students with detailed knowledge of the laws relating to contracts, commerce, property, sales, negotiable instruments, and employment. Students develop an awareness of business situations requiring legal counsel and a familiarization with the overall structure of the legal system.
BUS4483 Internship
3 Credits
Students work in a position related to their course of study while at the same time completing online course requirements – including focused online discussions and special online projects – that integrate the skills and knowledge learned through their degree program.
Prerequisite: Departmental permission
CIS1115 Computer Applications
3 Credits
Provides an introduction to computer technology with an emphasis on applications. Students learn to use software, such as Microsoft Windows, Word, PowerPoint, and Excel.
CIS2201 Advanced Spreadsheets
3 Credits
Provides students with experience using spreadsheet applications, such as Microsoft Excel. Topics include building complex worksheets; importing and exporting data; using mathematical, financial, and statistical functions; developing macros; consolidating spreadsheets; creating templates; and utilizing "what if" analyses.
Prerequisite: CIS1115
ECO2200 Principles of Economics
3 Credits
Introduces the core principles of micro and macroeconomic theory while emphasizing real-world personal, business, and governmental applications. Topics include tradeoffs and opportunity costs, gains from specialization and trade, supply and demand, the role of government in the economy, inflation and unemployment, and the monetary system of the United States.
FIN3302 Corporate Finance
3 Credits
Provides an overview of the fundamental principles relating to the study of finance, including theories and practices in financial management. Students become familiar with the financial organization and operation of a business. Topics include financial analysis, planning and control, budgeting and forecasting, and financing.
Prerequisites: ACC1111, MAT2215
IBS2201 International Business
3 Credits
Explores the diverse environment, management concerns, financial issues, and marketing questions faced by international business organizations. Students gain a heightened global awareness as they seek the knowledge and skills needed to function competitively in an increasingly interdependent world.
MGT2220 Principles of Management
3 Credits
Examines operational theories of management under the functions of planning, organizing, staffing, directing, and controlling. Emphasizes the manager's role in creating and maintaining an internal environment for performance. Students discuss cases in detail.
MKT2220 Principles of Marketing
3 Credits
Provides an introduction to fundamental principles and practices in the marketing process, including a detailed study of each marketing mix tool (product, price, place, promotion), along with an introduction to marketing research, target marketing, SWOT construction and analysis, strategic marketing planning, and consumer behavior. This is the gateway course to the Marketing Communications Program.
CAREER DEVELOPMENT COURSES
CDV2000 Career Development I
3 Credits
Introduces students to the fundamentals of career development and planning. Students focus on setting appropriate career goals based on self-assessment in alignment with skills and competencies. Students learn how to write a professional resume and cover letter, how to communicate effectively in multiple media, and how to develop time management skills to help them succeed both academically and professionally.
*Note: CDV2000 and CDV3000 are only offered as 7 week courses.
CDV3000 Career Development II
3 Credits
Focuses on the job application and interview process. Students learn how to develop a field search for employment opportunities and apply for jobs in their fields of study. Students observe and critique mock interviews and learn how to negotiate salary offers.
Prerequisite: CDV2000
*Note: CDV2000 and CDV3000 are only offered as 7 week courses.
LIBERAL ARTS AND SCIENCE CORE COURSES**
ENG1105 Writing and Research
3 Credits
An introduction to expository writing through a comprehensive survey of forms of composition. Students are taught to use words with precision and strengthen their understanding and application of grammatical and rhetorical principles. Students are encouraged to appreciate and incorporate the principles of academic and professional writing.
ENG2205 Writing Through Literature
3 Credits
Further develops the writing, reading, and interpretive abilities introduced in ENG1105 through critical engagement with literary texts from a myriad of genres.
Prerequisite: ENG1105
ENG2215 Public Speaking
3 Credits
Supports students in the development of oral communication skills. This course emphasizes the identification of good and poor speech habits, techniques for improving speech, oral interpretation, effective speech planning and delivery, and interpersonal communication.
Prerequisite or Corequisite: ENG2205
ENG3315 Advanced Writing
3 Credits
Explores a wide variety of professional and creative writing modes, from personal profiles to blogging and beyond. Students build their reading, writing, and researching skills while reinforcing the fundamental concepts and current developments associated with the areas of their respective majors.
Prerequisite: ENG2205
HUM2225 Introduction to Ethics
3 Credits
Introduces the study of ethics and moral philosophy, including its historical development, the major figures within that history, and ethical and moral issues that face us today. This course presents the ideas of great thinkers throughout history and encourages students' own thinking on various ethical and moral issues.
MAT2215 Statistics I
3 Credits
Introduces statistical methods and procedures. Students become acquainted with the collection, analysis, and presentation of quantitative data. Topics include basic concepts of probability, frequency distributions, binomial distributions, sampling theory, hypothesis testing, and regression and correlation.
SOC1123 Psychology of Adjustment
3 Credits
Explores the psychological principles involved in coping with the challenges of moving through changes in life stages and life circumstances. Topics include stress management, communication, time management, healthy relationships, positive thinking, conflict management, and balancing home, education, and work.
SOC2231 Human Relations
3 Credits
Students will develop the interpersonal skills known to be key ingredients for successful everyday interactions with a focus on the challenges of workplace relationships involving coworkers, supervisors, and customers/clients. Some major skill areas covered in the course include making a good impression with your employer, managing conflict with difficult coworkers, working on a team with diverse groups of people, providing exceptional service for customers/clients, and managing on-the-job stressors.