Military/Veterans

Be proud. Be prepared.
Berkeley College has a long tradition of commitment to veterans and military students. We understand the needs of servicemembers and have created numerous programs and resources to help you and your family succeed—during and after your military career. Berkeley is listed as a Principles of Excellence institution with the U.S. Department of Veterans Affairs, and our Office of Military and Veterans Affairs will be with you every step of the way to help you transition to civilian and professional life.
Recognized for excellence.
Berkeley has received numerous recognitions for military/veteran programs, including:
Best Online Bachelor's Programs for Veterans, 2014-2023 –

U.S. News & World Report

Top School, 2015, 2017 and 2018 –

Military Advanced Education & Transition

Military Friendly

®

Top 10 Nontraditional School, 2017 –

Victory Media

Military Friendly

®

Top 10 Spouse School, 2017 –

Victory Media

Best for Vets: Four-year Colleges, 2017-2022 –

Military Times

Best of the Best, 2014-2015 and 2017-2020 –

U.S. Veterans Magazine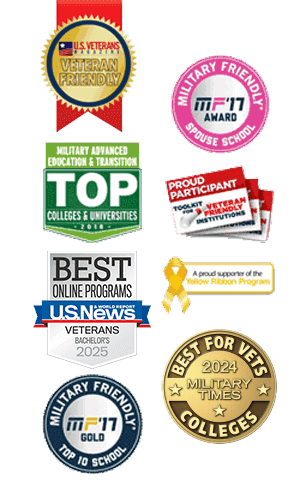 Financial aid for GI Bill® Recipients
Berkeley proudly supports the GI Bill® and Yellow Ribbon Program. We assist Veterans, Service Members, and Family Members using the GI Bill®, and offer the Yellow Ribbon Scholarship to all eligible recipients.  Veterans Affairs associates are trained in GI Bill® regulations. We'll help make sure you get the maximum award possible.
Programs and services that support servicemembers and their spouses
Flexible academic programs can help accommodate your situation and schedule. Advisors with military experience are available to assist with applications and enrollment. You may also be eligible for credit for prior learning. Tutoring is available at no additional charge.  We adhere to the principles of excellence and offer a scholarship to all Tuition Assistance students to reduce tuition to $250 per semester hour.  Additionally we offer scholarships to all eligible military spouses that reduces tuition to $250 per semester hour to recognize the sacrifices families make.
Veterans Resource Centers are available at numerous campuses and online, offer comfortable environments to study, connect with other Veterans, and obtain information about a wide range of Veterans' benefits and issues. There are numerous opportunities for networking through the Student Veterans Club and special veterans' activities sponsored by Berkeley.
Career guidance
Many Berkeley College programs include an internship, job-related assignment, or practicum for a valuable learning experience. Berkeley graduates receive free career assistance.
Talk to us. We're here to help.
Visit the Office of Military and Veterans Affairs page to learn more about the Veterans Resource Centers and activities sponsored by this department.
Compliance with Educational Organizations
Berkeley College adheres to the guidelines of the following organizations:
ACE (American Council on Education)
DANTES (Defense Activity for Non-Traditional Education Support)
PONSI (Program On Non-Collegiate Sponsored Instruction)
Berkeley College abides by the requirements established in Section 103 of the Veterans Benefits and Transition Act of 2018. As such, the College shall not penalize those students who are eligible for the Post 9/11 GI Bill® or Veteran Readiness & Employment (chapter 31), but for whom payment is pending from the Department of Veterans Affairs. For example, while the College is waiting to receive these VA funds, students will have access to the full range of College resources and student services, both onsite and online, so long as the student has otherwise fulfilled all other commitments to the College and their education. Moreover, while the College waits to receive these VA funds, we shall not place any holds, or prevent students from attending classes or enrolling in the upcoming semester; nor shall we create any late payment fees, or require students to secure alternative or additional funding.
To meet the requirements of this statement, students must provide Berkeley College with a Certificate of Eligibility, or a summary of educational benefits from eBenefits. Chapter 31 students may obtain a VA Form 1905, or a PO from the assigned case manager. This must be done by the first day of class. In addition, the College must receive the student's request for certification of benefits through the Office of Military and Veterans Affairs, as well as any other required information essential to the certification process. First-term students must sign the Veterans Billing Agreement.
Million
in Berkeley College institutional aid was provided to qualified students during the 2022-2023 award year
Students
including more than 420 international students representing 49 countries
of Students
enrolled in fall 2022 are studying online or through a combination of on-site and online classes