Legal Studies Programs
Legal Studies Associate in Applied Science Degree (AAS)
Legal Studies Bachelor of Science Degree (BS)
Compliance Certificate Program
Legal Nurse Consulting Certificate Program
Advanced Paralegal Certificate Program
Core Paralegal Certificate Program
Elective Paralegal Certificate Program
A wide range of skills and opportunities.
The legal field presents more opportunities than ever. To meet growing needs, today's firms and organizations are seeking qualified graduates with broad knowledge of the law and legal practices.
At Berkeley College, the Bachelor's and Associate's Legal Studies degree programs provide the analytical, technical, and research skills to enter a career in many different areas of legal support services. The program also offers a Pre Law Advisory Center, which provides special resources and support for students considering law school and other advanced studies in law.
Graduates will be prepared to perform law-related work under the supervision of a lawyer, such as:
Identifying and analyzing legal issues
Investigating and evaluating facts
Preparing pleadings, contracts, forms, legal memoranda, and other documents
Interviewing clients and witnesses
Case management
Conducting legal research
And many other law-related duties 
Here's what sets the Berkeley Legal Studies program apart:
You'll learn from

 

professors with experience

 

in corporate, litigation, government, and other areas of law
You'll perform research using

 

current law-related applications

 

and

 

electronic legal research databases
You'll benefit from frequent

 

guest speakers

 

and special

 

industry-related events
You may have the opportunity to participate in an

 

internship or job-related assignment

 

for a valuable learning experience
You'll have exceptional

 

networking opportunities

 

through faculty and alumni connections
Career Paths in Legal Studies
At Berkeley College, our career-focused curricula are designed with job preparation in mind. Most of our majors offer specific Career Paths for students. By working with professional advisory boards, these Career Paths recommend elective courses that complement the program curricula and help develop the exact career skills that employers look for when hiring graduates or promoting employees.
Legal Studies in Business
Law School
Catalog
You'll find additional information in our Catalog, including the different degrees offered, descriptions of the courses you'll take, the department faculty, and much more. You can always live chat or contact us with questions.
Locations Offered
The Legal Studies BS and AAS degree programs are offered by Berkeley College New Jersey and Berkeley College New York. The Legal Studies program courses are offered online and at various campuses as identified in the Course Schedule for each semester.
Testimonials
Lachanee Scott
Berkeley College Alumna
"The Berkeley College Legal Studies program prepared me for the demanding standards of Legal Writing. My employer was particularly impressed by my level of professionalism and understanding of a law firm setting—all qualities that were improved on because of the courses taught in the program, including my internships. As a current law student, the program at Berkeley College gave me a leg up on case briefing, which surprisingly was not taught at my law school. The introductory courses at Berkeley, such as Introduction to Criminal Law, were extremely helpful because they provided a good foundation for doing well in the mandatory first year courses in law school."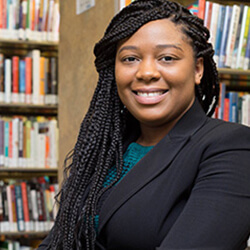 Stephanie Titus
Berkeley College Alumna
"At Berkeley, I've grown as a person and come out of my shell. My classmates and teachers are really supportive, and have helped me gain a lot of confidence. I've realized that how far I go in life is up to me."