Fashion Merchandising and Management Programs Online and On Campus
Fashion Merchandising and Management Associate in Applied Science Degree (A.A.S.)
Fashion Merchandising and Management Bachelor of Business Administration Degree (B.B.A.)
The Berkeley College Fashion program can prepare you to be a fashion mogul.
At Berkeley College, you'll learn to succeed in the fashion business from those who already have. You'll benefit from a faculty with extensive professional experience, as well as close proximity to one of the world's great fashion districts. 
Our Fashion Merchandising and Management degree programs focus on the business side of the fashion industry, training you in all aspects of the complete fashion global supply chain—current technologies, consumer behavior, product development, merchandising, retail distribution, marketing, and sales.
Our programs can prepare you for a range of potential careers, including:
Product development
Retail buying and merchandising
Allocation and planning
Omni-channel retail management
The Fashion Merchandising & Management B.B.A. and A.A.S. degree programs are offered by Berkeley College New Jersey and Berkeley College New York. The Fashion Merchandising & Management program courses are offered online, and onsite at various campus locations as identified in the Course Schedule for each semester.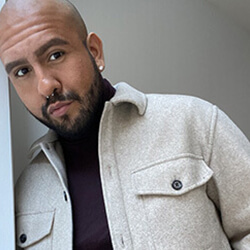 Here's what sets the Berkeley Fashion Merchandising and Management program apart:
You'll get close, personal attention from professors, including many who have held important positions with renowned fashion brands
You'll have unique learning and experiential opportunities (such as participation in NYC Fashion Week, tours of fashion houses, etc.)
You'll have easy access to frequent industry experts as guest speakers and special industry-related events
You'll benefit from hands-on learning through field trips to retailers and showrooms, as well as volunteer opportunities
You may have the opportunity to participate in an internship or job-related assignment for a valuable learning experience
You can transition seamlessly between Associate's and Bachelor's degrees
Tutoring services, workshops, seminars, and other support services are available through the Center for Academic Success. You'll also have the opportunity to participate in student chapters of professional associations, student clubs, and alumni groups that can help you make important industry connections.

The Larry L. Luing School of Business at Berkeley College has received specialized accreditation through the International Accreditation Council for Business Education (IACBE) located at 11960 Quivira Road in Overland Park, Kansas, USA for all undergraduate business programs, except for the Business Data Science Bachelor of Science Degree program. For a list of accredited programs please view our IACBE member status page.
Potential Careers in Fashion Merchandising and Management:
Graduates of the Fashion Merchandising and Management program pursue such positions as:
Fashion Buyer
Fashion Communications
Fashion Merchandising
Fashion Product Development
Fashion Visual Merchandising
About the Program 
Macy's Fashion Show
You'll find additional information in our Catalog, including the different degrees offered, descriptions of the courses you'll take, the department faculty, and much more. You can always live chat or contact us with questions.
Still have questions? Visit our Live Chat to speak with a representative.