Graphic Design
Learn the skills needed for exciting careers in the fields of visual communications.
Virtually all organizations depend on compelling visual communication to successfully convey ideas and engage customers. The Graphic Design program at Berkeley College is both innovative to give you more career options and thorough to help you stand out in the job market.
Student Testimonial
"I enjoy the small classroom learning environment, it really feels like I'm learning and my professor is able to reach everyone in need. All of my professors have worked in the graphic design field before teaching. I'm hoping to become a video game designer."
-Lianna Pinero, Graphic Design Student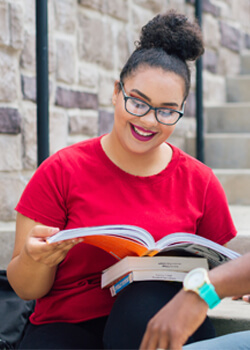 Along with the history of graphic design and a strong foundation in art and design principles, the curriculum exposes students to the problem-solving process using a broad range of traditional, digital, and emerging media. Courses are taught in modern studio/lab environments at our Woodland Park campus, encouraging entrepreneurial teamwork and collaboration. Critical thinking, conceptual problem solving, and creativity are emphasized as students learn about:
Web design
User interface and interactive design
Motion graphics and animation
Digital photography and imaging
Illustration
Filmmaking
Game design
Packaging
Advertising
Publication design
Typographic design
And more
Instructors are chosen for both academic excellence and relevant professional experience. They share firsthand occupational knowledge that can help prepare students to enter the job market. Portfolios, internships, and capstone projects are completed prior to graduation, as students work closely with the Career Services Department to secure future employment.
Students have the opportunity to interact with Interior Design students, exhibit their work in the Gallery at Woodland Park, and contribute to the department website. Students may also participate in field trips, attend guest lectures and opening receptions, and network with members of the professional design, art, and film community.
For more information regarding a degree in Graphic Design or another program of study at Berkeley College, click here.
Benefit from:
A program that provides a strong foundation in the practice of graphic design as a fine art
Hands-on learning that emphasizes skills required by employers
Proficiency in industry technology, including current computer graphic software
Valuable, practical experience through program-related, faculty-monitored internships or job-related assignments
Program Location: 
Graphic Design Bachelor of Fine Arts Degree (B.F.A.) is offered in: Woodland Park (Fall & Spring only)
You'll find additional information in our Catalog, including the different degrees offered, descriptions of the courses you'll take, the department faculty, and much more. You can always live chat or contact us with questions.