Graphic Design
Learn the skills needed for exciting careers in the fields of visual communications.
Virtually all organizations depend on compelling visual communication to successfully convey ideas and engage customers. The Graphic Design program at Berkeley College is both innovative to give you more career options and thorough to help you stand out in the job market.
Student Testimonial
"I enjoy the small classroom learning environment, it really feels like I'm learning and my professor is able to reach everyone in need. All of my professors have worked in the graphic design field before teaching. I'm hoping to become a video game designer."
-Lianna Pinero, Graphic Design Student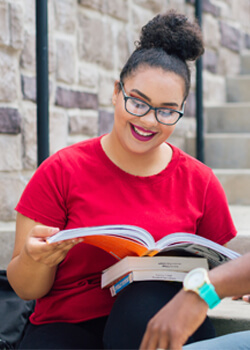 Along with the history of graphic design and a strong foundation in art and design principles, the curriculum exposes students to the problem-solving process using a broad range of traditional, digital, and emerging media. Courses are taught in modern studio/lab environments at our Woodland Park campus, encouraging entrepreneurial teamwork and collaboration. Critical thinking, conceptual problem solving, and creativity are emphasized as students learn about:
Web design
User interface and interactive design
Motion graphics and animation
Digital photography and imaging
Illustration
Filmmaking
Game design
Packaging
Advertising
Publication design
Typographic design
And more
Instructors are chosen for both academic excellence and relevant professional experience. They share firsthand occupational knowledge that can help prepare students to enter the job market. Portfolios, internships, and capstone projects are completed prior to graduation, as students work closely with the Career Services Department to secure future employment.
Students have the opportunity to interact with Interior Design students, exhibit their work in the Gallery at Woodland Park, and contribute to the department website. Students may also participate in field trips, attend guest lectures and opening receptions, and network with members of the professional design, art, and film community.
For more information regarding a degree in Graphic Design or another program of study at Berkeley College, click here.
Benefit from:
A program that provides a strong foundation in the practice of graphic design as a fine art
Hands-on learning that emphasizes skills required by employers
Proficiency in industry technology, including current computer graphic software
Valuable, practical experience through program-related, faculty-monitored internships or job-related assignments
Graphic Design Bachelor of Fine Arts Degree (B.F.A.)
Not all programs are offered for completion at each campus or through Berkeley College Online®. Please review the academic program pages for information on where each program is offered. Additionally, all students may be required to take some courses at another campus or online. The Career Development and Internship courses are only offered online.
This program is offered in: Woodland Park (Fall & Spring only)
Course Requirements
MAJOR CORE COURSES
GRD1100 Graphic Design Principles I
3 Credits
Introduces two-dimensional design and color theory and their relational aspects. This course explores the elements and principles of design, color, and light in the creative process. Students learn about the design process, from concept to completion, and explore the fundamentals of Adobe Illustrator.
GRD1105 Painting I
3 Credits
Approaches two-dimensional theory through the freeform and experiential painterly process. Students recreate and build on elements of design in a painterly manner through their own work. Subject matters range from the traditional painting genre of still life, interiors, and the figure, to the abstract.
GRD1120 3D Design and Modeling
3 Credits
Introduces the principles and applications of design as it relates to the synthesis of three-dimensional form, space, light, shadow, relief, and motion. The relationship of material and form and its application to packaging are explored. Subjects range from man-made geometric forms to architecture and nature.
GRD1130 Digital Page Layout
3 Credits
Explores the integration of type and images in digital page layouts and multiple-page projects. This course emphasizes the application of industry standard software for both print and digital output.
Prerequisite: GRD1100
GRD1170 Drawing I
3 Credits
Develops drawing skills for graphic design and the visual arts. Includes genres of fine art such as observation of the human figure in composition. Drawings will include three-dimensional objects, perspective, still life, and the landscape.
GRD1190 Typography 1
3 Credits
Introduces the history, physical attributes, family classification, terminology, and structural aspects of type. Students explore typography as a medium that conveys aesthetic, emotional, and intellectual meaning. Students create effective marketing materials by incorporating type as an integrated and active element.
Prerequisite: GRD1100
GRD2200 Graphic Design Principles II
3 Credits
Integrates the skills acquired in Graphic Design Principles I, incorporating typography and graphics to create effective communications design from concept through completion, utilizing industry-standard software.
Prerequisites: GRD1110, GRD1190
GRD2210 Graphic Design in Visual Culture
3 Credits
Traces the development of visual communication from the first cave paintings to present-day digital marketing. This course examines how cultural and technological developments have affected our viewpoints of the relationship, and use of images and typography.
GRD2226 Professional Development Seminar 
3 Credits
Investigates career-development opportunities and strategies. This course focuses on entry-level job requirements and career research. Students learn resume writing and interviewing skills. Emphasis is placed on creating conceptual approaches for communicating ideas visually and project development and management.
GRD2230 Digital Photography and Creative Media
3 Credits
Introduces the basic concepts, terminology, and applications of digital photography. This course explores the creative transformation of images for effective visual communication. Students develop critical thinking and technical skills needed to use photography in their work as designers.
Prerequisite: GRD1100
GRD2233 Web Design I
3 Credits
Explores the role of artists and designers in the web environment. Students are introduced to the concepts, process, and applications of programming code for creating and styling web pages, and preparing images and graphics for the web environment.
GRD2234 Web Design II
3 Credits
Develops the skills acquired in Web Design I. Students continue learning programming code with an emphasis on interaction design, user-interface design, and front-end development.
Prerequisite: GRD2233
GRD2235 Web Design III
3 Credits
Develops the skills acquired in Web Design II. Students explore design for both web and mobile apps incorporating multimedia, video, audio, and responsive design. Prototype development and testing are explored.
Prerequisite: GRD2234
GRD2290 Typography II
3 Credits
Develops the skills acquired in Typography I. Projects incorporate type as a decorative element to produce creative marketable design results. Principles of selecting typeface, use of grids, and basic layout designs and formats are addressed.
Prerequisite: GRD1190
GRD3320 Graphic Design Principles III and Game Development
3 Credits
Integrates the skills acquired in the foundation courses and conceptual abilities developed in Graphic Design Principles II. Emphasis is on developing design thinking and building visual problem-solving skills. Students are introduced to Motion Graphics and Game Design Graphics.
Prerequisite: GRD2200
GRD3330 Digital Filmmaking
3 Credits
Develops the skills acquired in Digital Photography and Creative Media. This course includes advanced digital imaging techniques and introduces students to a wide range of styles in contemporary photography as well as video.
Prerequisite: GRD2230
GRD3360 Packaging Design I
3 Credits
Incorporates the history, purpose, types, materials, environmental considerations, symbols, labels, and security measures of packaging. Students study packaging as a new-product development process, explore graphic design for marketing options, and produce models with industry standard specifications sheets.
Prerequisite: GRD2200
GRD3395 Branding and Information Design
3 Credits
Explores various processes and the translation of information in a visual format for data visualization in current media. Marketing trends and strategies are explored in the development of creative solutions to design problems. Students create functional design solutions for identity systems across multiple points of contact.
Prerequisite: GRD2200
GRD4400 Animation Foundations
3 Credits
Explores the foundation of animation, including the basic concepts of animation and what makes things move. This course covers X, Y, and Z planes; keyframes; animation paths; hierarchies; pivots and rotation; and the importance of timing.
Prerequisite: GRD2230
GRD4410 Publication Design
3 Credits
Explores publication design procedures and techniques, from planning to production. Students research and analyze graphic design in multi-page publications and create their own multi-page publication designs. This course covers procedures and techniques for the successful printing of projects.
Prerequisite: GRD1130
GRD4415 UI/UX Design
3 Credits
Explores aspects of user interface design engineering. The preparation of concepts will utilize the principles of design, typography, color, and problem solving skills. Concepts include wireframes, user testing, personas, scenarios and storyboards, applied to front-end and back-end web and app development.
Prerequisite: GRD2235
GRD4420 Game Design
3 Credits
Introduces the theory and practice of game creation and design for interactive home entertainment, arcade games, education, and multiplayer online environments. Students study the history, genres, technology, organization, psychology, and story of games. Students will then gain mastery over the Unity 3D engine.
Prerequisite: GRD2200
GRD4460 Capstone Project
3 Credits
Requires students to utilize cumulative skills acquired in advanced course studies to work on an individual research project for their portfolio with the help of a faculty mentor. This course is taken in a student's senior year.
Prerequisite: GRD3360
GRD4470 Special Topics in Graphic Design
3 Credits
Focuses in depth on a particular period area of interest within graphic design to further develop conceptual and technical skills and create professional work for portfolio development.
Prerequisite: GRD3320
GRD4481 Portfolio
3 Credits
Provides a studio and critique workshop. Students edit, create, add, highlight, and refine projects to meet industry standards and promote individual graphic design skills in their specialized area. This course is taken in a student's senior year.
Prerequisite: GRD3395
GRD4483 Internship
3 Credits
Provides a field-based internship experience where students acquire career/professional skills within the graphic design industry. This course is taken during a student's last semester of study.
Prerequisite: Departmental permission
LIBERAL ARTS AND SCIENCE CORE COURSES*
ENG1105 Writing and Research
3 Credits
An introduction to expository writing through a comprehensive survey of forms of composition. Students are taught to use words with precision and strengthen their understanding and application of grammatical and rhetorical principles. Students are encouraged to appreciate and incorporate the principles of academic and professional writing.
ENG2205 Writing Through Literature
3 Credits
Further develops the writing, reading, and interpretive abilities introduced in ENG1105 through critical engagement with literary texts from a myriad of genres.
Prerequisite: ENG1105
ENG3315 Advanced Writing
3 Credits
Explores a wide variety of professional and creative writing modes, from personal profiles to blogging and beyond. Students build their reading, writing, and researching skills while reinforcing the fundamental concepts and current developments associated with the areas of their respective majors.
Prerequisite: ENG2205
HUM2225 Introduction to Ethics
3 Credits
Introduces the study of ethics and moral philosophy, including its historical development, the major figures within that history, and ethical and moral issues that face us today. This course presents the ideas of great thinkers throughout history and encourages students' own thinking on various ethical and moral issues.
MAT2215 Statistics I
3 Credits
Introduces statistical methods and procedures. Students become acquainted with the collection, analysis, and presentation of quantitative data. Topics include basic concepts of probability, frequency distributions, binomial distributions, sampling theory, hypothesis testing, and regression and correlation.
SOC1123 Psychology of Adjustment
3 Credits
Explores the psychological principles involved in coping with the challenges of moving through changes in life stages and life circumstances. Topics include stress management, communication, time management, healthy relationships, positive thinking, conflict management, and balancing home, education, and work.
SOC2231 Human Relations
3 Credits
Students will develop the interpersonal skills known to be key ingredients for successful everyday interactions with a focus on the challenges of workplace relationships involving coworkers, supervisors, and customers/clients. Some major skill areas covered in the course include making a good impression with your employer, managing conflict with difficult coworkers, working on a team with diverse groups of people, providing exceptional service for customers/clients, and managing on-the-job stressors.
English Elective- 3 Credits
Humanities Elective- 6 Credits 
Liberal Arts Electives- 3 Credits 
Mathematics/Science Elective- 3 Credits
Science Elective- 3 Credits
Social Science Elective- 3 Credits