Empowering lives for 90 years!
Tuition and Financial Aid
Berkeley College has always been committed to providing outstanding value for students and families. A dedicated staff of professionals helps students and families throughout every step of the process—from understanding available financial options to assistance with completing necessary forms and applications. In addition to government grants and loans, Berkeley College offers a number of direct grants and scholarships to qualified students each year. In fact, more than $40 million in Berkeley College institutional aid was provided to qualified students during the 2020-2021 award year.
Four Steps to Apply for Financial Aid at Berkeley College
Tuition Costs
Grants and Scholarships
Important Financial Aid Links
Tuition Bill Due Date: Fall 2021 - Monday, August 9, 2021 (Classes begin Tuesday, September 7, 2021)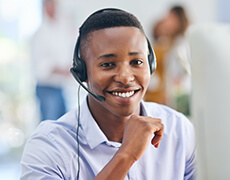 Have specific questions?
Admissions is available virtually to assist you.