Health Services Administration/Management Programs
Health Services Administration Associate in Applied Science Degree (AAS)
Health Services Management Bachelor of Business Administration Degree (BBA)
Learn to manage the business of health with a degree in Health Services Administration/Management from Berkeley College.
The healthcare field is one of the fastest-growing industries. Berkeley College offers degree programs to prepare students with the important business and technology skills needed for positions in administration, management, and more. A range of curricula explores the operations and challenges of various types and sizes of organizations delivering and supporting health services. Graduates may pursue positions with hospitals, physicians' offices, clinics, rehabilitation centers, long-term care facilities, and numerous other types of healthcare-related facilities.
Faculty members in this program are selected for both academic excellence and relevant professional experience in healthcare administration and management. They combine firsthand knowledge and know-how with classroom instruction to help prepare students to enter this in-demand field.
Here's what sets the Berkeley College Health Services Administration/Management program apart:
You'll focus on the structure and dynamics of the healthcare industry, while exploring the role and contributions of hospitals, rehabilitation centers, long-term care facilities, and practitioners
You'll have opportunities for interactions with healthcare providers and private and governmental funding agencies
You'll learn the technology and specialized software to collect, process, and use information essential to the industry and its clients
You'll develop skills in critical thinking and problem solving skills, as well as effective oral and written communication
You may have the opportunity to participate in an internship or job-related assignment for a valuable learning experience
You'll be able to seamlessly transition between Associate's and Bachelor's degrees
Accreditation

The Larry L. Luing School of Business at Berkeley College has received specialized accreditation through the International Accreditation Council for Business Education (IACBE) located at 11960 Quivira Road in Overland Park, Kansas, USA for all undergraduate business programs, except for the Business Data Science Bachelor of Science Degree program. For a list of accredited programs please view our IACBE member status page.
Career Opportunities
Potential Careers in Health Services Administration/Management:
Graduates of the Berkeley College Health Services Administration/Management program pursue such positions as:
Healthcare Paralegal
Nursing Home Administrator
Practice Office Manager
Catalog
You'll find additional information in our Catalog, including the different degrees offered, descriptions of the courses you'll take, the department faculty, and much more. You can always live chat or contact us with questions.
Locations Offered
The Health Services Administration/Management BBA and AAS degree programs are offered by Berkeley College New Jersey and Berkeley College New York. The Health Services Administration/Management program courses are offered online and at various campuses as identified in the Course Schedule for each semester.
Testimonials
Angeline Gil
Berkeley College Alumnus
"My education at Berkeley College has diversified my knowledge of public service. I've been exposed to courses that have challenged me and expanded my knowledge of healthcare and business principles. My education in Healthcare Management has ultimately allowed me to advance the skills necessary to transform healthcare practices to better meet patient needs in marginalized communities."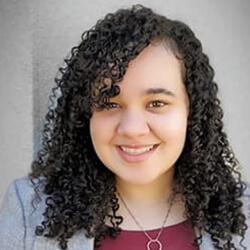 Shelley Wilson
Health Services Management Student
"I came to Berkeley College from South Africa. Everyone was very helpful with the transition to living in the United States and now I'm even involved in Student Government. I love how the professors share firsthand experiences to prepare us for our careers."