Master of Business Administration (MBA) in Management Program
Graduate Program in New York, New Jersey & Online
Master of Business Administration (MBA) degree in Management
Be marketable.
Built on the proven tradition of business and professional education at Berkeley College, the Larry L. Luing School of Business® offers the opportunity for advanced study to prepare the leaders of tomorrow. The Master of Business Administration (MBA) degree in Management program at Berkeley is anchored in the core values of integrity, stewardship, sustainability, and inclusiveness and designed to help exceptional individuals stand out in the professional world.
Why pursue an MBA at Berkeley College?
The Berkeley College MBA in Management program is designed to accommodate the busy schedules of professionals, helping you advance your career and expand your opportunities and earning potential. The program stands out in many ways, including:
Available concentrations in some of today's most in-demand areas
The ability to choose electives that correspond with your career goals and apply concepts from coursework to real-world situations in your current career
Dedicated support services and resources
Exceptional networking opportunities with classmates, professors, and other connections
The flexibility of studying:

On campus in New York City
On campus in Woodland Park, NJ
Online
A blend of both on-campus and online classes
The Berkeley MBA emphasizes
Knowledge to guide effective action
Communication in professional contexts
Information for planning and stewardship in the contemporary business environment
Practical skills for the professional workplace 
Learn to succeed from those who already have.
Our MBA professors all have exceptional academic and corporate backgrounds. Each has built their corporate credentials in diverse industries and undertaken numerous management roles and responsibilities throughout their careers. As a team, they have a broad range of business experiences and analytical perspectives on contemporary issues that will prove to be invaluable to you.
MBA Concentrations
The MBA degree in Management Program at Berkeley offers six (6) different specializations - known as Concentrations - that earn a transcript notation upon completion of the degree.
MBA Concentrations are offered in:
Accounting

 

(Note: The Accounting Concentration is only offered by Berkeley College - New Jersey, at the Woodland Park campus and Online)

Financial Management
Healthcare Management
Human Resources Management
Law Enforcement Executive Management 

(Note: The Law Enforcement Executive Management Concentration is only offered by Berkeley College – New Jersey, at the Woodland Park campus and Online)

Supply Chain Management
Each MBA concentration is comprised of a four-course (12-credit) sequence which replaces the existing electives.
Catalog
You'll find additional information in our Catalog, including the different degrees offered, descriptions of the courses you'll take, the department faculty, and much more. You can always live chat or contact us with questions.
Four-year Combined Bachelor's/Master's Option
Berkeley College makes it possible for high-achieving students in certain programs to complete a BBA or BS and an MBA in Management in as little as four years, assuming full-time enrollment in three semesters per year. This option offers many benefits, including the ability to:
Graduate with an MBA much sooner than through the traditional route
Expand career opportunities and earning potential with an advanced degree
Save significant tuition cost
This option is open to students in the following BBA and BS programs (on-site and online programs approved in New Jersey and New York City only):
In this option, students will attend full-time, three semesters per calendar year. Students must also complete:
All requirements for the MBA in Management degree in just one calendar year
One-two MBA core course(s) as an undergraduate elective
30-33 MBA credits in the three semesters of their fourth calendar year of study
To be considered for the Four-year Combined Bachelor's/Master's Option, current Berkeley College undergraduates or transfer and prospective students must meet the following admission criteria:
Full-time enrollment or intention to study full-time
Successful completion of undergraduate courses considered core courses in the student's chosen BBA or BS major
Locations Offered
The MBA in Management degree program is offered by Berkeley College New Jersey and Berkeley College New York. The MBA in Management degree program courses are offered online and at various campuses as identified in the Course Schedule for each semester. The following MBA Concentrations are offered at limited locations:
Accounting (Note: The Accounting Concentration is only offered by Berkeley College New Jersey, at the Woodland Park campus and Online)
Law Enforcement Executive Management (Note: The Law Enforcement Executive Management Concentration is only offered by Berkeley College New Jersey, at the Woodland Park campus and Online)
Frequently Asked Questions: Master of Business Administration (MBA) degree in Management
Testimonial
Wendy Guevara
Berkeley College Alumna
"The MBA program at Berkeley College has been one of the best decisions I've made. It has changed the way I analyze challenging situations in my workplace. The professors are knowledgeable, experts in their fields, and helpful. The program doesn't just emphasize developing management and leadership skills, but also conducting business ethically and responsibly. Overall, my confidence has increased on both a personal and a professional level."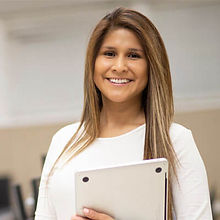 Videos
Graduate Alumni talk about the Berkeley College MBA Program
Affinity Federal Credit Union employees talk about the benefits of Berkeley's MBA program