Berkeley College Graduate, Entrepreneur and Father of Five Overcomes Personal and Professional Obstacles to Earn a Master of Business Administration

FOR IMMEDIATE RELEASE
Tuesday, May 25, 2021
BERKELEY COLLEGE GRADUATE, ENTREPRENEUR AND FATHER OF FIVE OVERCOMES PERSONAL AND PROFESSIONAL OBSTACLES TO EARN A MASTER OF BUSINESS ADMINISTRATION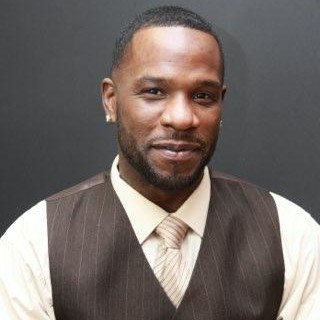 Photo Caption: David Brown of West Haven, CT, graduated from Berkeley College with a Master of Business Administration in May 2021. Brown also earned a Bachelor of Business Administration from Berkeley in 2014. Photo Credit: Lataejha Borden/Closely Captured
David Brown of West Haven, CT, is many great things: an entrepreneur, a father of five, and most recently a 2021 Berkeley College Master of Business Administration graduate. With an average of less than 10% of all business school enrollment comprised of Black/African American students nationally, Brown's accomplishment is one worth celebrating.
Brown says he is only the second in his extended family to earn a graduate degree and the 39-year-old does not plan on stopping at the master's level. He has already been admitted for the fall 2021 semester at Sacred Heart University to pursue a Doctorate of Business Administration (DBA) in Finance. Only 2.5% of doctorate degree recipients are Black/African American males.
But Brown is determined to overcome the odds stacked against him. In his more than 10-year journey toward making a better life for his family and becoming a leader, Brown has discovered a passion and drive for personal and community improvement.
The Path to Entrepreneurship
In 2009, Brown decided to pursue a Bachelor's degree at Berkeley College. Then a resident of Brooklyn, NY, Brown was eager to create more financial stability for his family.
"At one point it was a money chase. I said, 'I want to get the $100,000 salary, whatever it takes, I want to get paid that much.' That is the baseline I set to have a decent lifestyle living in New York City," said Brown.
Within three months of obtaining his Bachelor of Business Administration from Berkeley College in 2014, Brown was promoted from Assistant Manager to Store Manager at Dollar Tree in Brooklyn.
However, in 2018 after multiple attempts at making it to an executive leadership position at various organizations, Brown became frustrated with the pace.
"I am a leader, I enjoy management. I enjoy running a business or an organization and matching the strengths of people, putting them in the best position to be successful … I felt like I could bring more to the table," said Brown.
With some encouragement from his father, Brown began his first foray into entrepreneurship in January 2018. That initial venture, which provided professional installation for home appliances, evolved to become DBTS Trucking Services, Inc., based in Rocky Hill, CT. DBTS is a freight delivery company that partners with FedEx Custom Critical to transport high-value pharmaceutical products across the 48 contiguous United States and Canada. As CEO and President of the enterprise, Brown oversees business operations.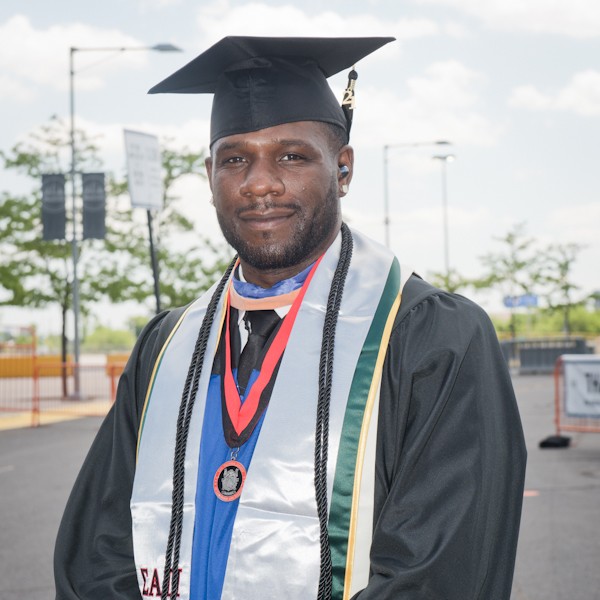 Photo Caption: David Brown of West Haven, CT, who earned a Master of Business Administration from Berkeley College, is photographed in his graduation attire at MetLife Stadium in East Rutherford, NJ, where the College held an in-person Commencement ceremony, on May 27, 2021.
Impact of COVID-19
Like many small business owners, Brown has faced his share of hurdles as a result of COVID-19. DBTS' operations have been impacted both directly and indirectly by the global shutdown, including changes in contract agreements and the personal circumstances of his employees.
Brown says he has kept DBTS afloat through emergency funding granted by the U.S. Small Business Administration (SBA). Since April 2020, the SBA has given nearly 10.8 million loans worth more than $780 billion to support small businesses, providing some alleviation for the major toll that COVID-19 has had on local economies. Brown is in the process of applying for more SBA support so that he can fully restart his operations.
Despite the frustrating circumstances, Brown says he found a silver lining. Emergency COVID-19 funding was the first time Brown was able to access capital for his company. Evidence suggests that Black owned businesses were hardest hit during the pandemic and that Black owned businesses have a more difficult time obtaining loans, even when it came to applying through the COVID-19 federal relief program.
"I was denied 37 times prior to this emergency funding," said Brown. "I kept a count of all the denials I had up until I got the first approval."
The challenges he experienced inspired Brown to explore personal finance and ultimately uncover a new passion. He says a deepened understanding of credit has allowed him to repair his own credit and help family members do the same.
"Over the last 18 months, I've been studying finance and how to generate wealth," said Brown. "I became obsessed with teaching and educating my people and my peers on financial literacy. It was so frustrating for me to really come to grips with and say 'I can manage a company very well, but I'm still broke, I'm still at the bottom. I have all these degrees and I'm still struggling.'"
Brown sees himself building on his new found zeal for the benefit of his community in the near future. In addition to pursuing a DBA in Finance, Brown envisions launching financial literacy workshops or seminars.
An Achievement for Family and Self
Brown says he is excited to attend Berkeley College's in-person outdoor Commencement at MetLife Stadium in East Rutherford, NJ, on May 27, 2021. Graduation day means a lot to Brown and his family. As the oldest among his siblings and the father of three daughters, ages 20, 17 and 15, and two sons, ages 3 and 3 months, Brown says he is leading by example.

Photo Caption: David Brown of West Haven, CT, graduated from Berkeley College with a Master of Business Administration in May 2021. Brown is the father of five children and was motivated to pursue higher education to provide a better quality of life for his family. (Left) He is pictured with his sons, aged 3 and 3 months, and (right) his daughters aged 17 and 15, his son aged 3, and his fiancée. Right Photo Credit: Lataejha Borden/Closely Captured
Brown also feels a sense of personal validation for his achievement. He completed an MBA with a 3.76 GPA amid numerous roadblocks.
"Some things happened along the way, I had to stop in the middle of both degrees for a year or two, but I came back and completed it. That means a lot to me," he said. "They say when you leave or stop in the middle of (your degree), you won't come back and finish it. I proved that wrong twice. Not for anybody else, but for myself."
The story of David Brown is a story of determination. Despite the ups and downs on his educational journey, Brown overcame the barriers and pioneered a pathway for his family and community.
Brown plans to launch additional ventures and continue to elevate in his career trajectory, taking as many people as he can with him to the top. He is adamant that no obstacle will keep him from making his dreams a reality.
Berkeley College celebrates its 90th anniversary in 2021. The theme commemorating this milestone is "Empowering Lives for 90 Years!" Visit the 90th Anniversary webpage for more information.
About Berkeley College
Berkeley College, founded in 1931, is a career-focused institution accredited by the Middle States Commission on Higher Education that offers students Master's, Bachelor's, and Associate's degree and Certificate programs in more than 20 career fields. The College also offers continuing education programs to enhance career credentials.
Berkeley College has campuses in Midtown Manhattan and White Plains, NY, as well as in Newark, Paramus, Woodbridge, and Woodland Park, NJ, with more than 4,900 students enrolled. In addition, Berkeley College Online® serves a global population. U.S. News & World Report has named Berkeley College among the Best Colleges for Online Bachelor's Programs and among the Best Online Bachelor's Programs for Veterans, for eight consecutive years. The website address is www.BerkeleyCollege.edu.
The mission of Berkeley College is to empower students to achieve lifelong success in dynamic careers.