Graduate Degree Program
M.B.A., Management
Be more marketable.
Built on the proven tradition of business and professional education at Berkeley College, the School of Graduate Studies offers the opportunity for advanced study to prepare the leaders of tomorrow. The Master of Business Administration (M.B.A.) degree in Management program at Berkeley is anchored in the core values of integrity, stewardship, sustainability, and inclusiveness and designed to help exceptional individuals stand out in the professional world.
Why pursue an M.B.A. at Berkeley College?
The Berkeley M.B.A. program is the ideal way to promote yourself by:
Expanding your knowledge base and developing new, valuable skills
Opening up new career possibilities
Increasing your earning potential
Forging business relationships with classmates, professors, and other connections
The Berkeley M.B.A. emphasizes
Knowledge to guide effective action
Communication in professional contexts
Information for planning and stewardship in the contemporary business environment
Practical skills for the professional workplace 
Learn to succeed from those who already have.
Our M.B.A. professors all have exceptional academic and corporate backgrounds. Each have built their corporate credentials in diverse industries, and have undertaken numerous management roles and responsibilities throughout their careers. As a team, they have a broad range of business experiences and analytical perspectives on contemporary issues that will prove to be invaluable to you.
Focused on your future.
The flexible program is designed to accommodate busy work and personal schedules. In addition to foundation, core, advanced core, and elective courses, you'll have the opportunity to apply concepts from coursework to real-world situations in your career. You can study at our Woodland Park, NJ or online campus. Dedicated support services and resources are available to M.B.A. students.
This degree is designed to be completed in two years.
Application Deadline
Winter semester 2020 deadline information:
Graduate:
Need help? Click for Live Chat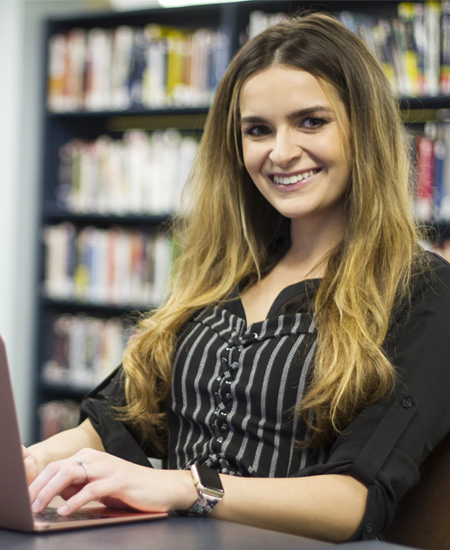 Student Testimonial
"Evening classes in the M.B.A. program was very beneficial for someone who's a full-time employee trying to advance in their career. From a professional perspective, I definitely feel more respect from my colleagues since earning my M.B.A." -Marjorie Stenger, M.B.A. student
Program Locations: 
Master of Business Administration (M.B.A.) in Management is offered in: Woodland Park, Online
You'll find additional information in our Catalog, including the different degrees offered, descriptions of the courses you'll take, the department faculty, and much more. You can always live chat or contact us with questions.
The Four-Year Combined B.B.A./M.B.A. Option at Berkeley College
High-performing students in certain Berkeley College B.B.A. programs now have the option to complete a Baccalaureate degree and a Master's degree in Management in just four calendar years. This option offers many benefits, including the ability to:
Graduate with an M.B.A. much sooner than through the traditional route
Save significant tuition costs 
For more information regarding the M.B.A., Management degree at Berkeley College, click here. 
To learn more about the Master of Business Administration (M.B.A.) degree in Management at Berkeley, contact:
Michael Lincoln
Director, Admissions, School of Graduate Studies
MIL@BerkeleyCollege.edu
Million
in Berkeley College institutional aid was provided to qualified students during the 2018-2019 award year
Students
including more than 350 international students representing over 50 countries (not included in these figures are over 150 international students, representing 5 countries, attending as part of a J1 visitor exchange program)
Students
enrolled in at least one online class in fall 2018