Marketing Communications Program at Berkeley College Prepares Students for the New Age of Marketing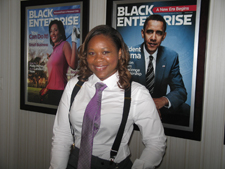 When Berkeley College alumna Runnett Grant was accepted as an intern in the Digital Media Department at Black Enterprise magazine in New York City, her supervisor encouraged her to explore all areas of the company. She discovered her niche within marketing while working in the Social Media Marketing Department.
"It was a terrific experience. The Social Media Marketing Manager was extremely encouraging and took hours out of her day to teach me to use new social media tools such as Pinterest and Foursquare," said Ms. Grant, who graduated from Berkeley College with an Associate's degree in Marketing in 2012.
Now, Ms. Grant plans to return to Berkeley College to complete a Bachelor's degree in Marketing Communications. The College began offering this new degree program in the Spring 2012 Quarter.
"The Marketing Communications program focuses on the shift to digital and social media in advertising, public relations and other communications," said Wolfgang Hinck, PhD, Chair, Marketing, Larry L. Luing School of Business®.
In this new program students learn tangible skills that apply directly to the day-to-day tasks of marketing communicators and brand managers. Graduates of the Marketing Communications program are trained to work in areas such as social media strategy, market research, media planning, media buying, brand management, advertising, public relations, and other functions involving communications.
Berkeley College alumna Lyndsay Wright heads up the Marketing Department at the Lantek Corporation in Lake Hopatcong, NJ. She said online marketing campaigns are an extremely important component of any marketing plan today.
"The way a majority of companies reach out to their consumers today is through social media outlets such as Facebook and Google AdWord, and the way that message is put out there is extremely important," said Ms. Wright, who graduated from Berkeley College with a Bachelor's degree in Marketing in 2011.
A recent study by Alterian, a leading marketing analyst company, found that 75% of the companies surveyed planned to increase social and digital spending, although one-third said that they have little or no understanding of the social media conversation happening around their brand.
"Students graduating from programs like the new Marketing Communications degree program at Berkeley College will have the skills necessary to lead these companies into the new age of marketing," Dr. Hinck said. 
The views and/or opinions in this article are those of the individuals interviewed. The academic achievements and/or employment outcomes described in this article are specific to each individual, and are not a guarantee of similar results for past or current students. For up-to-date and detailed information, please visit BerkeleyCollege.edu and view our catalogs at BerkeleyCollege.edu/publications. Important information about the educational debt, earnings, and completion rates of students who completed the Marketing Communications programs can be found at: