Berkeley College Graduate Sets His Sights High on the Financial Job Market
Tonya Johnson
05 July 2018
Avi Harkishun of South Richmond Hill, Queens, NY, is well on his way to achieving his future goal of building a company in the financial industry. He graduated in 2018, having earned his Associate in Applied Science and Bachelor's degree in Business Administration – Financial Services at Berkeley College in New York City.
Along the way, he maintained high grades, sought meaningful internships and worked at jobs that gave him relevant industry experience as an assistant budget analyst, a financial associate, and a private equity intern.
Today Avi is an Investment Advisor Representative with Primerica, Inc., a distributer of financial services to middle-income families in North America. He continues to learn by seeking additional credentials and licenses in his field.
"I help clients attain their financial goals and independence using various financial concepts and product solutions that educate them on how money works," said Avi.
According to the U.S. Bureau of Labor Statistics, growth for professionals as a financial advisor is estimated at 15 percent through 2026.
"At Berkeley College we have a program that puts our students ahead of the curve," said Dr. Joanne Snider, DBA, CFP, ChFC, CLU, Assistant Chair, Accounting and Finance, Berkeley College Larry L. Luing® School of Business. "It's intensive and distinct in that we offer an undergraduate degree that includes the courses required by the Certified Financial Planner Board of Standards, Inc. in Washington, D.C.," she explained. "Berkeley also offers the courses necessary for a corporate financial analyst. Students can specialize in personal financial planning, corporate finance, or both."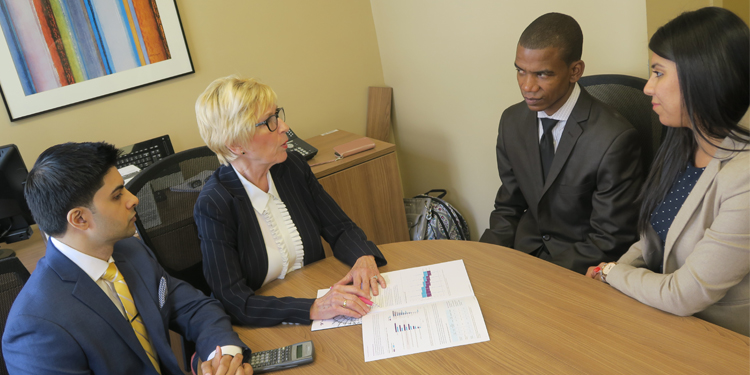 An advocate in her field, Dr. Snider fostered a scholarship program for students in Financial Services to become members of the Financial Planning Association in New York.
Combining the prospects of increasing retirees in the field along with low unemployment rates, companies are searching for qualified candidates in the finance industry.
The article, "4 Reasons the Demand for Advice is Booming," summarized the situation this way – "the effect is an investing public seeking more advice during transitional periods, trusting advisors at increasing levels, and craving human guidance."
The views and/or opinions in this article are those of the individuals interviewed. The academic achievements and/or employment outcomes described in this article are specific to each individual and are not a guarantee of similar results for past or current students. For up-to-date and detailed information, please visit BerkeleyCollege.edu and view our catalogs at BerkeleyCollege.edu/publications. 
Close up with Avi Harkishun
What influenced you to select this major and this field for your career?
At the beginning, I wanted to have the feeling that people in this field command – respect. Then I noticed how much I enjoyed working in it because I get to help people achieve their financial goals and attain financial independence. The feeling of making such an impact in someone's life made me feel good about myself and gave me a sense of purpose. It's also a lucrative field.
How did Berkeley College prepare you for success?
Berkeley College empowered me with the knowledge and skills necessary to be competent when advising my clients and constructing financial plans. I feel more prepared for success in the financial industry than I've ever been before due to the rigorous education I received from well-experienced and accomplished professors at Berkeley College.
Is there a most memorable moment or instructor you would cite that stood out for you?
One semester I was unable to receive financial aid due to government policies. I sent an email to the Campus Operating Officer who responded promptly and got back to me in a week with an institutional grant solution that worked.
Two finance instructors, Dr. Joanne Snider and Professor Robert Alvarez, have both been helpful with taking the time to answer questions regarding my career path and academic choices. They are my mentors as I learn more about financial solutions to serve clients better. What I respect the most about these two professors is the way they sincerely care about their students' success. They emphasize making ethical choices and doing no harm to anyone.
What advice would you offer today's college-age students, especially those considering entering this field?
Students need to be good at researching this or any other career field. The classes they take in college should align with the knowledge and skills they need to be successful in this field. Research successful people in this field and see what they have done academically and in their careers to get where they are today. If possible, try to duplicate what they have done.
Experience in your chosen field is very important. Try to do internships while in college to gain the necessary experience, apply what you have learned thus far, and acquire additional knowledge and skills. Lastly, networking is a key factor. Get mentors while you're in college.
A great source of mentors could be your professors. Build a great relationship with your professors while in college.