The Road to Wealth Takes Perseverance
Panagiota Babadelis, Marketing Communications student
30 January 2020
Panagiota Babadelis is a Marketing Communications major, pursuing a Bachelor's of Business Administration degree through the Berkeley College Larry L. Luing School of Business®. She expects to graduate in 2021. Ms. Babadelis is a member of Phi Theta Kappa and the National Society of Leadership and Success, Sigma Alpha Pi. She founded the Volunteer Leadership Program at Berkeley College in Paramus, NJ, liaising students through community service and event marketing and management.  She is also a Teacher's Assistant for the Berkeley College Honors Program, and works in the Berkeley College Office of Communications and External Relations. She recently wrote about her experience attending the Her Wealth Journey event, a session in the GP2 Brunch & Learn Series.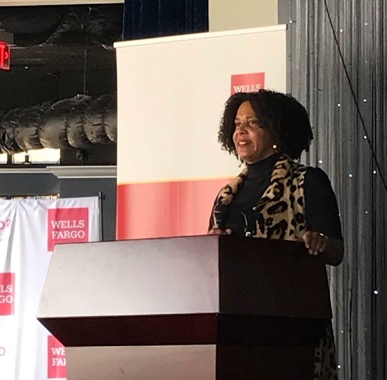 Photo Caption: Kay Lucas, CEO and Managing Director of Media Sense Inc., welcomes attendees to the Wells Fargo G2P Brunch & Learn Series on November 2, 2019, #WealthSquared initiative.
In November, I had the privilege of attending the Her Wealth Journey event, a session in the GP2 Brunch & Learn Series. The Wealth Squared initiative event brought together accomplished women in the business industry, at the top echelons of their field. The event was produced by Kay Lucas, CEO and Managing Director of Media Sense Inc., and sponsored by Wells Fargo, multinational financial services company.
The event took place at Son Cubanos Restaurant, located in West New York, NJ, on the Hudson River. The diversity of the attendees in the room was uplifting, and empowering. Among the empowering speeches made, there was a cohesive theme - perseverance. Every story had its own path to wealth through striving for success. For some this meant financial independence. For others, this meant reaching the top of the mountain.
Anne Marie Vanes, who has more than 26 years in the finance industry, spoke about the importance of individuals and business owners obtaining access to credit. "Our credit score is our financial ID. She said "I would recommend that through freecreditreport.com, annually, you know what your credit report says about you. Let us today make credit work for us instead of against us." Ms. Vanes also discussed the value of owning real estate property and consolidating debt. These are values that we should all instill in our road to wealth, she said.
The honorary guest, Beverly Baker-Jackson, Bergen County Attorney, spoke about her motivation and determination for obtaining her wealth. Ms. Baker-Jackson is a philanthropist, who has dedicated her life to making positive changes in her community. By serving on the board of organizations such as the National Coalition of 100 Black Women, Ms. Baker-Jackson has implemented empowerment and inspiration to women. Her journey was molded and inspired by her visionary icon - her mother. Ms. Baker-Jackson said that she obtained her wealth through perseverance, which was instilled upon her through her mother's journey.
Ms. Edna Baker lived a life of hardship. Being an African orphan at the age of 13, with only a fifth-grade education, her early life would empower her to persevere to greatness. Ms. Edna was forced to work, where she experienced abuse. The abuse led her to bear a child which was taken from her, whom she would never see again. Ms. Edna lived her life by encouraging her future children live freely by obtaining financial freedom through ownership. To her, this was the ultimate wealth.
The women who shared their stories, shared the common thread of perseverance. We all have a story that may inspire others to achieve and obtain their vision of greatness.