Berkeley College Students Honor Dr. Martin Luther King, Jr. through Community Service Outreach in New York and New Jersey
 
FOR IMMEDIATE RELEASE
THURSDAY, JANUARY 24, 2019
Contact: Ilene Greenfield
Director of Media Relations
973-278-5400, ext. 1-5122
igl@BerkeleyCollege.edu
 

BERKELEY COLLEGE STUDENTS HONOR DR. MARTIN LUTHER KING, JR. THROUGH COMMUNITY SERVICE OUTREACH IN NEW YORK AND NEW JERSEY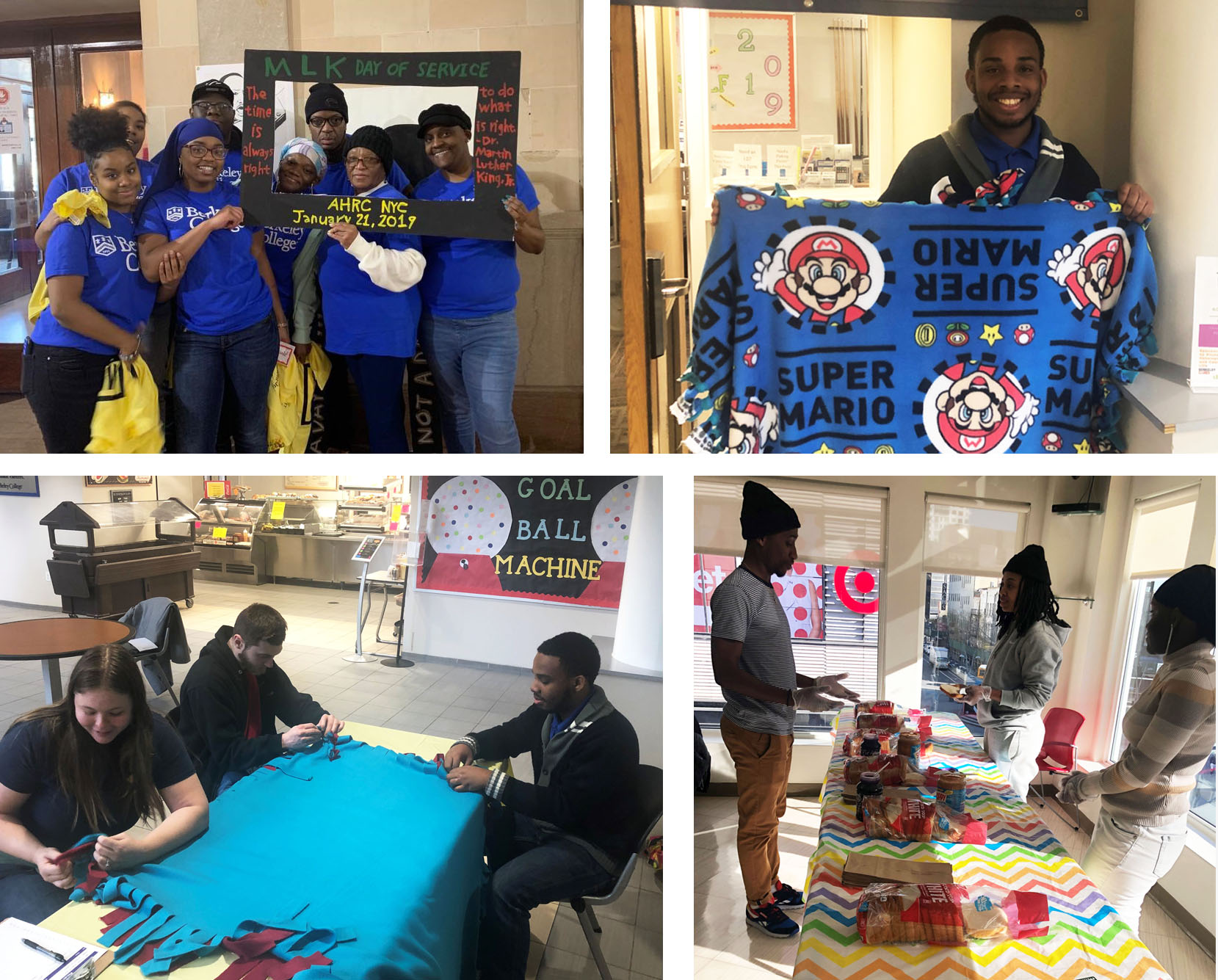 Share the News: @BerkeleyCollege #MLKDay #MLKDayofService
@National Service @ProjectLinus @Citymeals @HashtagLunchbag @AHRCNYC @FeedWestchester @IcladaSilvaFdn #BeTheMatch
Berkeley College students commemorated the impact of civil rights leader Dr. Martin Luther King Jr. through community service initiatives in New York and New Jersey this month. Each year, the federal Corporation for National and Community Service encourages MLK Day of Service, an effort to bridge barriers, create solutions, and move individuals closer to Dr. King's vision of community.
In New York, Berkeley College students visited AHRC New York City facilities in Manhattan and Brooklyn to support residents with intellectual and other developmental disabilities, traumatic brain injury, and autism spectrum disorders. In Westchester County, volunteers sorted and packed boxes of food for families at Feeding Westchester in Elmsford, NY. Students and staff also collected nonperishable food items for Citymeals on Wheels and made sandwiches to distribute to the homeless through the #Hashtag Lunchbag initiative.
In New Jersey, Berkeley College volunteers visited senior citizens at New Life Adult Day Care in Paramus and made no-sew fleece blankets for hospitalized children through Project Linus. Students in Newark, NJ, learned about bone marrow donation through the Icla da Silva Foundation, a recruitment center for Be the Match.
"Martin Luther King Jr. believed in helping everyone, regardless of who they were or where they came from," said AJ Sutterlin of Little Falls, NJ, who helped to create blankets for the Project Linus initiative. "I'm here to pass on this goodwill, and to pay it forward."
Community service at Berkeley College is organized through Berkeley Cares, which in 2019 celebrates 10 years of volunteerism and community outreach in areas such as food, shelter health and student success.
Photo Caption: (Top left, L to R) Berkeley College students Kiana Grandson of Brooklyn, Jermaine Coley of Laurelton in Queens, William Ford of New Rochelle, and Adanna Roberts, Makale Sylla, Madina Maiga, Margaret Murray and Anahka Barker, all of Brooklyn, volunteer with AHRC New York City on MLK Day of Service. (Top right) Javon Parker of East Orange, NJ, displays a completed blanket to be donated to the Project Linus initiative for hospitalized children. (Bottom right) Volunteers at Berkeley College in Brooklyn make sandwiches for the homeless as part of #Hashtag Lunchbag. (Bottom left, L to R) Gabrielle Peralta of Newark, NJ, AJ Sutterlin of Little Falls, and Mr. Parker create no-sew blankets for Project Linus.
About Berkeley CollegeA leader in providing career-focused education since 1931, Berkeley College is accredited by the Middle States Commission on Higher Education and enrolls more than 7,000 students – including more than 350 international students – in its Master's, Bachelor's, and Associate's degree and Certificate programs. Students can study in more than 20 career fields. Berkeley College is comprised of the Larry L. Luing School of Business®, the School of Professional Studies, the School of Health Studies and the School of Liberal Arts. The School of Graduate Studies offers an MBA in Management online and in Woodland Park, NJ. 
Berkeley College has three New York campuses – Midtown Manhattan, Brooklyn and White Plains. In New Jersey there are four campuses – Newark, Paramus, Woodbridge and Woodland Park. Berkeley College Online® serves a global population. For six consecutive years, U.S. News & World Report has named Berkeley College among the Best Colleges for Online Bachelor's Programs and among the Best Online Bachelor's Programs for Veterans. The website address is www.BerkeleyCollege.edu.
- end -