Berkeley College Recognizes National Healthcare Decisions Day on April 16, 2019
 
FOR IMMEDIATE RELEASE
TUESDAY, APRIL 9, 2018
Contact: Ilene Greenfield
Director of Media Relations
973-278-5400, Ext. 1-5122
IGL@BerkeleyCollege.edu
 

BERKELEY COLLEGE RECOGNIZES NATIONAL HEALTHCARE DECISIONS DAY ON APRIL 16, 2019

Speakers Encourage Individuals to Use Five Wishes Document with Loved Ones at Signing Event: "Just Do It: Planning for a Good Life and Death"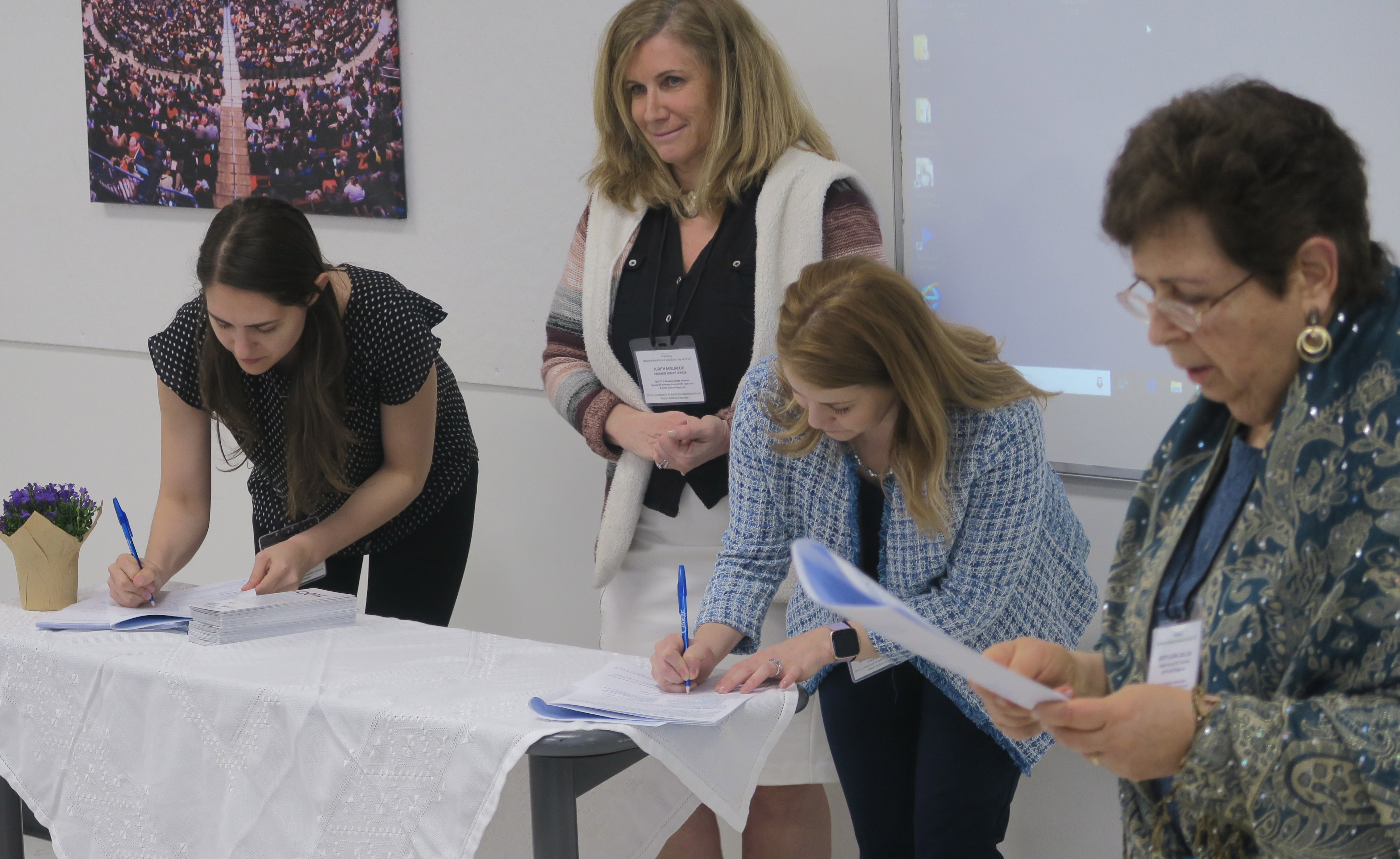 See caption below.
 
In recognition of New Jersey Governor Phil Murphy's Proclamation declaring April 16, 2019, Healthcare Decisions Day, in accordance with National Healthcare Decisions Day, Berkeley College in Paramus, NJ, hosted "Just Do It: Planning for a Good Life and Death," to inform and encourage individuals to think about, discuss, confirm their wishes in writing, and share this important information about their healthcare decisions with their families. The event, held on April 4, 2019, featured speakers Holly Schepisi, New Jersey Assemblywoman; and Sue Breithaupt, LCSW, Valley Community Health,who described personal experiences dealing with and managing these healthcare issues, as well as the signing of the Five Wishes by health officers Dawn Cetrulo and Judith Migliaccio, respectively, of Ridgewood and Paramus, NJ. Berkeley College collaborated with North Jersey Villages, the New Jersey Health Care Quality Institute and Bergen County's Conversations of Your Life (COYL) organization to host this event.
According to Kathy Kuzma, President, North Jersey Villages, promotion of the Five Wishes document by COYL is due to the overwhelming response it has received as the first "living will with a heart and soul."  This healthcare directive model is clear and easy to understand.  It helps people learn (1) how to choose the person they wish to make care decisions for them when they cannot; (2) what kind of medical treatment they want or do not want; (3) how comfortable they wish to be; (4) how they wish to be treated, and; (5) special things they wish their loved ones to know. 
"Reading and filling out the Five Wishes document has made me think about not only myself, but what I need to do to get my family members prepared," said Ms. Cetrulo after publicly signing her Five Wishes.
Since there can be myriad situations that arise, when it comes to completing a Health Care Proxy, Shana Siegel, a certified eldercare attorney with Norris McLaughlin, PA, recommends focusing on functionality. "Ask yourself questions like what happens if I cannot get out of bed?  What if I can no longer recognize people?  What if I cannot speak or swallow, for example?  Write down and discuss what is important to you in these sort of circumstances. You can give your family the gift of knowing what to do when the time comes. This is a relief for the family."
Shari Haber, a consultant with Great Goodbyes, helps families and individuals with personalized death preparation and care. "The best time to think about death is when you are not dying, like now," Ms. Haber said. "This empowers you and spares your family's stress and expense."  She told the audience that there are social media channels that have an impact and you will want to designate what to do with these and provide access to them. In this regard, you can consider designating a tech-savvy director.
Ms. Haber also suggested mending relationships so you do not die with regret. She talked about all the aspects surrounding death one needs to consider, such as what type of service, how you want to be remembered and so on.  "You can be very specific," she said. "Some individuals indicate in detail what kind of room, what music, even the script, so funeral or memorial services are personalized."  She also mentioned that items once only offered by the funeral home or cemetery are available at lower cost on Amazon or online. "There are individuals who are concerned about the environment, so now green burials are becoming popular," she added.
"We have become a more mobile society, and with people in general less religiously affiliated, this may influence one's preferences when choosing your location or what is to be done with your remains."  
Another suggestion is to have conversations or share the story of your life with others. "Death can be a great inspiration for life; live your life with greater intention and gratitude," she said.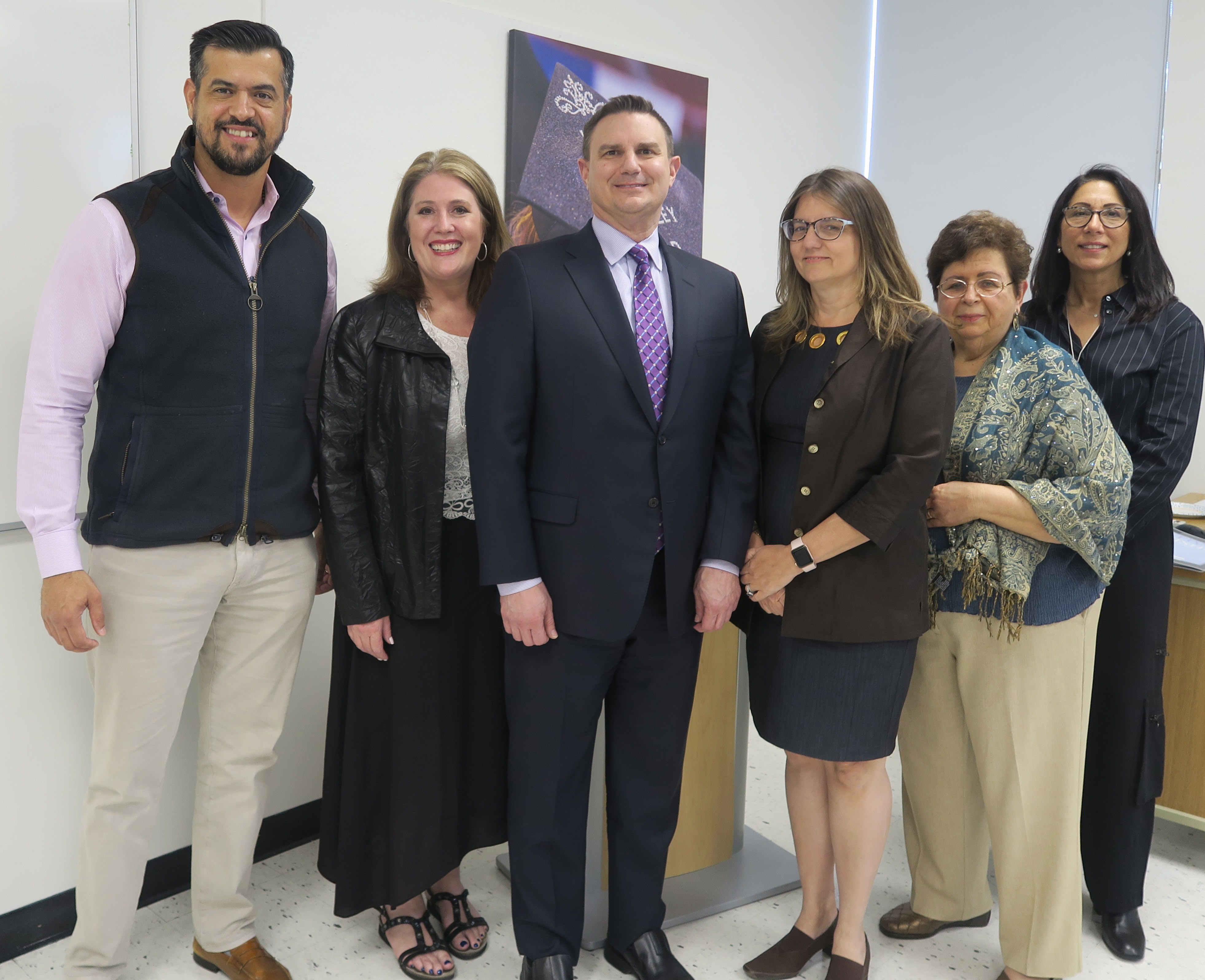 Photo Captions: Above: At the signing of their advance directive documents, left to right Adelisa Perez, Director of Quality, New Jersey Health Care Quality Institute, who served as witness; Judith Magliaccio, and Dawn Cetrulo, Health Officers, respectively, Paramus and Ridgewood, NJ; and Mistress of Ceremonies Kathy Kuzma, North Jersey Villages, Inc. Berkeley College hosted the event, "Just Do It: Planning for a Good Life and Death" on April 4, 2019 in recognition of Healthcare Decision Day. Below: Organizational leaders for programming events to recognize Healthcare Decision Day in New Jersey, are (left to right) Ramon Hache, Mayor of Ridgewood; Holly Schepisi, New Jersey Assemblywoman; Timothy D. Luing, Executive Vice President, Berkeley College; Shana Siegel, Esq., Norris McLaughlin, PA; Kathy Kuzma, President, North Jersey Villages, Inc.; and Shari Haber, Consultant, Great Goodbyes.
- End -