If the Future of Work and Education is Remote, It Is Already Happening at Berkeley College

FOR IMMEDIATE RELEASE
Monday, April 6, 2020
IF THE FUTURE OF WORK AND EDUCATION IS REMOTE, IT IS ALREADY HAPPENING AT BERKELEY COLLEGE

Meet Paola Monroy, a nontraditional student who was accustomed to the new remote realities prior to COVID-19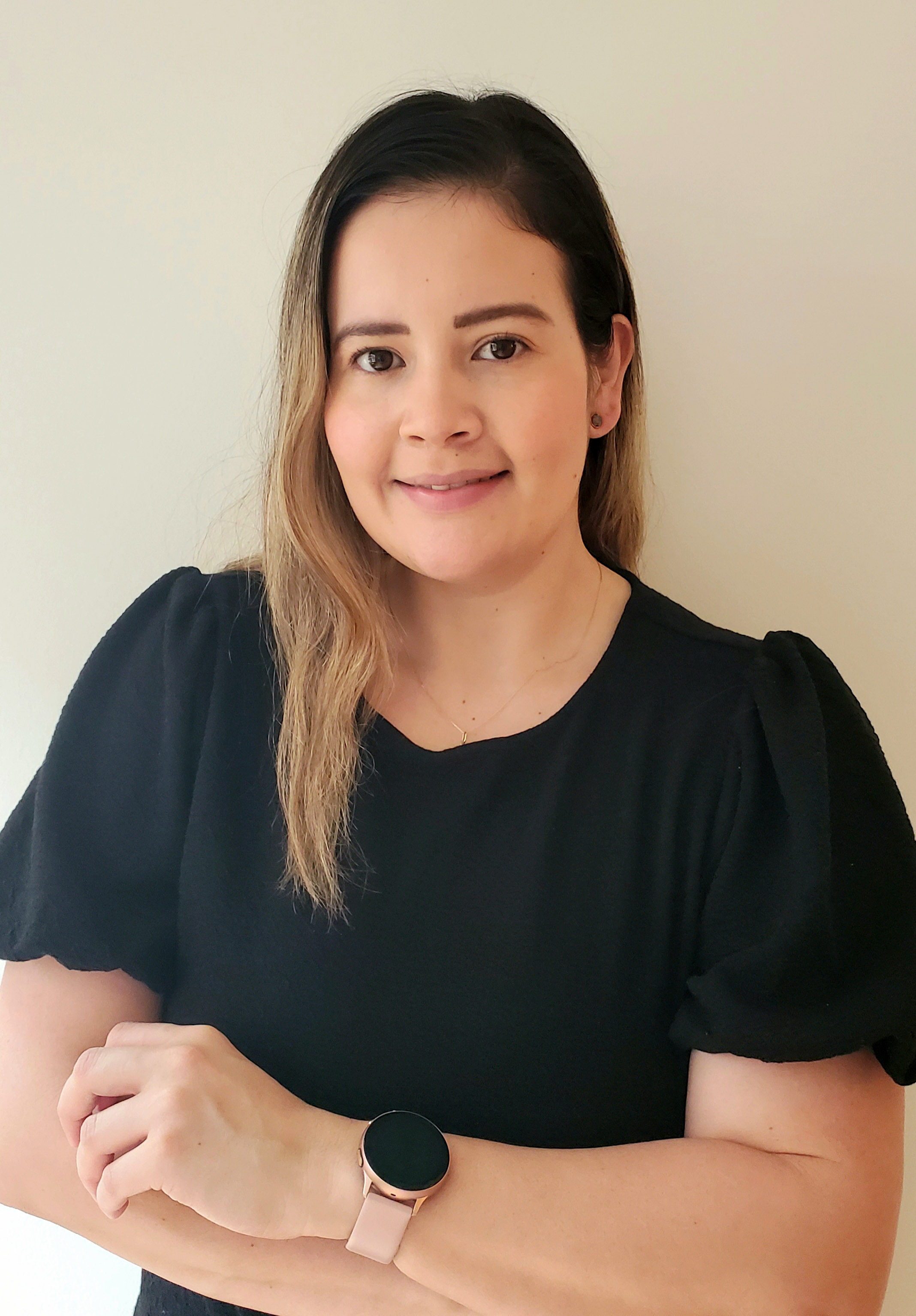 The world of virtual work and education may have been thrust upon us in the wake of the COVID-19 crisis, but individuals like Paola Monroy, are already accustomed to it. As a marketing professional and nontraditional college student, Monroy found it easiest to manage pursuing a college education, and raise her 2-year-old daughter, by working remotely and by taking a combination of online and on-site courses at Berkeley College.
A virtual internship as a Communication Specialist for the Englewood Chamber of Commerce worked out well for Monroy when she started in January, even prior to the pandemic and sheltering-in-place order. Monroy's career counselor at Berkeley introduced her to the opportunity.
"Since the Chamber President was very busy, we agreed to conduct the interview over the phone, and I explained my situation. I was very honest with her, and I said, 'This is what I'm looking for. I'm looking for a new job. I'm going to school. I have a daughter. I have so much going on, but I also want to do my internship.' We took it from there and it's been working out well. We have a great working, friendly relationship," Monroy said. Her assignments for the Chamber include reviewing emails, executing social media messaging and working on PowerPoint presentations.
Carol Rauscher, President of the Englewood Chamber of Commerce, appreciates the value Berkeley College student interns contribute to the Chamber since recruitment began last year. "The quality of these interns is fabulous," Rauscher said. "Plus, it gives the students exposure in a lot of different areas. Paola created presentations delivered to the Englewood Special Improvement District and for our Annual Meeting. She also expanded our data base."
A resident of Englewood, NJ, Monroy first graduated from Berkeley College with an Associate's degree in Fashion Marketing and Management in 2012, by taking all of her courses online. When she returned in 2018 to pursue a Bachelor's degree, her approach included a combination of on- site and online courses.
 "I saw the opportunity to have both online and on-site classes as a 'Mommy-Time,'" Monroy said. "It was time for myself, to go out and study, meet with classmates, see people and interact without being interrupted … I made good friends with moms I could relate to. It was all about us exceling in our career goals while managing the responsibilities of raising our families."
Monroy has worked for seven years in the marketing field, beginning her career at a footwear company. She saw the rapid growth in the company's marketing department and decided she would return to Berkeley to earn her Bachelor's degree in Marketing Communications. She was pregnant with her daughter and thought, "This is good inspiration for me to go back."
Today, Monroy is navigating full steam ahead. She is completing her last semester at Berkeley College while sharing parenting duties of her 2-year-old daughter Amelia, with her husband Jason. In early March, Monroy landed a position as a market analyst of lubricant products for a French oil and energy firm.
"I'm very happy to complete my Bachelor's degree in Marketing Communications," Monroy said. "It is a big, big accomplishment to be a full-time mom and full-time employee and a full-time student."
Offers Advice on Working from Home
Due to the pandemic's shelter-in-place directive, Monroy has not been able to go into the office for her new position, but is working from home. "I like to interact with people and my department, but I have been working remotely with them. One of the advantages of marketing is that you can even work from your phone. Smartphones are so digitally friendly. Even if I am sitting on my couch having a cup of coffee, I can check my emails and work any social media campaigns."
Monroy acknowledges how different the home environment is for adult students, especially those with young children, who never stayed at home. Now these students are trying to complete their studies, care for their children and manage their school assignments. "To those parents, I say, do not look for perfection," Monroy said.
Doing her best, rather than expecting perfection, has served Monroy well. She maintains a good rapport with her professors and uses many resources available to students and parents online.
"The professors are great, understand about the need for flexibility among the students, and are easily accessible. The resources on the online learning platform for college students today are more comprehensive than seven years ago," Monroy said. "And, in the virtual space, I can keep my daughter entertained with music classes, as an example. She usually takes ballet on Saturdays and they will be holding that class virtually. There are a lot of applications – the Internet has so much to offer that can help."
Monroy also suggests having a calendar to follow on the days you want to get certain things done. "Organizing yourself makes it easier. Make dates and deadlines for your projects even if it's completed on a Saturday night, and just add tasks," Monroy said. "I like to get things done before the deadlines and I always do that with my discussion boards. Don't leave tasks for the end because things could get very hectic," she added. Sometimes she and a few classmates get together online at home, depending upon everyone's schedule.
To read a column about conducting your Job Search online by Amy Soricelli, Vice President, Berkeley College Career Services, click here.
About Berkeley College
Berkeley College, founded in 1931, is a career-focused institution accredited by the Middle States Commission on Higher Education that offers students Master's, Bachelor's, and Associate's degree and Certificate programs in more than 20 career fields. The College has campuses in Midtown Manhattan and White Plains, NY, as well as in Newark, Paramus, Woodbridge and Woodland Park, NJ, with more than 5,700 students enrolled. In addition, Berkeley College Online® serves a global population. U.S. News & World Report has named Berkeley College among the Best Colleges for Online Bachelor's Programs and among the Best Online Bachelor's Programs for Veterans, for seven consecutive years. The website address is www.BerkeleyCollege.edu.
The mission of Berkeley College is to empower students to achieve lifelong success in dynamic careers.