Berkeley College Student Speaker Tells Class of 2020: "Tenacity is Your Defining Feature"

FOR IMMEDIATE RELEASE
Monday, June 1, 2020
BERKELEY COLLEGE STUDENT SPEAKER TELLS CLASS OF 2020:
"TENACITY IS YOUR DEFINING FEATURE" 
 Join the Conversation: @BerkeleyCollege #BerkeleyGrad2020 #NewsBerkeley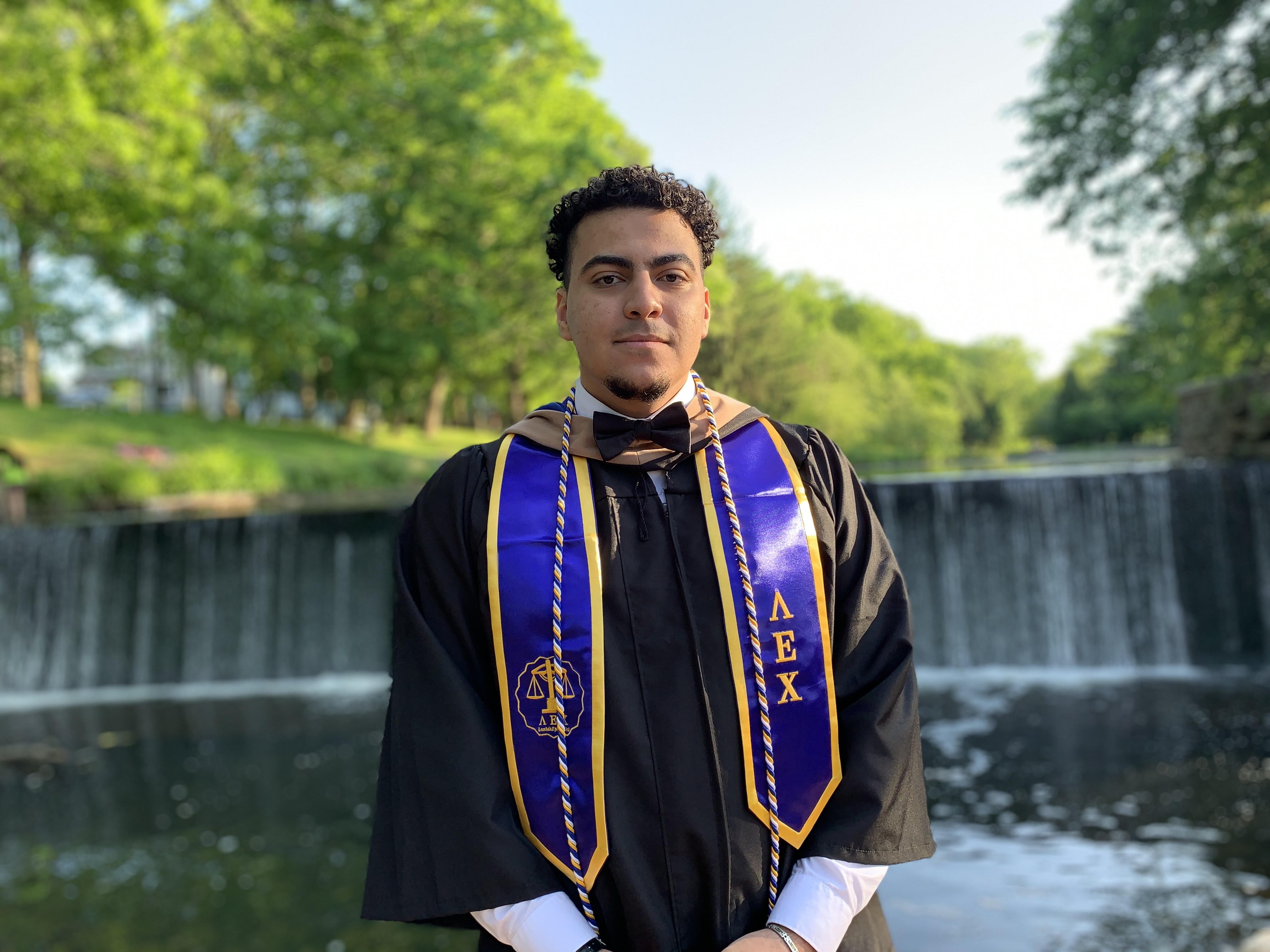 Photo Caption: El Mehdi Bendriss of Bloomfield, NJ, will deliver remarks as the student speaker during Berkeley College's virtual Commencement ceremony on Friday, June 5, 2020.
Berkeley College graduate El Mehdi Bendriss will deliver remarks as the student speaker during the College's all-virtual Commencement ceremony on Friday, June 5, 2020. Bendriss, who will graduate with a Bachelor of Science in Legal Studies and a 4.0 GPA, is employed in the Division of Personnel with the City of Passaic, NJ. He is a resident of Bloomfield, NJ.
In his message to graduates, Bendriss acknowledges the unexpected times in which we are living. "Tenacity is your defining feature," he says in his remarks for the Class of 2020. "It's what brought you to the end and it's what will propel you through all the obstacles that still lie in front of you."
On June 5, Bendriss also will share his pride in the diversity of the Berkeley College graduating class. More than 50% self-identify as either Hispanic or black, and 72% of the graduates are women.
"We're professionals, we're mothers, we're fathers, we're high school graduates, we're high achievers, we're first-generation Americans, we're immigrants," he said. "But above all that, we are now college graduates supported by the degree that will follow us from this moment."
As a student, Bendriss received awards for his thesis work and for community service through the Berkeley College Honors Program, a highly selective opportunity that exposes students to theme-based interdisciplinary seminars. He also served as a Student Ambassador, worked in the College's Government Relations office, and completed an internship in the Office of the Mayor in Passaic, NJ. He plans to continue his education and hopes to one day serve the public with a law degree.
"It is my mission is to one day be a benefit to my community, fight for and defend people when they are at their most vulnerable, and protect the sanctity of knowledge and learning," Bendriss said.
About the Virtual Ceremony
Berkeley College will hold a virtual Commencement ceremony to celebrate more than 2,200 graduates receiving Certificates, Associate's, Bachelor's and Master's degrees on Friday, June 5, 2020. The ceremony will be an opportunity for graduates to share the milestone with family, friends and the Berkeley College community remotely.
Each Berkeley College student was invited to create a Commencement slide featuring personal messages, videos and photos that will be shared during the virtual ceremony.
Virtual attendees will hear from Berkeley College speakers and honorees, including special video messages from New York State Assembly Speaker Carl Heastie and U.S. Senator Chuck Schumer.
The Berkeley College Class of 2020 reflects a diverse population of graduates who will join a network of more than 60,000 Berkeley College alumni eligible to receive lifetime career assistance. Berkeley College offers a career-focused educational experience with students able to take advantage of traditional classes and online education, with programs in more than 20 fields of study.
About Berkeley College
Berkeley College, founded in 1931, is a career-focused institution accredited by the Middle States Commission on Higher Education that offers students Master's, Bachelor's, and Associate's degree and Certificate programs in more than 20 career fields. The College has campuses in Midtown Manhattan and White Plains, NY, as well as in Newark, Paramus, Woodbridge and Woodland Park, NJ, with more than 5,700 students enrolled. In addition, Berkeley College Online® serves a global population. U.S. News & World Report has named Berkeley College among the Best Colleges for Online Bachelor's Programs and among the Best Online Bachelor's Programs for Veterans, for seven consecutive years. The website address is www.BerkeleyCollege.edu
The mission of Berkeley College is to empower students to achieve lifelong success in dynamic careers.