Berkeley College Honors Veterans Memorial Day Weekend

FOR IMMEDIATE RELEASE
Wednesday, May 20, 2020
MEDIA ADVISORY
BERKELEY COLLEGE HONORS VETERANS MEMORIAL DAY WEEKEND 
1,400 American Flags to Be Placed on Graves of Fallen Veterans at East Ridgelawn Cemetery in Clifton, NJ, on Saturday, May 23 at 3 p.m.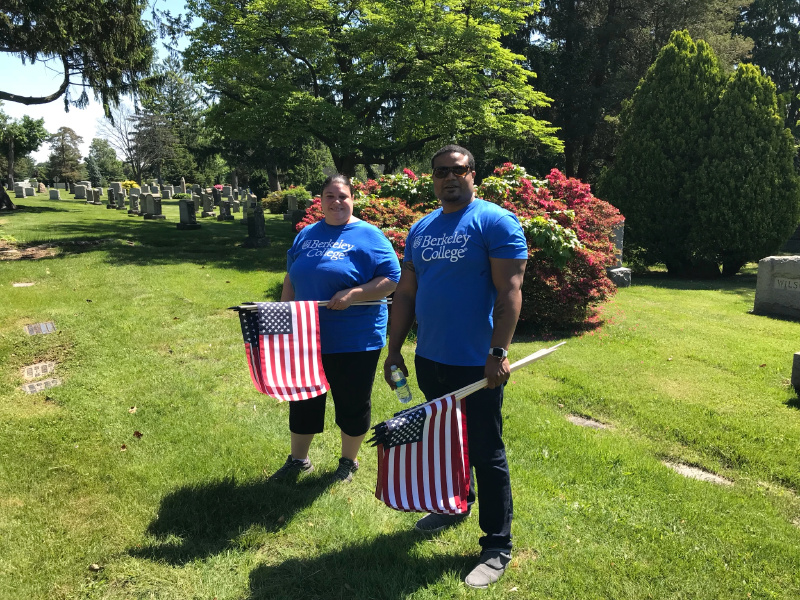 WHEN and WHERE: East Ridgelawn Cemetery, 255 Main Avenue, Clifton, NJ 07014
Saturday, May 23, 2020 at 3 p.m., weather permitting – rain date is Sunday, May 24, 2020, at 9 a.m.

WHAT: 10 Berkeley College volunteers, who represent the Berkeley Cares initiative, will place American flags on the graves of 1,400 fallen veterans in honor of the service of these veterans this Memorial Day weekend. Berkeley College and the Berkeley Cares initiative, which in the past would have been conducting its annual Community Service Week at this time to help dozens of nonprofit agencies in New Jersey and New York, is postponing those activities this season.
Berkeley Cares was created to organize efforts that address important social, economic and environmental issues in the community. Throughout each year, members of the Berkeley community provide thousands of hands-on volunteer hours, supporting organizations in the critical areas of food, health, shelter and student success.
WHO: 10 Berkeley College representatives from various departments who serve on the Berkeley College Community Service Week Planning Committee.
CONTACT: Kelly Depsee Cell: 201-956-7757   
To view the above photo as a high-resolution image, courtesy of Berkeley College, go to:
To view this Media Advisory in the News Room go to: