Berkeley College Honors Student Offers Suggestions for Women Negotiating Their Salaries during Virtual Research Symposium on Social Justice and Equity Topics

FOR IMMEDIATE RELEASE
Monday, August 17, 2020
BERKELEY COLLEGE HONORS STUDENT OFFERS SUGGESTIONS FOR WOMEN NEGOTIATING THEIR SALARIES DURING VIRTUAL RESEARCH SYMPOSIUM ON SOCIAL JUSTICE AND EQUITY TOPICS
"What surprised me the most is, there are so many laws in place to address this (issue of unequal pay for women), but in 2020, they are not effective enough."

- Brittany Ramsaran of Ozone Park, Queens, NY, Honors Student, Class of 2020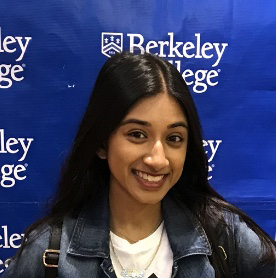 Brittany Ramsaran of Ozone Park, Queens, NY, anticipates graduating with a Bachelor's in Business Administration – Management from Berkeley College in December 2020. Presenting her research titled, "The Gender Wage Gap: Women's Negotiation" at the Berkeley College Virtual Honors Program Symposium, she was surprised that although there are many laws in place to address the issue of unequal pay for women, they are not effective enough.  
"This is a problem women face," Ramsaran said. "I will be entering the job market in New York and likely will be paid less (than men.) I thought it was appropriate to bring awareness to this issue women face because of their gender."
Ramsaran's research offered the following suggestions for women to negotiate their salaries: 
Go into the meeting owning your power – especially as a new employee joining a company.
Do your research about salaries before speaking with your employer about it.
Review your education, qualification and experiences.
Have a number that represents your desired salary in mind. If the number negotiated is lower, consider other options and think about it. You do not have to make a decision right away. Ask for a day to reflect on the offer made.
Consider other incentives such as a sign-on bonus or flexible work schedule like a four-day week or telecommuting a couple of days a week.
Be aware of timing when would be best to negotiate, maybe on an anniversary date or when the company receives good news, not when the stock value has declined rapidly, for example.
Monitor your achievements. They represent your hard work and dedication.
By executing these suggestions, Rasmsaran said women can feel confident and have solid arguments and information with which to negotiate.
Meanwhile, she is staying focused on graduating and getting a job after that. With guidance from her Career Counselor at Berkeley College, Ramsaran secured a virtual internship at Heartspace Academy, as a Social Media, Marketing, Business Development and Operations intern. She already has begun executing those assignments. 
"I do not procrastinate," Ramsaran said. "My advice to prospective college students is just set goals and stay focused on the major goal of getting your degree. Do not let anything stop you … Many people are using the pandemic as an excuse and forgetting the idea behind it. The pandemic will go away and you don't want to be stuck."
The Berkeley College Honors Program offers a highly selective, interdisciplinary, and seminar-based educational opportunity to high-achieving, full-time students seeking Associate's or Bachelor's degrees. This is a rigorous educational opportunity offered to a learning community of high-achieving students. To find out more about the Berkeley College Honors Program go to: https://berkeleycollege.edu/academics/honors-program/index.html.
Ramsaran assembled her research and thesis statement from a variety of academic and news sources.
About Berkeley College
Berkeley College, founded in 1931, is a career-focused institution accredited by the Middle States Commission on Higher Education that offers students Master's, Bachelor's, and Associate's degree and Certificate programs in more than 20 career fields. The College has campuses in Midtown Manhattan and White Plains, NY, as well as in Newark, Paramus, Woodbridge and Woodland Park, NJ, with more than 5,700 students enrolled. In addition, Berkeley College Online® serves a global population. U.S. News & World Report has named Berkeley College among the Best Colleges for Online Bachelor's Programs and among the Best Online Bachelor's Programs for Veterans, for seven consecutive years. The website address is www.BerkeleyCollege.edu
The mission of Berkeley College is to empower students to achieve lifelong success in dynamic careers.