Five Years Later: Berkeley College Online Dean Recognizes Best Practices and Learning Outcomes

FOR IMMEDIATE RELEASE
Tuesday, August 4, 2020
FIVE YEARS LATER: BERKELEY COLLEGE ONLINE DEAN RECOGNIZES VALUE OF BEST PRACTICES AND LEARNING OUTCOMES
"I am proud of seven consecutive years for which U.S. News & World Report ranked Berkeley College on the list among Best Online Bachelor's degree programs, based on best practices and many factors, including faculty credentials and peer organizational reviews."

- Joseph Scuralli, DPS, Berkeley College Dean, Dean, Online Education and Dean, Larry L. Luing School of Business®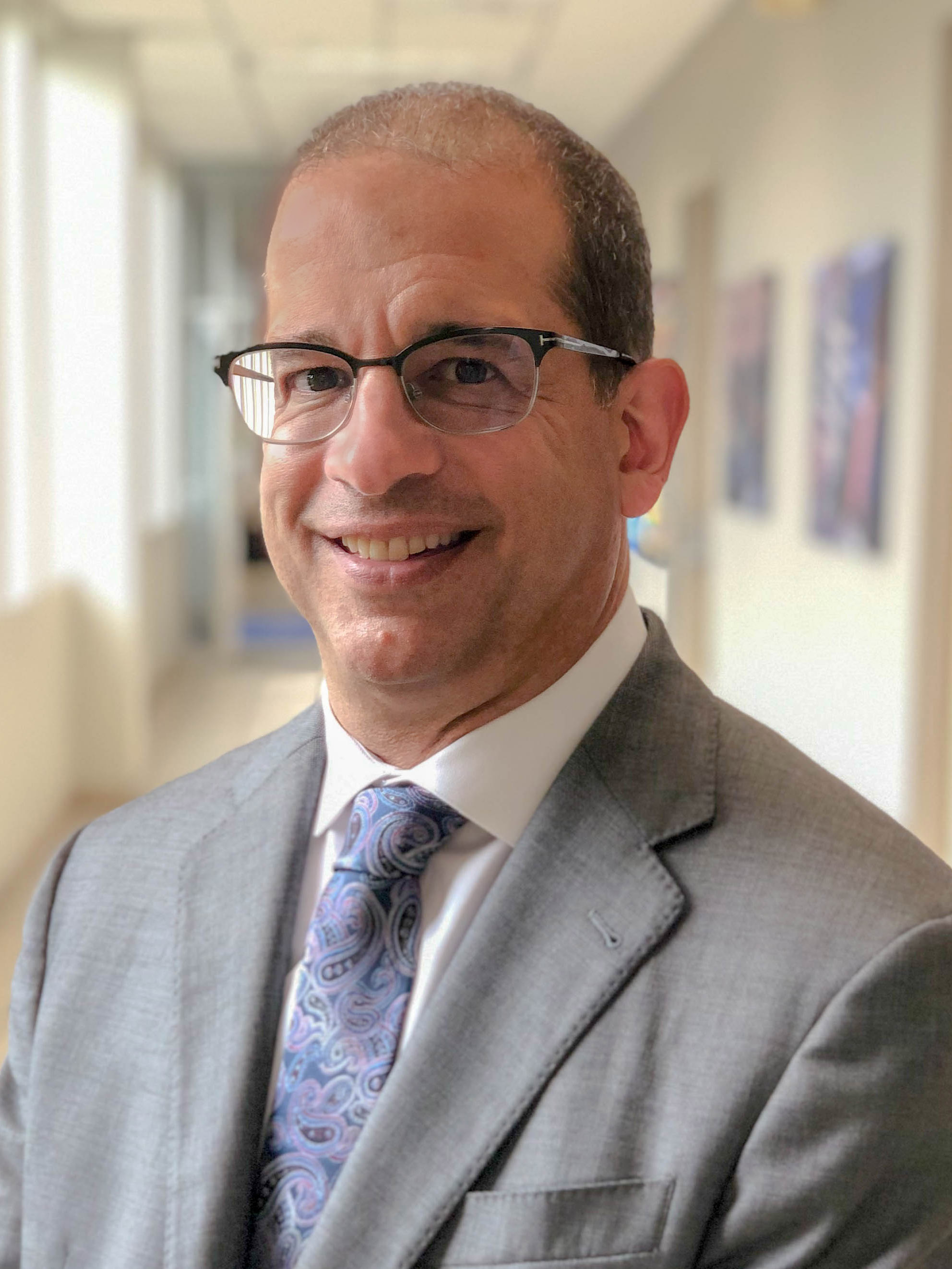 Share the News: @BerkeleyCollege  @CommerceNJ   #DistanceLearning  #NewsBerkeley
Joseph Scuralli, DPS, Berkeley College Dean, Online Education, and recently appointed Dean, Berkeley College Larry L. Luing School of Business®, spoke about the advantages and benefits provided to college students through online learning in a recent webinar sponsored by the Commerce and Industry Association of New Jersey. While a few of the myths about online learning from years past remain, many have been debunked, with the paths to success cleared by consistent improvements and widespread growth due to the impact of the COVID-19 pandemic. Scuralli also has experience as a former business owner and in the civic sector, serving on the Municipal Council in Wayne Township, NJ. 
The Question about Value and Cost
When asked about getting the same education from online learning compared with learning on site, Scuralli, who also teaches at Berkeley, said that at the college level, online learning is on par with learning on site. Berkeley College has offered access to online education for more than 20 years.
 "We do not have different curriculum for online and on site. It is the same curriculum. Students can move freely from online to on site, and we find that our students perform better when they take a mix," said Scuralli.
"At the end of the day, look at the value," Scuralli said. "What is the value on site versus online? Yes, you want the degree, but you also want the knowledge. What is the percentage of time a student is in instruction mode? How much time are they spending on the subject? I would argue that online classes fully vetted and designed to meet learning objectives is more efficient. We all have had professors (in the classroom) who diverge from subject matter. There is a high level of investment online in terms of quality course preparation, resources and technology."
Scuralli said that flexibility and scheduling options are advantages that benefit many online students, and indeed, distance learning was the go-to method nearly all colleges pivoted to quickly during the spring 2020 semester.
Taking a virtual course or Certificate program is another avenue for adults to continue their education while sheltering in place. Curriculum interests ranging from interior design to police studies (both offered at Berkeley) and everything in between are accessible from nearly any location at many institutions.
Quality Credentialing in Online Learning and Teaching
Scuralli noted there are many ways schools differentiate themselves. He said the mission at Berkeley is to help students have dynamic careers. The College focuses on how it can improve the careers of the students and move students forward. He reported that Berkeley College offers 30 different online degree programs. The College began teaching and learning online in 1998.
Berkeley also is involved in applying for certification by outside agencies for its online curriculum. These agencies include the United States Distance Learning Association Quality Standards certification, which uses 124 different standards and takes a holistic approach. He gave examples that quality online learning programs need to ask questions such as how do you help students, how are faculty being trained, and, are the learning objectives being met. What does the institution expect that student to know when they graduate from a particular program?
"I am proud of seven consecutive years for which U.S. News & World Report ranked Berkeley College on the list among Best Online Bachelor's degree programs, based on best practices and many factors, including faculty credentials and peer organizational reviews," Scuralli said.
"The online learning management system (LMS) is the place where the classes actually are delivered," explained Scuralli, who reports using the Canvas LMS at Berkeley. "Teaching and learning in the Cloud does not depend on the student's individual computer system," he explained. "(At Berkeley) students have the ability to work asynchronously, when they can during the week. This is an advantage to working students and those with family and other responsibilities."
Bringing the Holistic Approach into Student Focus
Scuralli noted that students have to feel supported. "They can't be out there and feel they are alone. Some people worry they will be lost. To address that, Berkeley built the Engage portal. All of the things that a student could be concerned about outside of the classroom are here. Every aspect of their life at college is right at their fingertips … 24 hours a day – the Information Systems Help Desk, Library Services, Counseling, Career Services, bookstore, activities, and more – all of the support services available to students, just like on campus."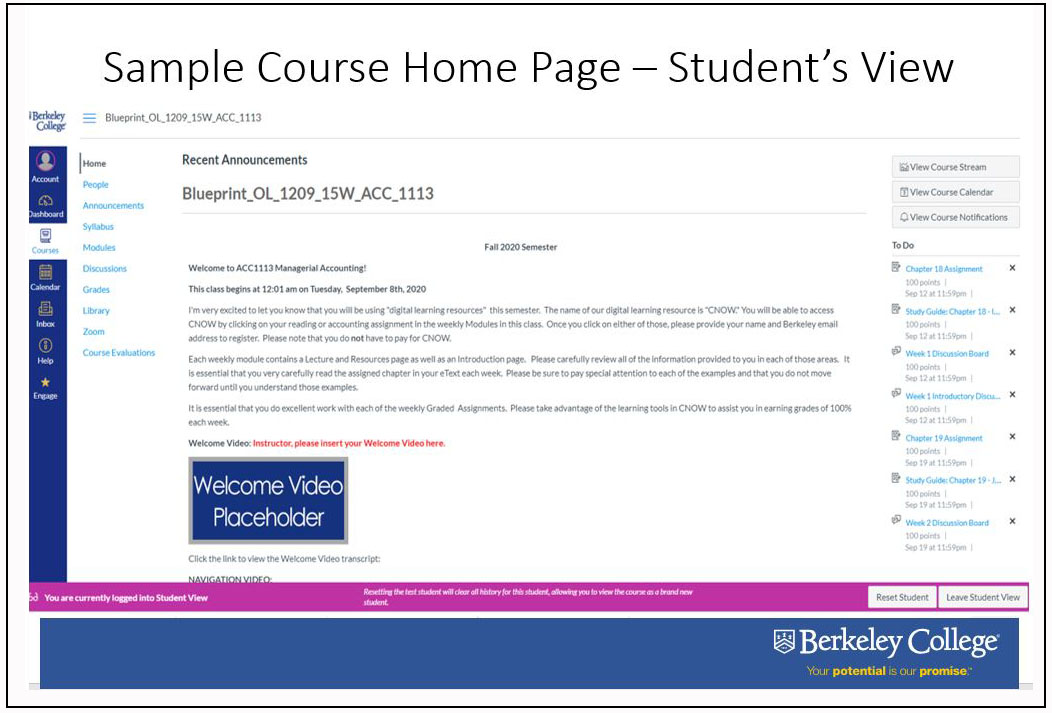 Caption: The above image is an example of a homepage in a course as seen by a student. "Berkeley College does not have different curriculum for online and on site students. It is the same curriculum. Students can move freely from online to on site, and we find that our students perform better when they take a mix," said Joseph Scuralli, DPS, Berkeley College Dean, Dean, Online Education and Dean, Larry L. Luing School of Business®.
Scuralli also noted that social interaction is very important online. "Peer-to-peer interactions normally are accommodated in discussion boards in every class," Scuralli said. "Each week we ask students to make an original post and respond to two other posts. They can agree or disagree, and get a journal article to support their point of view. There are additional platforms to talk to each other, such as Yammer. You also are able to see all the people and can email or use Zoom. There are social activities through Student Development. The experience of a student who wants to be on a campus with residential facilities will be different."
Whether it be for students or faculty, a fear of the unknown can still hold people back. Until now, most teachers and students have been accustomed to teaching and learning in classrooms. The webinar discussion also addressed how to alleviate this fear – that is, by experiencing it, just as everyone has become accustomed to using smart phones. It seems like there is no going back. The digital world meeting in business and education is the harbinger of what is to come, and the virtual learners of today will become the teachers, professionals in the workplace, and the leaders of tomorrow.
About Berkeley College
Berkeley College, founded in 1931, is a career-focused institution accredited by the Middle States Commission on Higher Education that offers students Master's, Bachelor's, and Associate's degree and Certificate programs in more than 20 career fields. The College has campuses in Midtown Manhattan and White Plains, NY, as well as in Newark, Paramus, Woodbridge and Woodland Park, NJ, with more than 5,700 students enrolled. In addition, Berkeley College Online® serves a global population. U.S. News and World Report has named Berkeley College among the Best Colleges for Online Bachelor's Programs and among the Best Online Bachelor's Programs for Veterans, for seven consecutive years. The website address is www.BerkeleyCollege.edu   
The mission of Berkeley College is to empower students to achieve lifelong success in dynamic careers.