College Life for Nontraditional Students Means Balancing Work, Homeschooling and Their Own Education - At Berkeley College, There is a Place for Them

FOR IMMEDIATE RELEASE
Thursday, October 15, 2020
COLLEGE LIFE FOR NONTRADITIONAL STUDENTS MEANS BALANCING WORK, HOMESCHOOLING AND THEIR OWN EDUCATION –
AT BERKELEY COLLEGE, THERE IS A PLACE FOR THEM
"With COVID-19, students were suddenly thrust into an intense and overwhelming situation. They felt alone and isolated, and needed a space to share what they were going through."
– Danielle Hewitt, Personal Counselor and ADA Coordinator, Berkeley College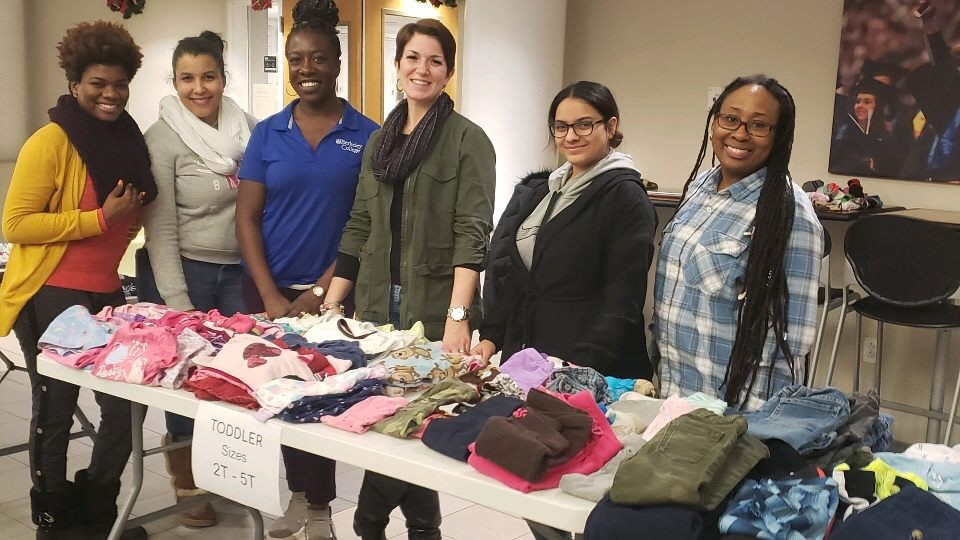 Photo Caption: Members of the Mamas & Papas Club host a free Children's Clothing Giveaway at Berkeley College in Woodland Park, NJ, in 2019. The Club, which offers an emotionally supportive community to students who are also parents, has adapted to provide virtual support during the COVID-19 pandemic. Berkeley College also offers a weekly Parents and Caregivers "Zoom Room," where students can drop in to share their experiences with classmates. 
As nontraditional college students address caregiving and homeschooling in tandem with school and work responsibilities, Berkeley College is offering support and resources to help them navigate the challenges of the COVID-19 pandemic. 
"My experience as a professor of entry-level students has shown me just how dynamic and diverse our students are," said Jennifer Moschella, Founder and Co-Advisor of the Mamas & Papas Club at Berkeley College. "They each have a different story and purpose for why they are here, but many of them have common responsibilities outside of being a college student, such as working full-time, taking care of family members, and being parents." 
The Mamas & Papas Club, operated in partnership with the Personal Counseling department at Berkeley College, provides resources on baby care needs, like diapers and community support for new parents, and creates a safe space for students to help each other. At the end of each semester, the Club holds a free Children's Clothing Giveaway. The Club has evolved to provide virtual support during the COVID-19 pandemic, including offering a Children's Clothing Closet where students can request items and arrange a time for pickup on campus. 
At the Woodland Park campus, Club advisors are Professors Moschella, English and College Skills, and Bradley Jenkins, Humanities and Social Sciences; and Sandra Coppola, Director of Personal Counseling. Moschella said the Club was founded in 2019 to "meet students where they are" and help parents to "fulfill their dreams of giving their children a better life." 
Tiffany Melone, who worked for 20 years as a waitress before deciding to return to school, has found that her hardest job of all has been that of a college student. 
"Going to college has proven to be one of the most stressful times in an adult's life," said Melone, 37, who serves as President of the Mamas & Papas Club in Woodland Park. "Being able to balance family, work and school can require emotional, financial and academic support." 
Melone is a member of two honor societies, and is pursuing a degree in Healthcare Administration – Medical Insurance, Billing and Coding. She is also a parent of two, focused on running a household and educating her young son during the COVID-19 pandemic. Despite "daily ups and downs," Melone said she has been sustained by her involvement with the Mamas & Papas Club.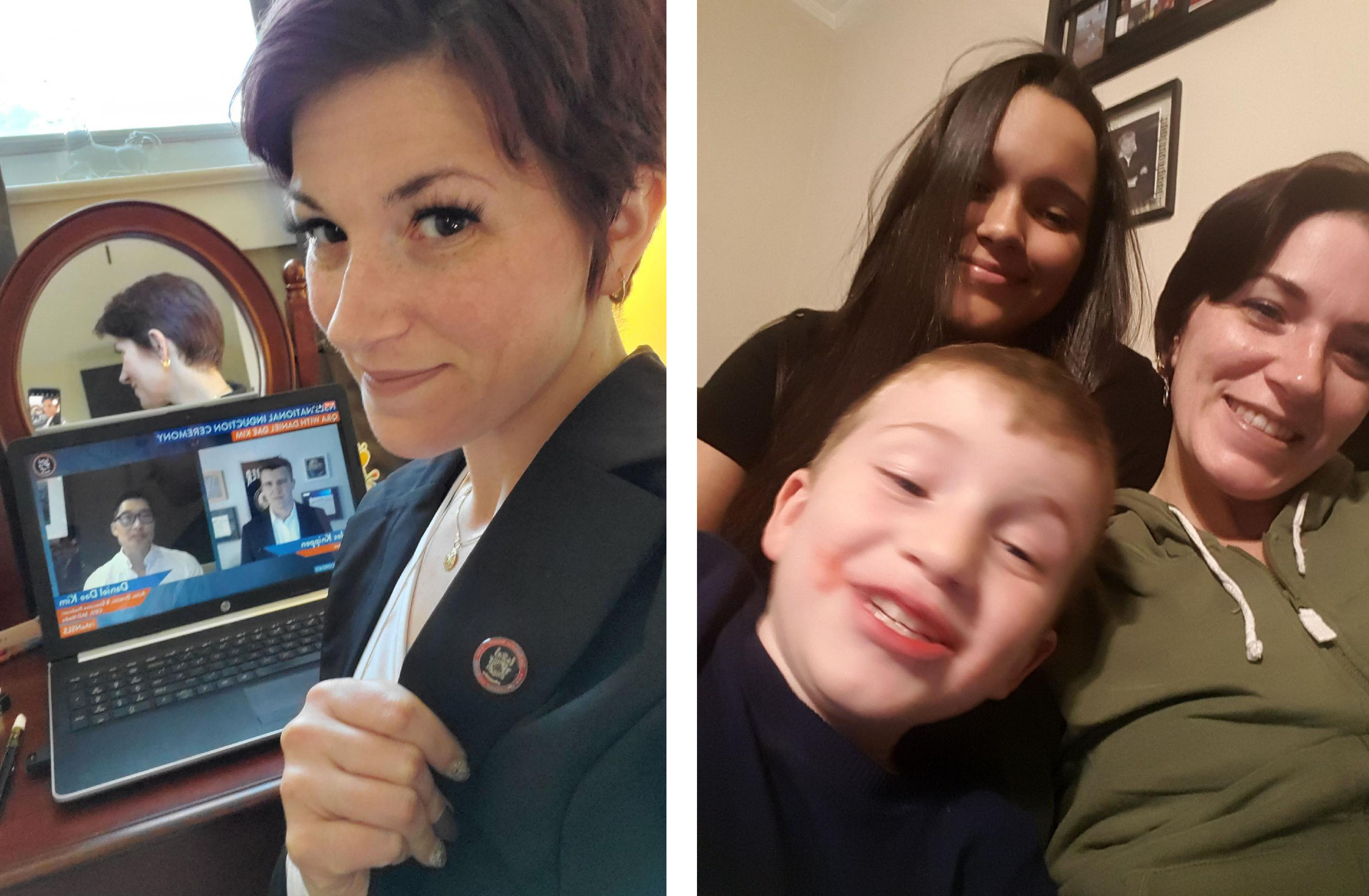 Photo Caption: Berkeley College student Tiffany Melone, 37, serves as President of the Mamas & Papas Club at Berkeley College in Woodland Park, NJ. (Left) She is a member of two honors societies, including the National Society of Leadership and Success, where she is pictured during the 2020 virtual induction. (Right) Melone is pictured with her daughter, 19, and son, 8. 
With 60 percent of Berkeley College students age 23 or older, the challenges faced by parents pursuing their degrees are relevant to students at every Berkeley campus. 
During the COVID-19 pandemic, this also means adapting to provide virtual support to parents who are helping their children with schoolwork and completing their own assignments. Berkeley College in New York, in partnership with the Newark and Woodbridge campuses, hosts a weekly Parents and Caregivers "Zoom Room," where students can drop in to share their experiences with classmates. The students also can schedule a one-on-one meeting with a Personal Counselor. 
"Although the mission of the Personal Counseling department has always been to support parents and provide community resources, we saw a greater need for outreach as a result of the COVID-19 pandemic," said Danielle Hewitt, Personal Counselor and ADA Coordinator, Berkeley College. "With COVID-19, students were suddenly thrust into an intense and overwhelming situation. They felt alone and isolated, and needed a space to share what they were going through." 
Hewitt said she found common themes among students. Some students just needed a sympathetic ear, while others serving as caregivers were not taking time to care for themselves. 
Yasmeen Thomas, 43, a Legal Studies student and mother of four, said speaking with a Personal Counselor at Berkeley College has helped her take positive steps in her life for the betterment of herself and her children, and has kept her working toward a career at a law firm or as a paralegal. 
"Through counseling, I have learned to speak up for myself and to set boundaries," Thomas said. "I have empowered myself to be a better person as a mother, daughter, sister, friend and wife."
About Berkeley College
Berkeley College, founded in 1931, is a career-focused institution accredited by the Middle States Commission on Higher Education that offers students Master's, Bachelor's, and Associate's degree and Certificate programs in more than 20 career fields. The College also offers continuing education programs to enhance career credentials.
Berkeley College has campuses in Newark, Paramus, Woodbridge and Woodland Park, NJ, as well as in Midtown Manhattan and White Plains, NY, with more than 4,900 students enrolled. In addition, Berkeley College Online® serves a global population. U.S. News & World Report has named Berkeley College among the Best Colleges for Online Bachelor's Programs and among the Best Online Bachelor's Programs for Veterans, for seven consecutive years. The website address is www.BerkeleyCollege.edu
The mission of Berkeley College is to empower students to achieve lifelong success in dynamic careers.