Inspiration, Resources and Recap from Berkeley College's #WE2020 Forum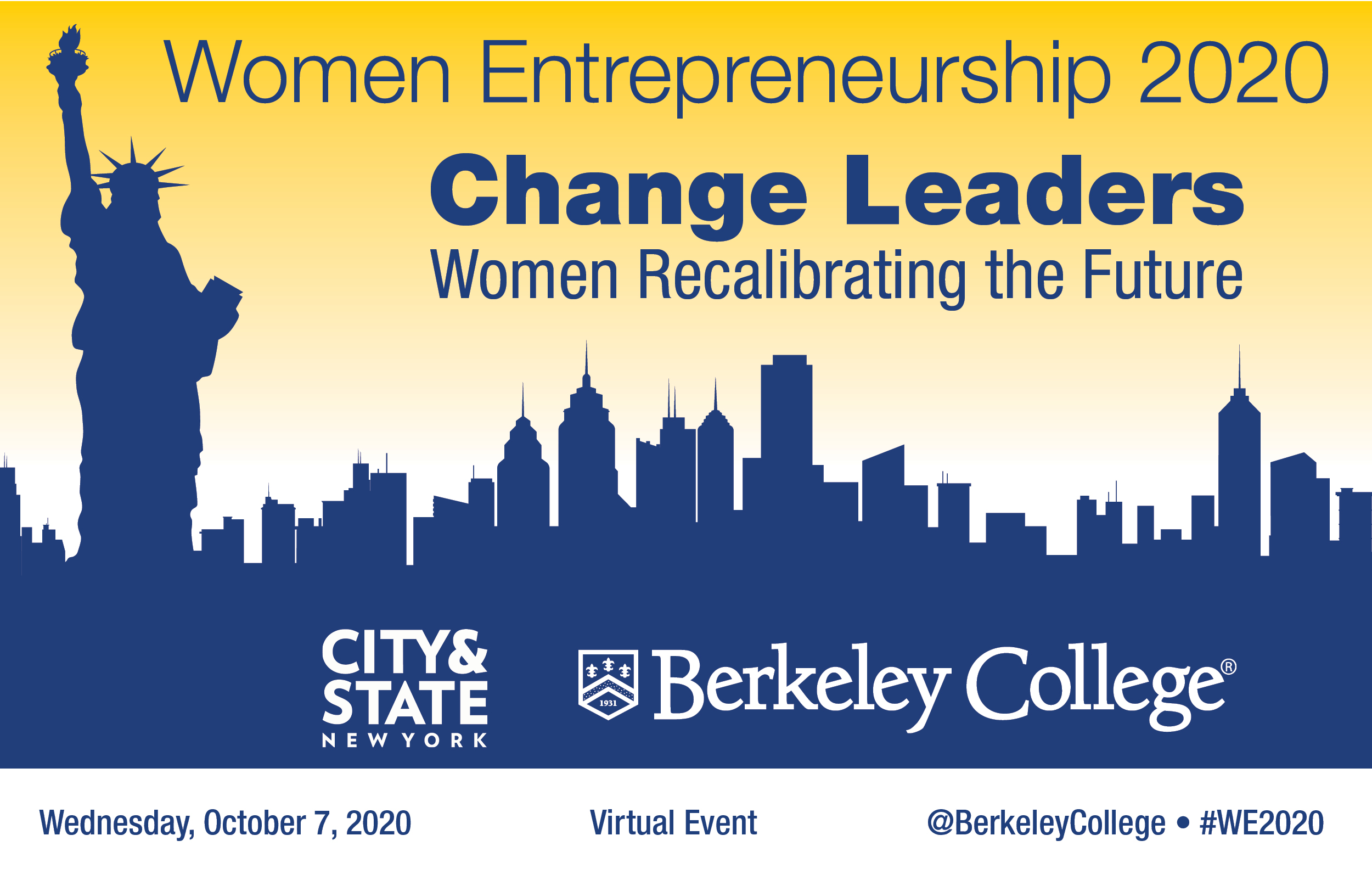 Berkeley College's 2020 virtual Women Entrepreneurship Forum, "Change Leaders: Recalibrating the Future," with media partner City & State , attracted more than 780 attendees on Wednesday, October 7th. Women leaders from government and all sectors of business shared resources and suggestions for success in rebuilding the economy and moving women's businesses, careers and lives forward.

You can read about and see some of the takeaways below, including features on women on the frontlines of social activism (Panel 1); managing a business in a pandemic (Panels 2 and 3); bringing back New York City's economy (Panel 3); navigating the remote workplace (Corporate Learning Partners Roundtable); and developing and marketing your personal brand (Career Workshops). Throughout the presentations you will learn about resources available for entrepreneurs and minority and women-owned businesses. With one in four women considering leaving the workforce because of the COVID-19 pandemic, this newsletter is a valuable resource to women seeking knowledge and advice on recalibrating  their futures.

The opening keynote by New York Lieutenant Governor Kathy Hochul and closing keynote by Joyce Chang, Chair, Global Research, JP Morgan, provided insights and inspiration.

This was the sixth consecutive year Berkeley College has hosted the event and it was the first time City & State was a media partner.

Thank you to all of our speakers, panelists, moderators and attendees for a remarkable day. The best classrooms we can provide for our students are the conversations shared by the many women who participated in our Women's Entrepreneurship Forum.

Our Women's Empowerment Playlist was a hit, and is included with the resources below. Also, be sure to check your inbox for a survey, which will help make our 2021 event the best yet.

Let's keep the dialogue going and the music playing!
____________________________________________________________
Welcome and Opening Remarks

"With women in charge, everything is possible." – Angela Harrington, Vice President, Communications and External Relations, Berkeley College

"Elevating the voices of women in industry, government and media on key issues is so valuable and important for each of us, especially for our leaders of tomorrow." – Michael J. Smith, President of Berkeley College

"It takes a lot of courage to share your story." – Naomi Dunston, Berkeley College Student
Opening Keynote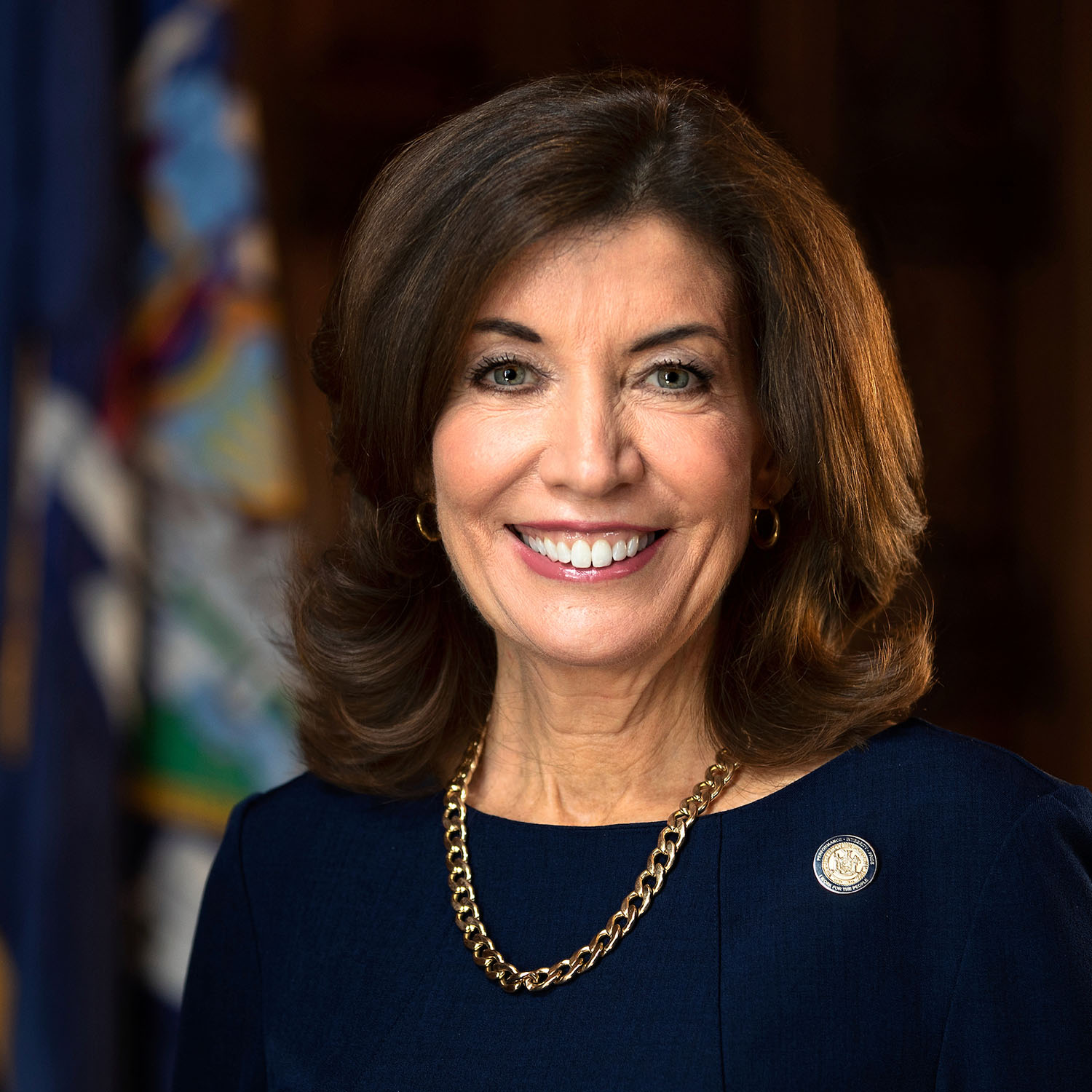 "No one can dispute the fact that women were on the front lines of battling this pandemic ... I think this is an opportunity to step back and acknowledge the incredible contributions and the way women powered through this and just kept going. It shows their resiliency." –  Lt. Gov. Kathy Hochul, New York
____________________________________________________________
Panel One
Change Leaders: A Conversation on Social Activism – Then and NOW

"Young girls consume social media with airbrushed lives and airbrushed models that do not reflect reality. (It's a) false impression of life." – Edwina Dunn, OBE, Chief Executive Officer, The Female Lead

"Four to five years ago we would not be talking about social justice inequities; now we can – actively and openly." – Jennifer Jones Austin, Chief Executive Officer and Executive Director, FPWA

"Right now the most important thing is to be engaged as a citizen." – Sonia Ossorio, President, NOW New York

"Change starts where inequities are exposed." – (Moderator) Moya Bansile, Esq., Co-Chair, Berkeley College Diversity, Equity and Inclusion Task Force and Professor, Legal Studies, Berkeley College School of Professional Studies

"Lead and drive change.  Lead where you stand.  Trust your gut." – Sheena Wright, President and Chief Executive Officer, United Way of New York City

"Through this COVID crisis more than ever, we have had to tell the stories that haven't been told. ... Black newspapers right now are at the forefront of telling these stories because other newspapers are not telling our story." – Elinor Tatum, Publisher and Editor in Chief, New York Amsterdam News
___________________________________________________________
Panel Two
Government Leaders Roundtable: Empowering Business Beyond the Reopening

"Government is always catching up with each piece of implementation so all can have access. We work every day as women, and women of color, as government, and bring you the resources. Our job is to build wealth in your life." – Wendy Garcia , Chief Diversity Officer, New York City Comptroller's Office

"I thank those of you who are raising your hand to say you want to be part of the city's response, you want to be part of the city's recovery. The work that you do as businesses to meet the purchasing needs of the city so we can deliver ... is absolutely critical." – Dynishal Gross, Deputy Commissioner, Division of Economic and Financial Opportunity, NYC Department of Small Business Services

"This pandemic is new to everyone. It's sort of like we're building the plane while we're in the air. But we don't have a choice. We have to adjust as things move forward. How do we remove some of these barriers to get people better access to support?" –(Moderator) Heather Briccetti, Esq., Chief Executive Officer and President, The Business Council of New York State

"We understand and we are here and want to help you. We are women; we can work together." – Man-Li Kuo Lin, Economic Development Specialist, U.S. Small Business Administration

"I've always urged businesses to understand why they are applying to become an MWBE. What is it that your business will achieve out of certification? All you have is your time. And investing your time in becoming an MWBE may or may not get you to the outcome that you want." – Council Member Helen Rosenthal, Committee on Women and Gender Equity, New York City Council
____________________________________________________________
Panel Three
Reclaiming New York City

"The struggle is trying to get businesses to look at us as trusted sources and know that there is advice and guidance out there. I think that will be an important piece going forward – getting to those sectors that are really struggling." – Linda Baran , President and Chief Executive Officer, Staten Island Chamber of Commerce

"We are going to need a rapid expansion of entrepreneurship in this city to fill in those empty storefronts, to activate those neighborhoods, to be the people who don't just change their business model, but reinvent the business model." – Elizabeth Lusskin, President, Long Island City Partnership

"We have heard that as much of a third of the city's 236,000 small businesses might not reopen. I would ask all of our panelists to shine a light and give us some hope against this backdrop of despair. What are you seeing, what are you doing that is most promising to bring about a turnaround?" – (Moderator) Angelica O. Tang, Senior Advisor, Asia Value Advisors

"New Yorkers are resilient and want to bring the city back. ABNY tries to keep the city moving." – Melva Miller, Chief Executive Officer, Association for a Better New York

"Downtown Brooklyn is a harbinger of where New York is going and how high a mountain we are going to have to climb in the next months and years. The good news, from a destination perspective, is that people have come back to Fulton Street." – Regina Myer, President, Downtown Brooklyn Partnership

"The entrepreneurial spirit remains. These small businesses are doing everything they can to fight and to help each other. We're also seeing New Yorkers step up to be supportive of the small businesses in their communities." – Jessica Walker, Chief Executive Officer and President, Manhattan Chamber of Commerce

"In the Bronx, there's lots of labor intensive hand-holding and helping people sort through the myriad of programs. We try to educate ourselves so that we can educate business owners." – Lourdes Zapata, President and Chief Executive Officer, South Bronx Overall Development Corporation (SoBRO)
____________________________________________________________
Corporate Learning Partners Roundtable

The panel examined professional development; cultivating diversity and inclusion in the workplace; and how to establish a remote work environment that works with your life.

"Change leadership means creating spaces to defy the odds, break barriers and develop new opportunities … every day." –La'Shawn Allen, Director of Training, New York City Health + Hospitals

"Now is the time to reinvent yourself. Think of yourself as your own small business." – Pam Cohen, Vice President, People and Culture, Affinity Federal Credit Union

"To be a change leader we must have the courage to go against social norms, the strength to be unpopular and the moral compass to know which fights are necessary." – Nancy Robles-Guess, Executive Vice President, Operations and Compliance, Eastern Funding LLC

"The main issue is communication. An employer has to understand what the employee's challenges are. An employer then has to take all of that into consideration and let the employee know what is expected of them. They have to be honest with each other in this brand new, virtual world." – Nancy Ploeger, Executive Director and Secretary, IWEC Foundation

"You have to have boundaries, but you're basically living at work. So how do you identify those boundaries?" – (Moderator) Diane Recinos, EdD, Senior Vice President, Student Success, Berkeley College
____________________________________________________________
Career Workshops

The workshop helped attendees develop their brand and their professional presence, and explored how to empower businesses through social media.

"We are the CEOs of our own career. Everything should speak to our own brand." – Jasmine Briggs-Rogers, Director, Career Services, Berkeley College

"Create a LinkedIn account that is intentional and purposeful. Make sure your profile is professional." –
Amy Soricelli, Vice President, Career Services, Berkeley College

"I want to talk about personal branding. Why is it important? How do you work to make your brand happen?" – (Moderator) Rosa Santana, Assistant Director, Career Services, Berkeley College

"What do people say when you are not in the room?  It is about your reputation. How do you want to be seen? If you want to convey a professional image, your website should speak to your background." – Adel Wilson, Founder and Chief Executive Officer, Celebrity Media Group 
____________________________________________________________
Closing Keynote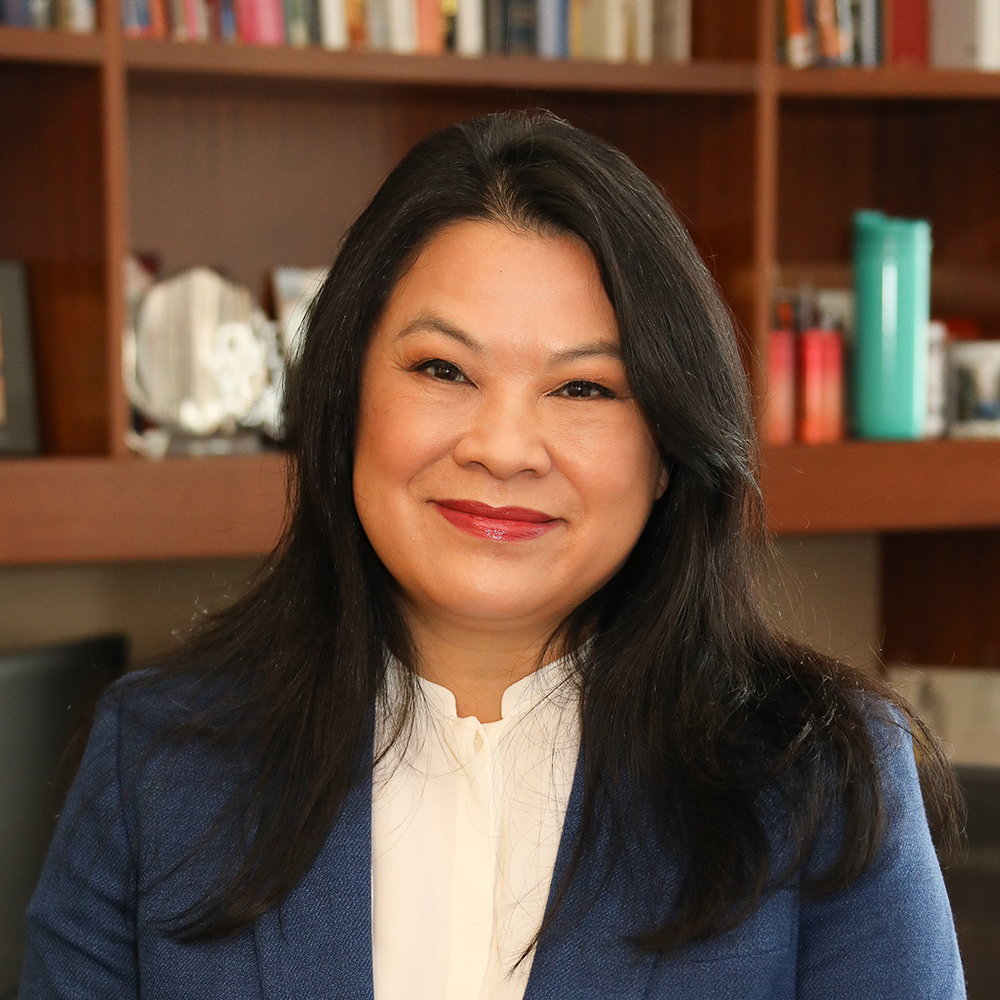 "Speak up twice so people don't think the first time was a fluke." – Joyce Chang, Chair, Global Research, J.P. Morgan

Q&A with:
Naomi Dunston, Berkeley College Student
Adriana Romero, Berkeley College Student 
____________________________________________________________
Resources from #WE2020
Check your email for a survey about the event!

Read the Press Release about the Event
https://berkeleycollege.edu/newsroom/2020/10/new-york-lt-gov-opens-dialogue-at-berkeley-college-virtual-forum-with-city-and-state-ny.html

Read a Press Release about Joyce Chang, Chair, Global Research, J.P. Morgan, and the Closing Keynote
https://berkeleycollege.edu/newsroom/2020/10/jpmorgan-chase-leader-joyce-chang-inspires-at-berkeley-college-virtual-forum.html

Berkeley College News Room
http://berkeleycollege.edu/newsroom

"The Female Lead: Women Who Shape Our Word" by Edwina Dunn
Request a free book at www.firstbook.org  

The Federation of Protestant Welfare Agencies (FWPA)
https://www.fpwa.org/

NOW New York
https://nownyc.org/

United Way of New York City
https://unitedwaynyc.org/

New York Amsterdam News
http://amsterdamnews.com/

News Literacy Project
https://newslit.org/

New York City Contract Financing Loans
https://www1.nyc.gov/nycbusiness/article/contract-financing-loan-fund

Reach a NYC Business Solutions Account Manager
https://www1.nyc.gov/site/sbs/businesses/contact.page

WE NYC
https://we.nyc/we-connect/

NYC Business Solutions Centers – Consultations and Apply for Financing
https://www1.nyc.gov/nycbusiness/article/financing-assistance

BOC Women's Business Center – Offers business training, one-on-one counseling and financing resources to help women entrepreneurs start and grow their businesses. Locations in Brooklyn, Staten Island and the Bronx.
https://bocwbc.org

Minority Business Development Agency's (MBDA) Office of Business Development Center – Promotes the growth of minority-owned business through the mobilization and advancement of direct services, public-private sector initiatives, advocacy and research.
https://mbda95.wixsite.com/website

NYC Small Business Services Resources for MWBE-certified Businesses
https://www1.nyc.gov/site/sbs/businesses/benefits-of-certification.page
mwbe@sbs.nyc.gov

Women-Owned Small Business Federal Contracting Program
www.sba.gov/federal-contracting/contracting-assistance-programs/women-owned-small-business-federal-contracting-program#section-header-8
 
Small Business Innovation Research (SBIR) Grant for R&D
www.sbir.gov
 
NYC MWBE Presents Wise Women Wednesdays
Register on Eventbrite
https://www.eventbrite.com/e/nyc-mwbe-alliance-presents-wise-women-wednesdays-tickets-123473208691

NYC Small Business Services Hotline
888-SBS-4NYC
www.sba.gov

Events Presented by the NYC Department of Small Business Services

Comptroller's MWBE University Workshops
https://comptroller.nyc.gov/services/for-the-public/diversity-initiatives/mwbe-university/

The Business Council of New York State
https://www.bcnys.org/business-council-new-york-state

Staten Island Chamber of Commerce
https://www.sichamber.com/

Long Island City Partnership
https://www.longislandcityqueens.com/

Downtown Brooklyn Partnership
https://www.downtownbrooklyn.com/

Association for a Better New York
https://abny.org/

Manhattan Chamber of Commerce
https://www.manhattancc.org/

South Bronx Overall Development Corporation (SoBRO)
https://www.sobro.org/

Berkeley College Corporate Learning Partnerships
Affinity Federal Credit Union Video – https://www.youtube.com/watch?v=FNPjaYLYq7o&t
Contact Mary Ann Chimento at 973-826-5592 or maryann-chimento@BerkeleyCollege.edu

Berkeley College Students Come First Video
https://youtu.be/B-oi4-yvoQE   

"Celebrity Media Secrets: 7 Simple Steps to Present with Power, Poise and Style On-Camera, Get Booked on TV and Media and Become a Celebrity in Your Industry" by Adel Wilson
https://adelwilson.com

Post a Job or Request a Berkeley College Intern
https://bit.ly/3nxT7pI

Crowdfunding Resources
IFUNDWOMEN – https://ifundwomen.com
Fund Dreamer – https://www.funddreamer.com   

IWEC Foundation
https://www.iwecfoundation.org

Wellbeing Works, LLC – Workplace Wellness Consultant
https://yeswellbeingworks.com/

Women's Empowerment Playlist – Played during the webinar lunch break:
Think – Aretha Franklin
I'm Coming Out – Diana Ross
The Harder They Come – Jimmy Cliff
I'm Every Woman – Chaka Khan
Fight Song – Rachel Platten
Independent Women – Destiny's Child
Spice Up Your Life – Spice Girls
Brave – Sara Bareilles
Run the World (Girls) – Beyonce
____________________________________________________________