Veterans Discuss How They Cope with Life-Altering Changes during Berkeley College Disabilities Forum

FOR IMMEDIATE RELEASE
Wednesday, November 11, 2020
VETERANS DISCUSS HOW THEY COPE WITH LIFE-ALTERING CHANGES DURING BERKELEY COLLEGE DISABILITIES FORUM
Photo Caption: Veterans discussed how they cope with life-altering changes during the Berkeley College Disabilities Forum. Guest speakers at "Heroes in Need of Heroes and their Stories," included veterans (top row, L to R) Earl Lundy, U.S. Army; Amanda Cherry, Iowa Army National Guard; Matthew Sparks, U.S. Air Force and National Guard; and (bottom row, L to R) Vanessa Hughes, U.S. Marine Corps and firefighter; Gregory Sanchez, U.S. Marine Corps; and Elana Duffy, U.S. Army.
@BerkeleyCollege #ADA30 #NDEAM75
Veterans with disabilities discussed how they cope with life-altering changes during the Berkeley College Disabilities Forum, "Heroes in Need of Heroes and their Stories." The veteran guests informed the audience with insights and stories about how their disabilities impact them, their loved ones, and the communities in which they live and work. Berkeley College participants included Sharon McLennon-Wier, PhD, CRC, LMHC, Director of Disability Services; Ed Dennis, Assistant Vice President, Office of Military and Veterans Affairs; and Diane Recinos, EdD, Senior Vice President of Student Success.
Veteran guest speakers included Earl Lundy of Rosenberg, TX, U.S. Army; Amanda Cherry of Kansas City, MO, Iowa Army National Guard; Matthew Sparks of Indianapolis, IN, U.S. Air Force and National Guard; Vanessa Hughes of Claremont, CA, U.S. Marine Corps and firefighter; Gregory Sanchez of the Bronx, NY, U.S. Marine Corps; and Elana Duffy of New York, NY, U.S. Army. The Forum took place virtually on October 29, 2020. Eight-five people attended the forum. 
"Hearing the points of view from both men and women veterans is important because, according to the U.S. Department of Veterans Affairs, last year 4.7 million veterans, or 25 percent of the total veteran population, had a service-connected disability," said Sharon McLennon-Wier, PhD, CRC, LMHC, Berkeley College Director of Disability Services. "In fact, more than one in four Americans have disabilities, many of which are not noticeably visible."
Nearly all of the guest speakers spoke about the challenges they faced, which at times, could easily lead to feelings of defeat or contemplating ending their lives. They stressed the need to ask for help, find resources specific to their disabilities, the value of an extensive support network of people around them and in their communities, and the desire to be treated as similarly as possible to other people.
Suicidal Tendencies Impact Individuals and Communities
Matthew Sparks is a 13-year military veteran who had been on active duty in the U.S. Army and served in the U.S. Air Force and Army National Guard. He was deployed for six and a half years, during which he witnessed the death of another soldier. When he returned home, Sparks began struggling, Medication and therapy were not working.
One night, when he could no longer deal with the situation, Sparks considered taking his life. He received a call from one of the founders of Mission 22, a nonprofit organization that helps veterans who struggle with PTSD and Traumatic Brain Injury (TBI), who asked how he was doing. That individual encouraged Sparks to obtain help went with him to answer concerns about his treatment. The support from Mission 22 helped Sparks turn his life around. Now he serves an important role in his family as "Mr. Mom," and as the Region 5 Leader for Mission 22. "Don't let it beat you up," Sparks tells others as a speaker for Mission 22 and The Mighty Oaks Foundation, a faith-based veteran service organization. "There's no going back."
Gregory Sanchez served in the U.S. Marine Corps from 2009 to 2013 as an Ammunition Technician and completed one tour in Afghanistan in 2011. Reflecting on two suicide attempts, he admits he was hard-headed about his situation. 
"I really appreciated all the people reaching out and coming from a good place," Sanchez said. "You need to have a good safety net. Now I have a good support system. Having people there for you during the bad times really is important."
Sanchez became a Peer Support Volunteer at the Manhattan Department of Veterans Affairs for the Veteran's Clubhouse. He is currently an artist and has works for sale on Etsy and on his own website.
Inspiration Arrives from Unknown Places
Earl Lundy of Sumter, SC, served in the U.S. Army for five years before he was medically retired due to injuries he received while on duty, and post-traumatic stress. He was a third-generation member of the 82nd Airborne and still wanted to do something bigger than himself, but he felt stripped of everything. Then one day, while lifting a 25-pound weight in his garage, a young man walking by asked if Lundy could train him. 
"He saw something in me I didn't see in myself," said Lundy. "He thought I was helping him and he was helping me. That was the spark I needed."  Lundy's wife also made an impact when she called the Wounded Warrior Project who contacted him about attending an event. That led to Lundy sharing his story. "It gave me a new platform and area in my life where I could give back … I can still serve after the uniform," Lundy said. Lundy now has a career that he loves as a health and wellness performance coach and gym manager at Combined Arms Gym, which allows him to stay involved with the veteran community. He also is a formally trained peer mentor and a "Character Does Matter" mentor with the Travis Manion Foundation.
Ed Dennis, Assistant Vice President, Berkeley College Office of Military and Veterans Affairs, who served in the U.S. Army for 21 years before transitioning into his role assisting veterans, identified with the experiences and stories of the guests. "I applaud you for having the courage and perseverance to share your experiences to educate and inspire other Veterans and their loved ones, and show that overcoming the challenges is possible," Dennis said.
Asking for and Finding Resources to Help is Important for Everyone, including People with Disabilities
Elana Duffy, whose dreams of becoming an astronaut someday brought her through earning engineering degrees at both the undergraduate and graduate levels, followed by enlistment in the U.S. Army for 10 years, took a back seat as she worked in military intelligence as an interrogator and investigator. While in combat, she sustained a severe brain injury and several injuries to her right leg. Despite not wanting to give up on her career, she was medically retired from service.
Her search to start over in New York City was difficult. "It's something we all do and need to do," Duffy said. Because she was unable to find the help she sought, Duffy started her own AI technology company, pathfinderlabs.com, which connects veterans to the best local services. Website users can see what others like themselves are saying, get recommendations, and share anonymous feedback to improve their community and live better. "We want to make sure nobody gets left behind," said Duffy, who last year made the decision to have her lower right leg amputated, after experiencing pain for 14 years. Duffy continues to look for more help along the way.
Volunteering for local, national and international veterans' organizations, Duffy also took on organizational leadership roles and co-founded a content creation and consulting firm, Present Tense LLC. Duffy is an avid mountain and rock climber and dedicated social change advocate.
Disability-Specific Accommodations Work Best
Two of the guest speakers, Vanessa Hughes of Claremont, CA, and Amanda Cherry of Kansas City, MO, illuminated the barriers, uncomfortable behaviors and assumptions people impose on individuals with disabilities. Hughes explained how not all service-connected disabilities are combat-related. She has multiple sclerosis (MS) and because her symptoms fluctuate, she may appear able-bodied, but at times cannot feed herself and uses a wheelchair. Cherry has a service dog because of Post Traumatic Stress (PTS) brought on by Military Sexual Trauma.
Hughes received dismissal (which she successfully appealed) from an academic program. The reasons included failing a class where she struggled with assessments involving visual details and dexterity. Her repeated requests for accommodation to address her disability were not met. At times she has been called lazy and told she was using her disability as an excuse. She now teaches an assessment class at another university. On the positive side, Hughes credits her "amazing advisor" for helping her. "Having an able-bodied ally has kept me from dropping out of this (doctoral) program, like so many individuals with disabilities do," she said.
Hughes has served as a therapist treating returning combat veterans with Post-Traumatic Stress Disorder (PTSD) in both veteran affairs and community-based settings. She developed a body-based treatment approach for military sexual trauma using Somatic Experiencing, which is used in several treatment programs, and is Executive Director of Organizational Development at Vetitation, a fully funded wellness retreat program for Veterans with PTSD. She also teaches in an Marriage and Family Therapy graduate program as an adjunct professor, provides training for fellow therapists, and consults with professionals, business owners, and community members on veterans' issues. Through her coaching business, Well Coached Life, Hughes promotes wellness practices in others.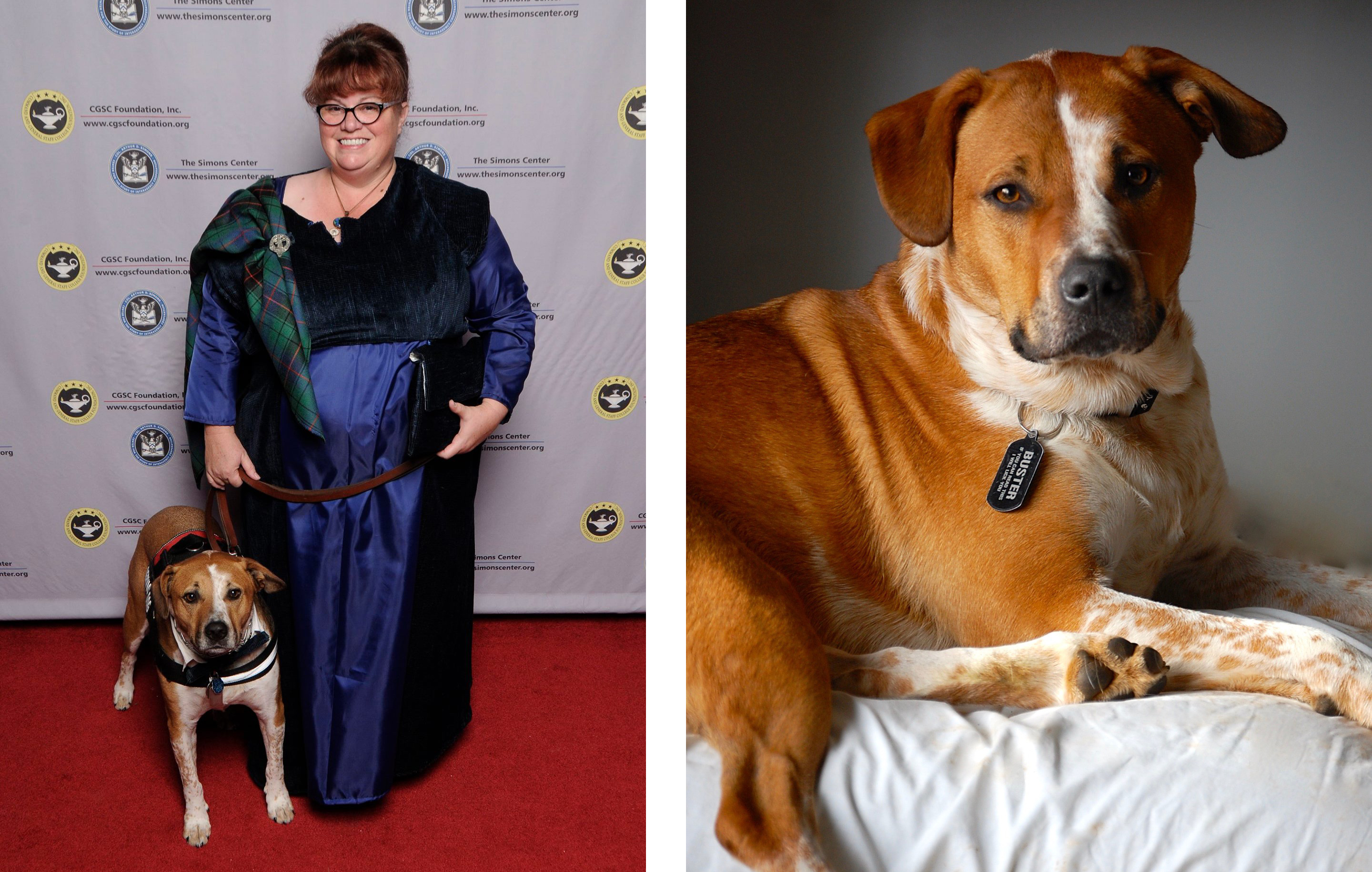 Photo Caption: One of six guest speakers at "Heroes in Need of Heroes and their Stories," a virtual forum where veterans with disabilities discussed how they cope with life-altering changes, Amanda Cherry of Kansas City, MO, said she goes everywhere with her service dog, Buster.
Amanda Cherry of Kansas City, MO, an award-winning photographer, freelance journalist, author, playwright, actress, director and former EMT, showcased her talent by poking fun at what she experiences. For example, she was quick to let the audience know that to date her would mean also dating her service dog, Buster. Cherry also made fun by giving examples about how people might treat people in wheelchairs. She regards a wheelchair like having a service animal. "You don't have to take care of us," she said. "Treat us like you would anyone else."
Cherry served in the Iowa Army National Guard from 1992 to 2000, first as a combat medic and then as a public affairs specialist. She was deployed from 1996 to 1997 in support of Bosnia's Operation Joint Endeavor. More recently in her career, in 2018, Cherry became the first female veteran to found a nonprofit theatre company. Charlie Mike Theatre Company is dedicated to serving military, veterans, first responders and their families. As Artistic Director, she continues the mission of service through education, outreach and theater featuring those who served. Cherry also runs a women-only writing group and participates in writing programs for all veterans across the country. She is an editor for the Department of Joint Interagency and Multinational Operations at Ft. Leavenworth's military college. 
Cherry noted that each service dog is trained to address the individual needs of the person they are trained to assist. As a result, Buster can pick up things Cherry may drop, for example, as small as a credit card
About Berkeley College
Berkeley College, founded in 1931, is a career-focused institution accredited by the Middle States Commission on Higher Education that offers students Master's, Bachelor's, and Associate's degree and Certificate programs in more than 20 career fields. The College also offers continuing education programs to enhance career credentials.
Berkeley College has campuses in Midtown Manhattan and White Plains, NY, as well as in Newark, Paramus, Woodbridge and Woodland Park, NJ, with more than 4,900 students enrolled. In addition, Berkeley College Online® serves a global population. U.S. News & World Report has named Berkeley College among the Best Colleges for Online Bachelor's Programs and among the Best Online Bachelor's Programs for Veterans, for seven consecutive years. The website address is www.BerkeleyCollege.edu
The mission of Berkeley College is to empower students to achieve lifelong success in dynamic careers.