Berkeley Grad Wesley Rebisz Leads Empire Outlets to a New Kind of Future

FOR IMMEDIATE RELEASE
Wednesday, March 17, 2021
BERKELEY GRAD WESLEY REBISZ LEADS EMPIRE OUTLETS TO A NEW KIND OF FUTURE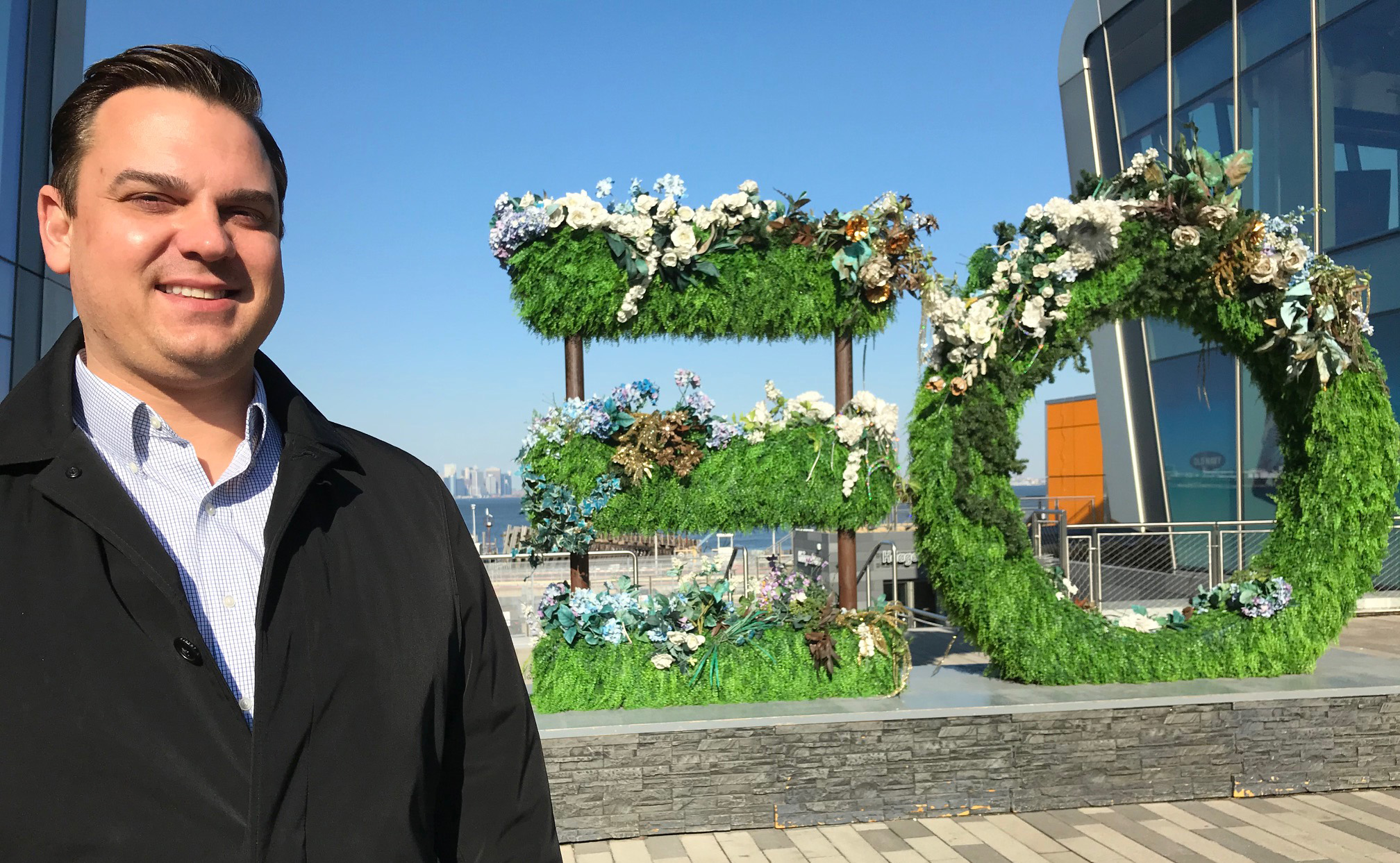 Photo Caption: Wesley Rebisz, a 2008 graduate of Berkeley College, is photographed at Empire Outlets where he serves as the General Manager.
Wesley Rebisz, Berkeley College Class of 2008, is General Manager of Empire Outlets, based in Staten Island, NY. In this interview, Rebisz discusses how he maintains an optimistic outlook while operating New York City's only outdoor retail outlet center during a pandemic; how he got his start in the commercial real estate industry; and his move to real-estate investment management company Madison Marquette in 2019 to launch Empire Outlets, after a 10-year career at General Growth Properties (GGP). Madison Marquette oversees a $6.2 billion real estate investment portfolio, with 330 assets in 20 states.
BFC Partners of Brooklyn developed Empire Outlets and has been responsible for the acquisition, development, financing, construction, marketing, and management of many of New York City's finest residential, office and mixed-use projects since 1996. BFC Partners looks not only to break ground on new buildings, but also to jump-start the neighborhoods around them – economically, culturally and socially.
At Empire Outlets, Rebisz directs operations of a 1-million-square-foot shopping center located along the St. George section of Staten Island's North Shore. The property's development created 1,200 jobs, and is ramping up for the spring and summer months.  It has also served the public as a COVID-19 vaccination site since February 19, 2021.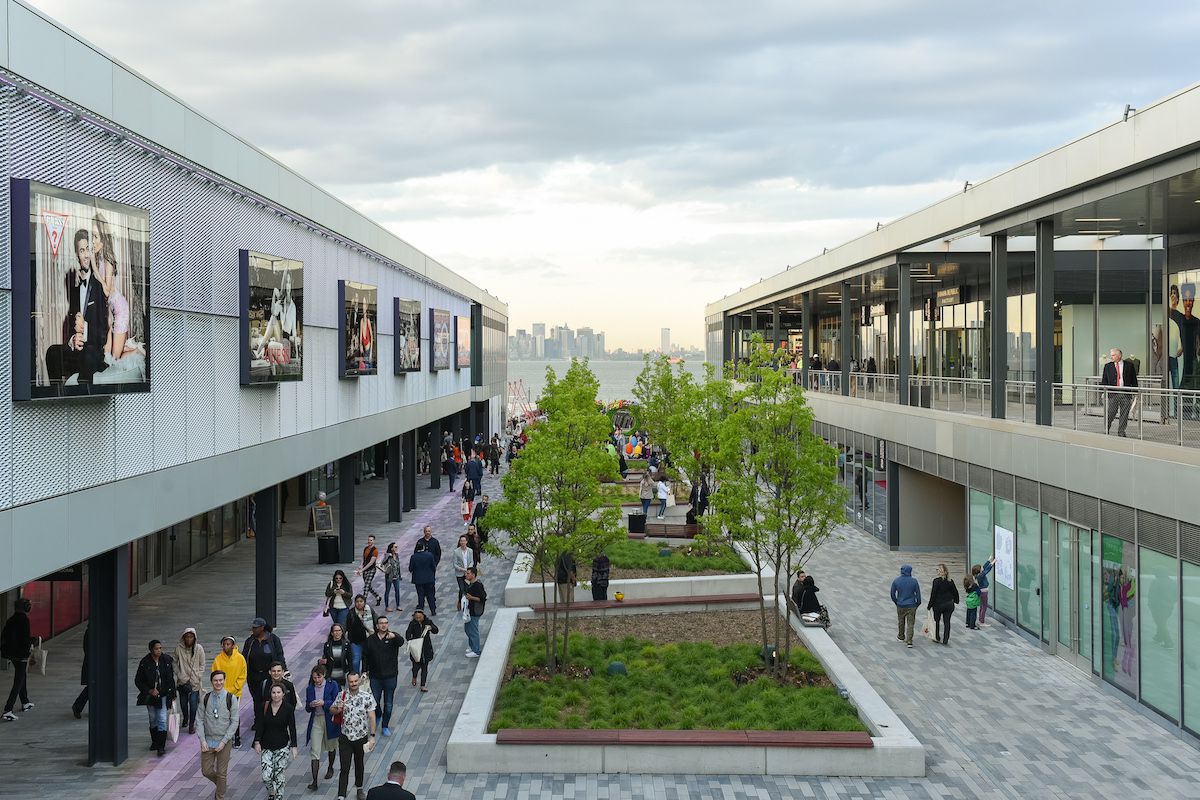 Photo Caption: Empire Outlets. Credit: BFC Partners
Two of Rebisz' proudest moments were opening a COVID-19 Vaccination Hub on the property at Empire Outlets, where retail and commerce intersect with social good, and hosting Broadway in the Boroughs, where thousands of people enjoyed Broadway performances on the property.  The breathtaking views of Lower Manhattan and easy access by ferry and public transportation make this a new New York destination for hipsters and discerning travelers from around the world.
You started in this position as General Manager at Empire Outlets in May 2019. Ten months later, the COVID-19 outbreak occurred. What have been the effects on business and how are you managing operations through this pandemic?
It was like, not only are we opening NYC's first outdoor outlet shopping center, which I am well-versed and experienced in how to operate a shopping center. All of a sudden we now have to open a new shopping center in a pandemic that requires social distancing, increased hygiene, and new health safety protocols. There really was no playbook to read. There was no one to look to for guidance in terms of "what have you done in the past," because, let's face it, we have never been in this situation.
In working with my team, we looked at the guidance that New York City was putting out at the time and that Madison Marquette was formulating, primarily ensuring social distancing and increased cleaning for hygiene. We put together a tactical list of what we needed to do to operate the property safely for patrons and employees, and we're still implementing those processes and procedures today.
Once we updated our processes and procedures for social distancing, hygiene and cleanliness, the business really changed as well in terms of local shoppers compared to tourists.  We are still doing real estate deals, although timelines are slightly longer in terms of deal making. People are still shopping. Everyone has masks on. We are just seeing now an unfreeze of business and people coming back to the offices, and being open to continuing progress to open shops prior to COVID. With all the vaccinations going out most recently in the past few weeks, we have even seen an increase in shopper foot traffic, which then translates to increased sales.
What does a typical day look like now compared to before the pandemic?
My typical day is working on several new items every day and building progress with ongoing items. Really, I am a creative thinker and problem solver, always trying to improve everything.
The dynamic has really changed significantly in terms of our patrons. Empire Outlets was designed for tourism and local shoppers on Staten Island. Predominantly, our shopper base was 70 to 80 percent tourism, which literally has come to zero percent tourism because of COVID-19 travel restrictions. International tourism has come to a screeching halt. What's fantastic is that we have increased our local shopper footprint.
I always try to look at the bright side of a terrible situation. We are attracting shoppers from Manhattan, and out of all five boroughs. Although our sales are not where they were pre-pandemic, they are steady. Our hope is that once international and domestic tourism reopens, we will keep this base of local shoppers and bring back the tourists for even better results.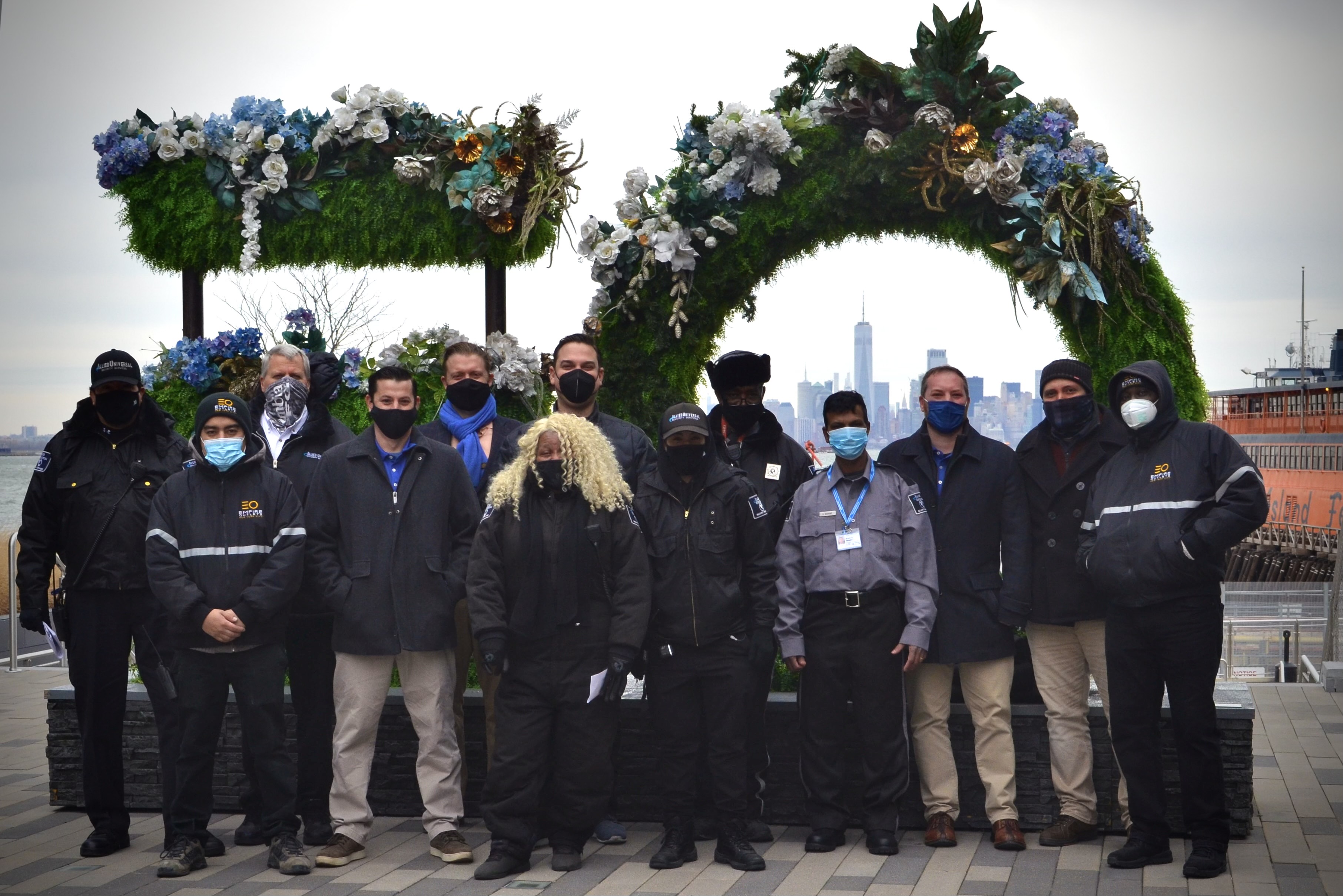 Photo Caption: Empire Outlets management team. Credit: Empire Outlets
Are there any people who stand out or memorable moments at Berkeley College that helped shape you?
I would say all of the staff that I interacted with in terms of the guidance counselors, the career placement department, and all of the professors I had. I always had a sense that they were there to help me succeed and they would push me to do the very best that I possibly can. They were always supportive. Amy Soricelli (Vice President, Career Services) is a person who pops out. I have kept in contact with her. She helped me get my first internship at GGP. We still keep in touch from time to time and check in to see how things are going. That has a lot to say about the staff of Berkeley College. They are willing to keep relationships and support alumni.
Did you ever imagine you would be in the career position you are in today?
My introduction into shopping center management was through an internship and at that time internships were unpaid. I just felt so lucky to have the opportunity to be part of GGP, a real estate investment trust and the second largest operator of shopping centers in the U.S.
(In his various roles at GGP, Rebisz managed five shopping centers, worked on two coasts, managed shopping centers in Maryland, California, and New Jersey and special projects through all of the United States, including Glendale Galleria and Office Tower in Los Angeles, CA, a 2.1-million-square-foot shopping center and office tower. In 2018, GGP was acquired by Brookfield Property REIT becoming the retail arm of Brookfield, a company with $202 billion in total real estate assets under development.)
If it wasn't for Berkeley I would not have had that internship opportunity. Just going into it I've always had a 2-year, 5-year, 10-year, 15-year, 20-year plan, and I try to stick with it.
When I started as a marketing intern, my next step was how do I become a marketing manager? When I am a marketing manager, how do I get myself to be a general manager? From here my next goal in the next few years would be as a portfolio manager, where I am not only managing one property, but I am managing a portfolio of anywhere between 10 to 20 properties. In this business that is classified as VP of asset management or a portfolio director and then to advance to a SVP position, and on one day to CEO.
What prompted you to shift from a very large real estate group to a smaller organization?
The shopping center industry is what my passion and focus is on, including office, retail, food and beverage, and any commercial real estate that would be tied into the category of a destination. 
I always try to keep top of mind, what can I do to set myself apart from other general managers in terms of experience, accomplishments and leadership? That is one of the keys to my success. I always try to improve myself by continuously evolving my knowledge and experience. The other key to my success is the people I interact with, my colleagues, and always growing my network. I have taken on a lot of challenges where some people might back away because it's unchartered territory.
I take on a challenge. I thrive for the challenge and I like to work with a team that has similar goals and ideals. I would not be where I am today if I took the easy job or the easy route.
What advice do you have for students who look at someone like you and want to achieve similar success?
I think it is very critical to have a timeline and set goals for yourself, and continually build upon your experience. Take a look at opportunities that present themselves which may seem difficult. Have the confidence in yourself that you will be able to succeed in whatever task it is that you're consistently focused on.
I also think it is important to keep a daily journal. I started doing it as an intern – I still keep a daily journal. I take notes throughout my day. I keep all of the journals, and I'll go back sometimes and I will reflect on a journal from two years ago. Often I find myself thinking, "Wow, I can't believe I was doing that back then, and how I've progressed to where I am now."
What path would you recommend for students who would like to enter the field of retail property management?
For anyone who is interested in shopping center management, I would try to get an internship with one of the National REITs: Simon, Westfield, Brookfield, Taubman. These organizations are multibillion-dollar organizations. They have the processes and procedures for owning and operating shopping center destinations down to an art form. They are organizationally structured from the field up to the centralized corporate level. You're learning from the best of the best in the industry. When you have one of those four companies on your resume along with significant accomplishments over a longer period of time, that's what recruiters and regional real estate developers are looking for. They want someone with significant experience that has the process and procedures down pat so that they can tackle any obstacle with confidence and purpose.
In terms of evolving as a professional, what are some of the factors essential to building a career in any profession?
First and foremost, education is extremely important. I have a Bachelor's degree and a Master's degree, and I have a certified shopping center manager (CSM) designation, from International Council of Shopping Centers (ICSC).
I would urge people who really want to grow their career to factor in continuing education and certifications in their specialty field.
With a mass vaccination site housed at Empire Outlets, will the healthcare component be a permanent feature?
I believe it will be a long-lasting relationship. COVID testing and vaccination centers will be around for some time. We welcome that. We are very happy to be able to help New Yorkers, Staten Islanders specifically, overcome COVID-19 and get our lives back to normal. This is an example of how shopping centers like Empire Outlets are curating a destination for people to fulfill multiple needs of their lifestyle within one immersive place.
Running a shopping center in this economy, in this world of ecommerce, how viable a career path is shopping center management these days?
That's such a great question. I think it is a very viable career path. And this holds true in life in general. It's the retailers and uses that adapt to the environment that will not only survive, but thrive. Let's look at 2020. We had a lot of household names filing for bankruptcy such as GNC, True Religion and Lucky Brand. These are all brands that have been around for decades. We are now seeing, only three months into 2021, new brands emerging and replacing those that have failed.
These brands are multifaceted and multiplatform, and interact with consumers in an immersive 360-degree approach. They are integrating their online with their in-store experience and really that's the key. One day we will no longer see the battle of in-store sales and online sales, but just a brand's total sales, which can be broken down to a specific location. Companies that are thinking ecommerce and learning how to connect the dots between brick and mortar and digital, those are the companies that are going to thrive.
The way shopping centers are being merchandised today is to curate a diversified tenant mix. Twenty years ago, shopping centers were more accessory- and retail-centric. There is a prominence of food and beverage, entertainment and education being introduced. Lifestyle centers are being built to encompass all aspects of one's needs. Some of the forward-thinking developers are looking at what they are going to do with parking lots in 20 years when vehicles will be automated and we won't need parking lots. Should we do residential? How do we maximize the real estate that we have? Retailers are curating a merchandising mix that is a destination.
The properties that will survive and thrive are the ones that are ever-evolving their tenant mix. The same could be said about evolving your education and experience to enhance and grow your career.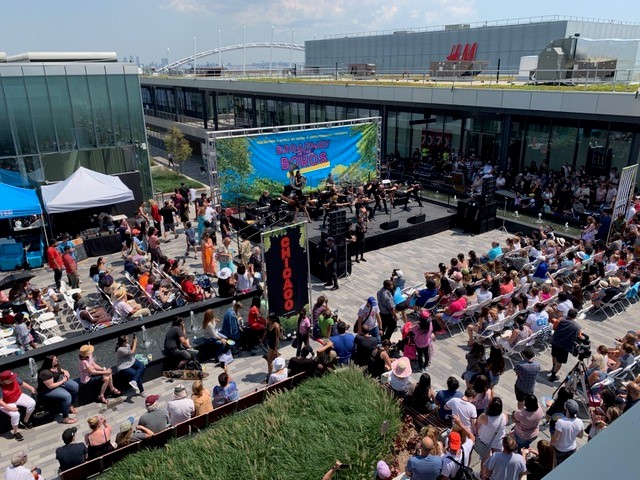 Photo Caption: Empire Outlets hosted two Broadway shows outdoors in July 2019 for several thousand attendees. Credit: Empire Outlets

Looking Ahead
During a recent tour of Empire Outlets, Rebisz pointed to the site of Clinton Hall, a popular New York City craft beer and food hall under construction totaling 6,000 square feet. Another restaurant, Wasabi Steak & Sushi, is building an upscale restaurant spanning more than 7,000 square-feet. Marketplace, a 20,000-square-foot food market features a collection of vendors serving various food and flavors experiences, and Bake Culture, a Korean popstar-owned and inspired bakery. These establishments have superb views of the Lower Manhattan skyline. Rebisz said in 2019, Empire Outlets hosted Independence Day festivities with fireworks over the Statue of Liberty to more than 40,000 people. If Fourth of July festivities are permitted in 2021, said Rebisz, Empire Outlets will be prepared to  offer visitors a safe venue to watch the festivities, and much more.