Military Service and Degrees from Berkeley College Provide Profound Re-Entry in Civilian Life

FOR IMMEDIATE RELEASE
Monday, May 17, 2021
MILITARY SERVICE AND DEGREES FROM BERKELEY COLLEGE PROVIDE PROFOUND RE-ENTRY IN CIVILIAN LIFE 
As the Berkeley College Class of 2021 Celebrates more than 120 Military-Aligned Graduates, Two Share their Stories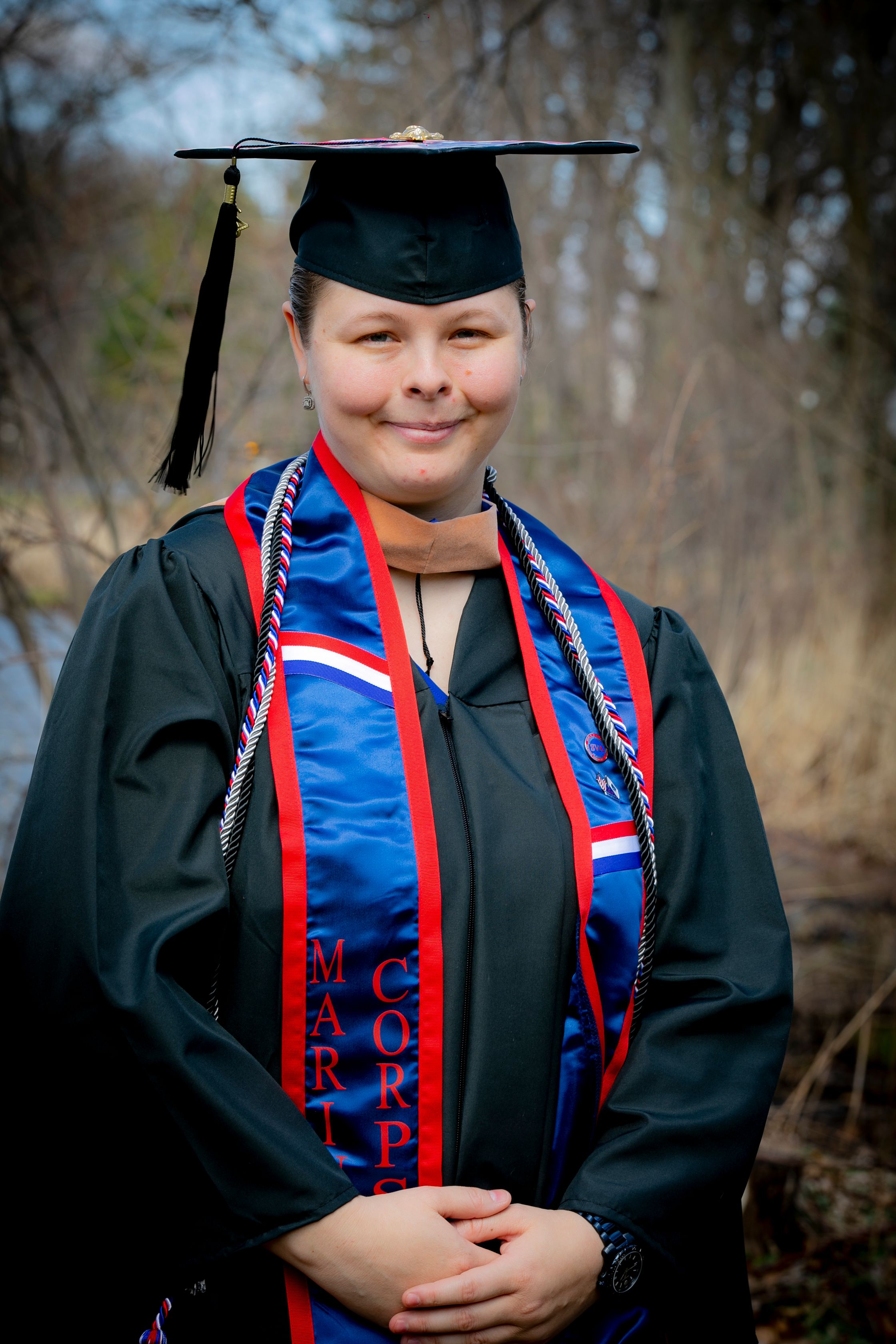 Join the Conversation: @BerkeleyCollege #BerkeleyGrad2021 #NewsBerkeley
Photo Caption: Gabby Peralta of Newark, NJ, a veteran of the U.S. Marine Corps who earned a Bachelor in Business Administration degree in Management from Berkeley College in 2020, works in the Office of Military and Veterans Affairs while enrolled in the College's Master of Business Administration in Management program.
Berkeley College is celebrating 120 military-aligned Berkeley College graduates for their achievements at virtual and outdoor Commencement ceremonies on May 7 and May 27, 2021, respectively. The entire class comprised more than 1,800 graduates this year.
"Our military-aligned students continue to excel and lead the way after their military service," said Edward Dennis, Associate Vice President, Berkeley College Office of Military and Veterans Affairs (OMVA). "Working through the challenges for service members to balance their duties and college, and for veterans and their families transitioning out of the military, the military-aligned graduate earned an average grade of 3.33. These graduates have given of themselves in service not only through the military, but also to each other, as they continued to face the challenges of college to pursue their professional careers and successful civilian roles. And Berkeley College has been with them every step of the way."
Gabby Peralta of Newark, NJ, who served in the U.S. Marine Corps as a warehouse supervisor, earned a Bachelor of Business Administration in Business Administration - Management, flourished as an undergraduate in ways she had not imagined. Coming from a family where more than half of her six siblings have volunteered for military service, she knew firsthand how difficult it is for a veteran to transition to civilian life. She admits to being lost when she first enrolled and credits two Berkeley College professors who were especially helpful.
"Professor Julie Porter helped me come out of my shell and become a better public speaker and be able to write my story; she encouraged it," Peralta said. "Professor Melissa Baralt always was there to help us, no matter what. In my community outreach efforts, she always encouraged students to join and to be, not hide, who they are." 
Peralta is well on her way to living her dream. She is enrolled in the Berkeley College MBA in Management program, assists military-aligned students in the Berkeley College OMVA, and has led many outreach efforts to help fellow veterans and other citizens in the community.
"I want to be a leader in my community and be able to help veterans who go to college and transition more smoothly than in the past," she said. Because she loves to bake, she would like to continue developing her passion for that hobby and open a bakery truck some day.
Peralta served in leadership roles in the Berkeley College Student Government Association and The Spartans Veterans Club, and is a member of the National Society for Leadership and
Success.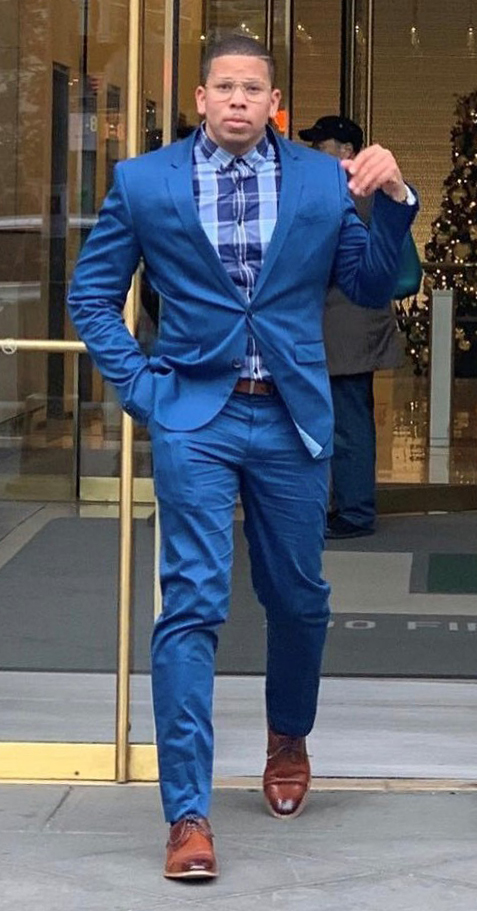 Photo Caption: Kadir Hamid McMillian of the Bronx, NY, a recent graduate of Berkeley College who serves in the U.S. Navy, earned a Bachelor of Business Administration in General Business from Berkeley College. He seeks to combine his love of real estate and information technology to help others going forward.
Kadir Hamid McMillian of the Bronx, NY, surprised himself when he became successful as a college student at Berkeley. Twice almost gave up completely when an advanced Accounting course just didn't make sense. But classmates who had become friends helped him study the material, and when he saw that he had passed the course on his transcript, he felt relieved and told everybody in his family back in Virginia.
The discipline he learned through his experience in the U.S. Navy contributed to McMillian's success in college, who graduated with a 3.6 GPA. He recalled that discipline got him through the times when the next week's course assignment would be due, coming up quickly, but got him through those struggles. Yet it was in college where he says he found himself.
"College was where I found myself, actually completed my program, what I set out to do.  It is a validation of myself," McMillian said. "You know you have really good instructors when they care about their class; it requires the student to be better. The fact that the teacher wants you to do well helped, because I passed, even in a difficult class."
"Another part about the college experience that helped me through is thinking about my future," he added. "A lot of times you just have to imagine the future of yourself, and you get through if this what you want to do, have to do. Make a plan and find the people who will hold you accountable to it; that is what provides the foundation."
As far as McMillian's future is concerned, it is bright.  He plans to combine his interests and expertise in real estate and information technology, eventually establishing his own business that offers community services he knows from his own experience are needed. Currently he is employed by the U.S. Navy in an administrative role and is considering additional employment opportunities, for example, with the U.S. Department of Defense.
"People already viewed me as successful because of my awards and military experience, and I graduated from college," McMillian said. "For me success is about giving back and being able to do what you love. Sometimes people just need to see somebody doing it and that's all they need to do it, too."
About Berkeley College
Berkeley College, founded in 1931, is a career-focused institution accredited by the Middle States Commission on Higher Education that offers students Master's, Bachelor's, and Associate's degree and Certificate programs in more than 20 career fields. The College also offers continuing education programs to enhance career credentials.
Berkeley College has campuses in Midtown Manhattan and White Plains, NY, as well as in Newark, Paramus, Woodbridge and Woodland Park, NJ, with more than 4,900 students enrolled. In addition, Berkeley College Online® serves a global population. U.S. News & World Report has named Berkeley College among the Best Colleges for Online Bachelor's Programs and among the Best Online Bachelor's Programs for Veterans, for eight consecutive years. The website address is http://www.BerkeleyCollege.edu
The mission of Berkeley College is to empower students to achieve lifelong success in dynamic careers.