Faculty Spotlight: Pharma Executive Ruth Shaver

FOR IMMEDIATE RELEASE
Wednesday, September 1, 2021
FACULTY SPOTLIGHT:
RUTH SHAVER, PROFESSOR,
LARRY L. LUING SCHOOL OF BUSINESS®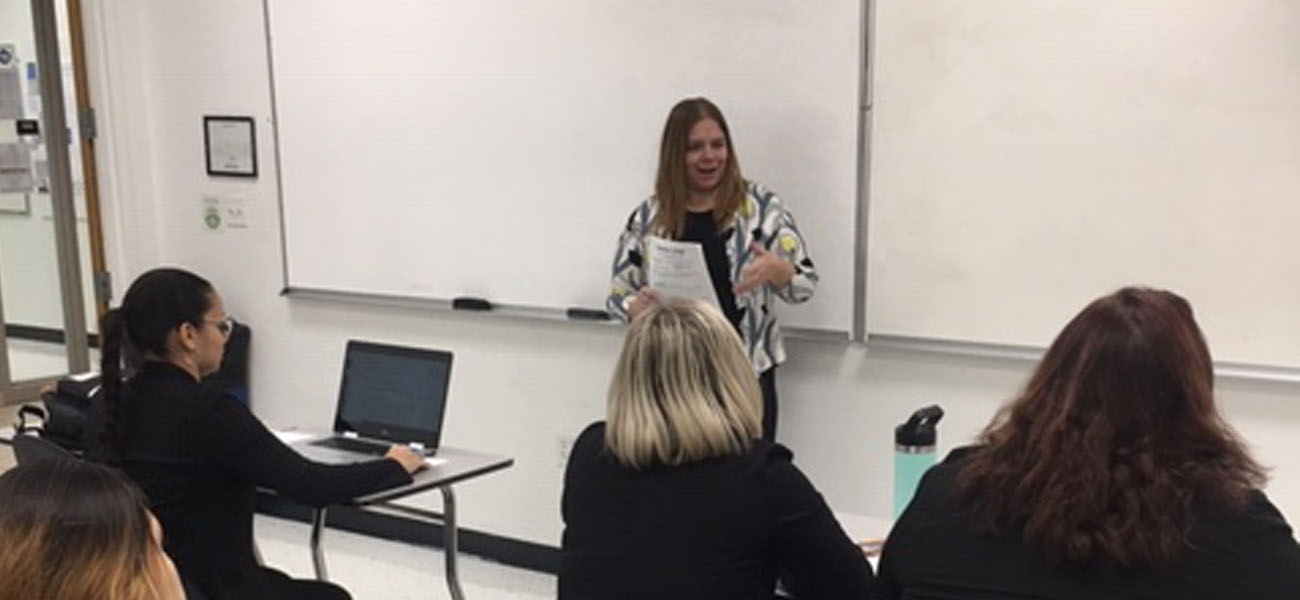 Having an outstanding, supportive faculty with relevant professional experience is one of the benefits that students love most about Berkeley College. Ruth Shaver, a professor in the Berkeley College Larry L. Luing School of Business®, understands the journey to a graduate degree more than most. She returned to the classroom while working full-time as a single mother of three, and graduated with a Master of Business Administration in Management from Berkeley College in 2017.
Since completing her graduate degree, she has been promoted to a managerial role at the global pharmaceutical corporation Bayer, where she has worked for more than 13 years. She brings her decades of management experience to the classroom, where she is now able to pass along the same level of support she received at Berkeley, inspiring her students to become the next generation of leaders.
"As a professor, I'm encouraged to design course content that benefits the student learning experience. Since many of the students learn best from examples of real-life experience, students stay engaged and are challenged to use critical-thinking skills."
Here are some highlights from a conversation with Shaver:
Talk about your teaching experience at the college and what you enjoy most? Any memorable moments? 
I am a mentor by nature and enjoy helping others, so for me every day walking into the classroom is an enjoyable experience because I get to share knowledge, empower and inspire my students. In my eyes, this is a two-way learning experience – they learn from me and I learn from them.  
What is your professional experience outside of the classroom and how does it benefit students?   
I have been in the management field for close to 20 years in both the retail and corporate environments, so I have seen it all. Having a diverse portfolio allows me to share all different types of experiences with the students. It is not "one size fits all" in the classroom and they get to see my personal experiences through a different lens. Each student can relate differently, and I think that is important to understand when sharing the knowledge and experience with the class. They often tell me that they enjoy hearing my stories and how it impacts them.  
In addition to being the U.S. Pharmacovigilance Intake Group Manager for Case Management at Bayer, I serve as the Chair of the Employee Community Team that supports employee engagement, diversity and inclusion. The team provides professional development and leadership opportunities to ensure our employees feel appreciated and valued. I also was elected as a member of the New Jersey Site Board. We meet regularly to discuss long-term plans, policies and practices. Sharing this with my students is a great way for them to find ways to engage in their own jobs, communities or daily life.
What advice would you give to someone who is considering finishing their degree or pursuing an MBA?  
I believe everyone has a different path in life, so I share my unique story. I received my GED at the age of 30 and went on to obtain three more degrees in different areas of studies as a single mother. By sharing this, I hope that it will inspire others to either start or finish their undergrad degree and to encourage them to pursue an MBA. It is important to always remind others of the importance of higher education. One thing I do say quite often to people is, "just do it!" "You will face challenges and want to give up. Don't – keep pushing and keep your eye on the prize." B.B. King said, "The most beautiful thing about learning is that no one can take it from you." That quote is powerful and gives them the understanding that what they earn at the end, can never be taken from them, it is theirs to be proud of for life. 
What is the most helpful advice you have received? Who has influenced you the most in life?  
The most helpful advice was that "it is not about where you start, it is about how you finish," and that stuck with me for a very long time. To work hard, value the relationships, and take advantage of all the resources in front of you. I always share this message with my students at the beginning of each semester.  
When I think of influences, so many come to mind. To start, it would be my three children. They are my biggest supporters and have sacrificed so much for me to be able to achieve my goals and dreams, their amazing spirits just push me to be a better mother and person overall.   
Most importantly, my former professors here at Berkeley, Dr. Reddi, Dr. Ittoop, and Dr. McAteer. They all have provided me with so much support, taught me strong work ethic, pushed me far beyond my comfort zone and always reminded me of my potential during my time in the MBA program. They still do today. Michael Lincoln, the Director for Graduate Admissions here at Berkeley has also been a huge influence since I graduated in 2017. I think as educators and faculty, it is important to maintain a rapport with the students, even after they have graduated, being that we are influencers to those we teach. I know how important it was and still is for me.  
What are your hobbies or interests when you are not teaching?  
My hobbies are giving back to the less fortunate, mentoring, high-intensity training, and enjoying time with my friends, family and children.  
If you could travel anywhere, where would you go?  
I am a fan of beautiful water, lots of sun, and island culture, so my dream trip would be either to Bora Bora or the Fiji Islands. 
Berkeley College celebrates its 90th anniversary in 2021. The theme commemorating this milestone is "Empowering Lives for 90 Years!" Visit the 90th Anniversary webpage for more information.
About Berkeley College

Berkeley College, founded in 1931, is a career-focused institution accredited by the Middle States Commission on Higher Education that offers students Master's, Bachelor's, and Associate's degree and Certificate programs in more than 20 career fields. The College also offers continuing education programs to enhance career credentials.
Berkeley College has campuses in Midtown Manhattan and White Plains, NY, as well as in Newark, Paramus, Woodbridge, and Woodland Park, NJ, with more than 4,900 students enrolled. In addition, Berkeley College Online® serves a global population. U.S. News & World Report has named Berkeley College among the Best Colleges for Online Bachelor's Programs and among the Best Online Bachelor's Programs for Veterans, for eight consecutive years. The website address is www.BerkeleyCollege.edu.
The mission of Berkeley College is to empower students to achieve lifelong success in dynamic careers.