Resourceful MBA Student Takes Charge during COVID-19 Pandemic

FOR IMMEDIATE RELEASE
Wednesday, September 1, 2021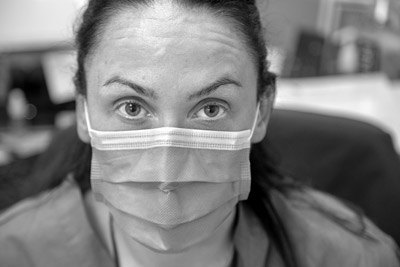 COVID-19 spread across the world like a biological tsunami, inundating clinics, hospitals, and medical centers. As the first wave of infections reached New Jersey, Kristen Buehler, a Berkeley College MBA student with a concentration in Health Services Management and an office supervisor at Holy Name Hospital in Teaneck, NJ, was pulled into the tumult. 
Responding to an Emergent Situation
Buehler was hired by Holy Name Hospital in 2011. In 2019, she was promoted to Office Coordinator and promoted again the following year to Office Supervisor. Her pre-COVID duties included helping with payroll, office duties and the budget. When the first COVID-19 cases were diagnosed in neighboring New York City, there was a great deal of anxiety as little information was available about the virus. In response, a systemwide management reorganization took place in early March of 2019. Jason Ficks, Buehler's supervisor, Vice President of Post-Acute Services at the time, was given additional responsibilities that included the newly created telemonitoring of home care patients. Ficks' division was to prepare telemonitoring kits for patients that would help prevent the spread of the virus by letting patients stay in quarantine at their homes. These kits included pre-programmed iPads, COVID-19 testing kits, digital thermometers, blood pressure monitors, masks and other essential materials.
A Large-Scale Operation – with No Time to Spare
Within the first few weeks, 500 new patients joined the home care unit, with an additional 40 to 50 patients joining every day. One hundred telemonitoring kits were ordered every day and each had to be shipped and tracked because they were to be recycled and given to new patients. The kits would then need to be put through a sterilization process. In addition, field staff for Home Care and Hospice had to be outfitted with isolation gowns and N95 masks, which became very difficult to procure. It was a logistical nightmare and required advanced project management skills. Fortunately, Ficks had 20 years of hospital experience.
Stepping up to the Challenge
On March 16, Ficks tested positive for COVID-19 and would subsequently be out for three weeks. As his assistant, Buehler had to step up and run the new telemonitoring program with little or no help. 
A Tireless Commitment to the Cause
And so it began, seven days a week, 15 or more hours a day. Buehler would work with only a few hours off for sleep. A perfectionist by nature, Buehler worked feverishly to make all the working pieces come together. At a time when other hospital programs suffered from shortages, her department was well stocked and over-prepared because of her diligence. Upper management took notice and was appreciative of her efforts. By the time her supervisor returned, everything was in place.
Recognizing Her Heroic Efforts
"Kristen was every bit the hero of the frontline health care workers," Ficks said. "She took the initiative and quickly learned the remote monitoring system, developed a plan, executed it, and got it up and running. This likely prevented more infections by allowing patients to stay home and quarantine. At the same time, Kristen also managed the inventory for hospice and home care." he said. "And as if that wasn't enough, Kristen provided tremendous emotional support to healthcare workers on the frontlines. She would run out into the street to meet with them, and it was appreciated. The CEO touted the success of the entire telemonitoring program."
Buehler was not seeking recognition. Her motivation was entirely altruistic. "Those few weeks were the challenge of a lifetime. We were all scared, and the anxiety level of our patients was through the roof. No one truly knew what was going on and I felt that if I could deliver a telemonitoring kit to a patient at home then that would help relieve the anxiety level of our healthcare workers and patients. That was my motivation to keep going," Kristen said.
Looking Ahead to Further Challenges
Though COVID-19 still remains a threat to public health, Buehler has turned her attention to other concerns. "I recognized that money could be saved in our home care program at a potential savings of $125,000 a year if we stopped outsourcing. My report has been acknowledged by the Executive Director and Director of Homecare, they agreed with my idea and are considering it in the near future," Buehler said.
Preparation Helped Make the Difference
"The Berkeley College MBA emphasizes critical thinking skills and decision-making," she said. "I have learned that every decision must be quantified and responses always carefully measured after a thorough analysis." Buehler will graduate from the Berkeley College MBA program in spring 2022. "I am ready for the next challenge," she said.
Berkeley College celebrates its 90th anniversary in 2021. The theme commemorating this milestone is "Empowering Lives for 90 Years!" Visit the 90th Anniversary webpage for more information.
About Berkeley College

Berkeley College, founded in 1931, is a career-focused institution accredited by the Middle States Commission on Higher Education that offers students Master's, Bachelor's, and Associate's degree and Certificate programs in more than 20 career fields. The College also offers continuing education programs to enhance career credentials.
Berkeley College has campuses in Midtown Manhattan and White Plains, NY, as well as in Newark, Paramus, Woodbridge, and Woodland Park, NJ, with more than 4,900 students enrolled. In addition, Berkeley College Online® serves a global population. U.S. News & World Report has named Berkeley College among the Best Colleges for Online Bachelor's Programs and among the Best Online Bachelor's Programs for Veterans, for eight consecutive years. The website address is www.BerkeleyCollege.edu.
The mission of Berkeley College is to empower students to achieve lifelong success in dynamic careers.