Newsweek and Statista Recognize Berkeley College Online® among America's Top Online Colleges for Second Consecutive Year

FOR IMMEDIATE RELEASE
Wednesday, November 9, 2022
NEWSWEEK AND STATISTA RECOGNIZE BERKELEY COLLEGE ONLINE® AMONG
AMERICA'S TOP ONLINE COLLEGES FOR SECOND CONSECUTIVE YEAR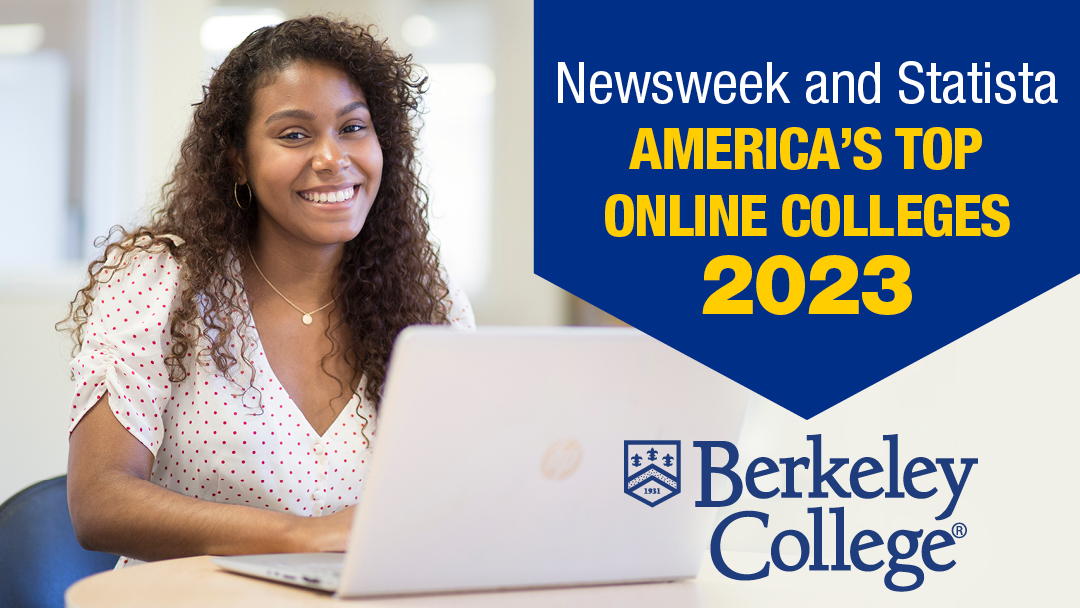 Share the News: @BerkeleyCollege @Newsweek @StatistaCharts #DistanceLearning 
Newsweek and Statista, a global business data platform, have recognized Berkeley College Online® on their list of America's Top Online Colleges of 2023. This is the second consecutive year Berkeley College has received the accolade. 
"Berkeley College has been a leader for innovation and excellence in distance learning for 24 years," said Diane Recinos, EdD, President of Berkeley College. "The COVID-19 pandemic underscored students' desire for a high-flexibility approach to higher education. Berkeley College has always sought to meet students where they are, and was ahead of the curve in offering its full range of student support services and resources online." 
Berkeley College offers a number of virtual resources to provide students with academic, personal, and professional support. Online student services include the Library, Academic Advisement, the Office of Career Services, Student Development and Campus Life, Personal Counseling, the Office of Disability Services, the Center for Academic Success, and the Office of Military and Veterans Affairs. 
Click here to learn more about Berkeley College Online. 
In addition to Berkeley College, six schools from New York and one school from New Jersey were recognized on the list. Click here to see the full rankings. 
According to Newsweek, the rankings are based on an online survey of 11,400 assessments from more than 9,000 respondents that participated in online college degree programs and/or general online learning courses in the United States. Respondents shared their experiences by rating the institutions regarding criteria including: organization and accessibility, support and service, cost of program, perceived organizational reputation, expected success, and practical relevance of contents. Respondents also indicated how satisfied they were with the organization and to what extent they would recommend it to others. 
"From full university degree programs to professional development courses to classes for hobbyists or those just wanting to learn something new, the range of education available online is enormous. The choices can be daunting," said Nancy Cooper, Global Editor in Chief, Newsweek. "If you are looking for quality online education, we hope you will find our listings helpful." 
About Berkeley College
Berkeley College, founded in 1931, is a career-focused institution accredited by the Middle States Commission on Higher Education that offers students Master's, Bachelor's, and Associate's degree and Certificate programs in more than 20 career fields. The College also offers Continuing Education programs to enhance career credentials.
Berkeley College has campuses in New York City and in Newark, Woodbridge, and Woodland Park, NJ, with more than 3,600 students enrolled. In addition, Berkeley College Online® serves a global population. U.S. News & World Report has named Berkeley College among the Best Colleges for Online Bachelor's Programs and among the Best Online Bachelor's Programs for Veterans, for nine consecutive years. U.S. News & World Report named Berkeley College (NJ) one of the Best Regional Colleges in the North in its 2023 edition of the Best Colleges Survey. Berkeley College (NJ) was recognized among the Best Colleges in the region for social mobility for three consecutive years. The website address is http://www.BerkeleyCollege.edu.