Media Advisory: Berkeley College to Host Virtual Conversation with Academy Award-Nominated Filmmaker about Diversity in the DeafBlind Community

FOR IMMEDIATE RELEASE
Wednesday, February 8, 2023
Media Advisory:
BERKELEY COLLEGE TO HOST
VIRTUAL CONVERSATION WITH ACADEMY AWARD-NOMINATED FILMMAKER
ABOUT DIVERSITY IN THE DEAFBLIND COMMUNITY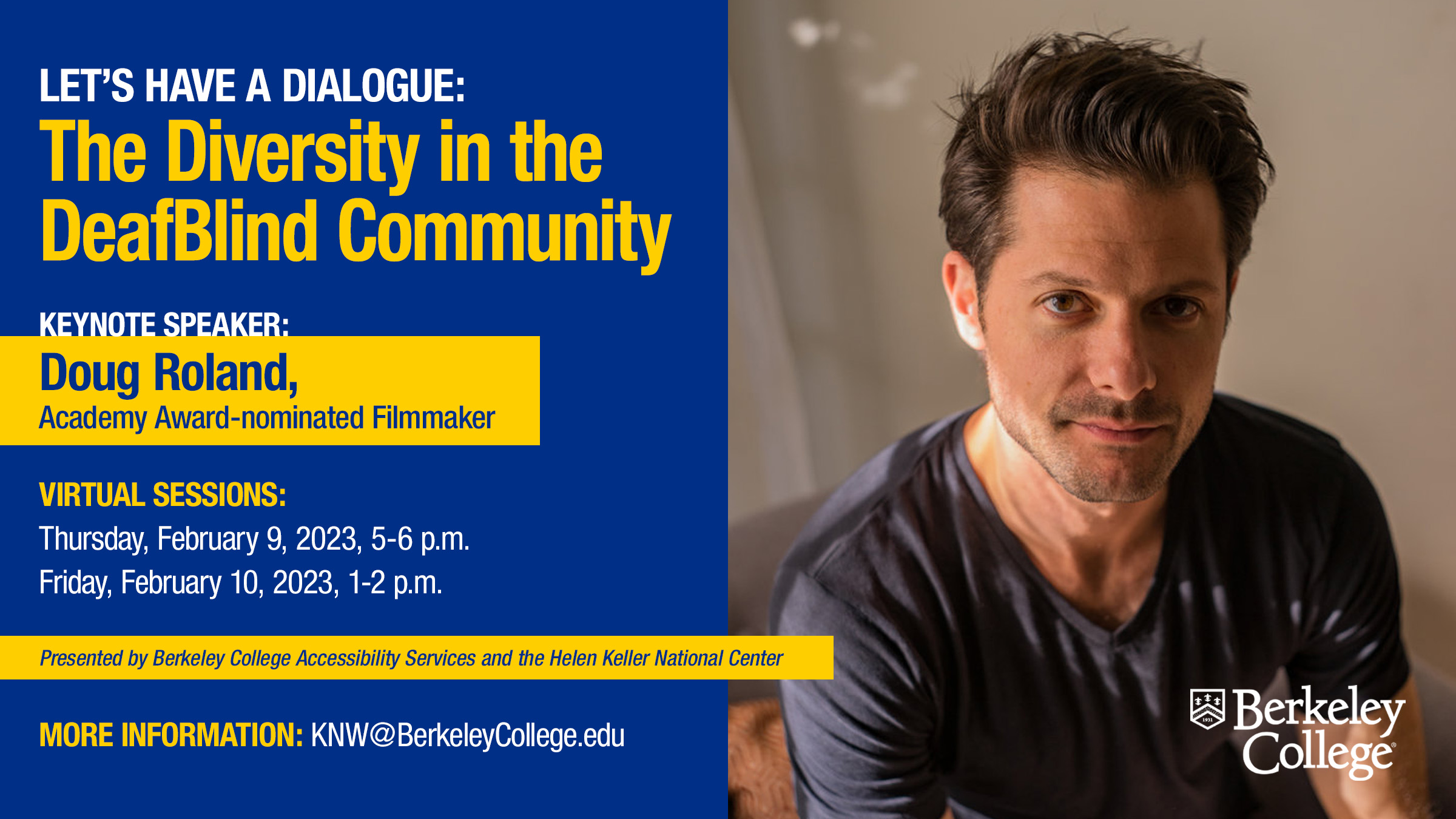 WHAT: Berkeley College Accessibility Services and the Helen Keller National Center will present "The Diversity in the DeafBlind Community," a virtual event focused on accessibility, empowerment, and inclusion. 
Speakers include Academy Award-nominated filmmaker Doug Roland (Thursday, February 9) and Wendy Chouinard, Coordinator of Curriculum and Training, Helen Keller National Center (Thursday, February 9 and Friday, February 10). Roland was nominated for Best Live Action Short Film for his 2019 film, Feeling Through. 
Participants will learn:
To understand diversity among the DeafBlind community.
Practical ways to increase inclusion of DeafBlind students with respectful interactions.
Accessibility tips that foster student empowerment. 

WHEN: The event is free, but registration is required.

Thursday, February 9, 2023, 5 to 6 p.m. (An ASL-to-English interpreter will be provided.)
Friday, February 10, 2023, 1 to 2 p.m.
MORE INFORMATION: Katherine Wu, Director of Accessibility Services, Berkeley College, at KNW@BerkeleyCollege.edu. 
MEDIA CONTACT: Kelly Depsee, Senior Director, Communications and External Relations, Berkeley College, at KME@BerkeleyCollege.edu.