CLP Spotlight: Visions Federal Credit Union

FOR IMMEDIATE RELEASE
Sunday, October 15, 2023
CLP SPOTLIGHT: Visions Federal Credit Union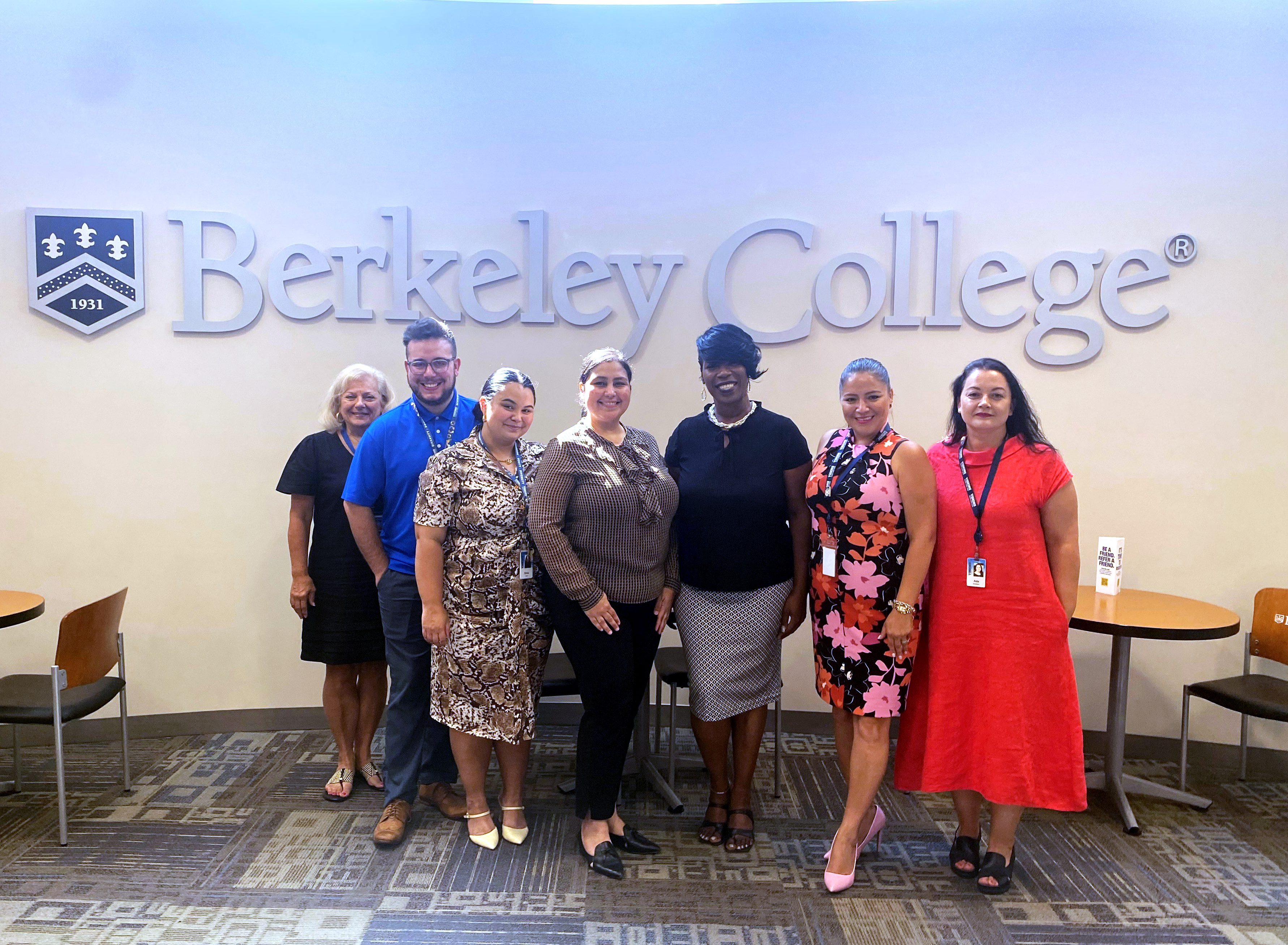 Photo Caption: Visions Federal Credit Union visits Berkeley College in Woodland Park in July 2023. Pictured (L to R) are Mary Ann Chimento, Director, Corporate and Community Relations, Berkeley College; Brian Lupo, Talent Acquisition Specialist II, Visions; Erica Sigler, Talent Acquisition Specialist, Visions; Carilyn Melendez, Financial Wellness Officer, Visions; LaTysha Gaines, Campus Operating Officer, Berkeley College in Woodland Park; Sarita Sisco, Business Development Officer, Visions; and Ada Myteberi, New Jersey Assistant Vice President/Regional Member Services Officer, Visions.
Visions Federal Credit Union became a Berkeley College Corporate Learning Partner (CLP) in July 2023.
The community-minded organization has more than 50 years of experience and serves members across three states – with a culture built on giving back.
"We're a not-for-profit organization owned by our members, meaning we work for them and not stockholders," said Erica Sigler, Talent Acquisition Specialist, Visions Federal Credit Union. "When we make profits, it goes right back to our members in the form of lower rates on loans, smaller fees on accounts, and higher returns on their savings. We're more than just money – we're people helping people."
Visions shared its culture of volunteerism by providing financial literacy information to students and young adults as part of the Newark Summer Youth Employment Program (SYEP), hosted by Berkeley College in Newark this summer.
Sigler recently spoke about how Visions Federal Credit Union, one of Berkeley College's newest CLPs, plans to utilize the program to help its employees succeed:
Q: In what way(s) does Visions plan to utilize the Berkeley College CLP?
Currently, tuition reduction is our key objective and several of our employees and their immediate family members have shown interest in registering for Berkeley. We're also in the discovery phase of exploring a customized course for employees who wish to achieve a master's degree.
Q: How do you think continuing education opportunities will empower your employees and help your company change or excel?
Providing continuing education opportunities to our employees further emphasizes the importance we place on self-development. We want to see our employees grow within the organization. To achieve that goal, we must provide our employees with channels and resources to do so – and the perks of the CLP do just that! It's the perfect complement to our suite of internal resources, from leadership development, management training, and access to professional development courses.
Q: Why would you recommend the Berkeley College CLP to other companies? Why do you think lifelong learning is important?
The Berkeley College CLP is an asset to any organization. Pursuing a degree is an important decision, as continuing to develop our skills and expanding our knowledge is necessary to succeed throughout our careers.