Standards for Accreditation
In order for Berkeley College to become reaccredited, the Middle States Commission on Higher Education (MSCHE) requires compliance with seven revised Standards of Accreditation and 15 Requirements of Affiliation.
Dario A. Cortes, Ph.D., immediate past President of Berkeley College, served on the MSCHE Characteristics of Excellence Steering Committee, which developed the revised set of seven standards.
Four principles guided the development of these standards, according to the Commission: "First, the mission-centric standards acknowledge the diversity of institutions; second, the focus of the standards is on the student learning experience; third, the standards emphasize institutional assessment and assessment of student learning; fourth, the standards support innovation as an essential part of continuous institutional improvement."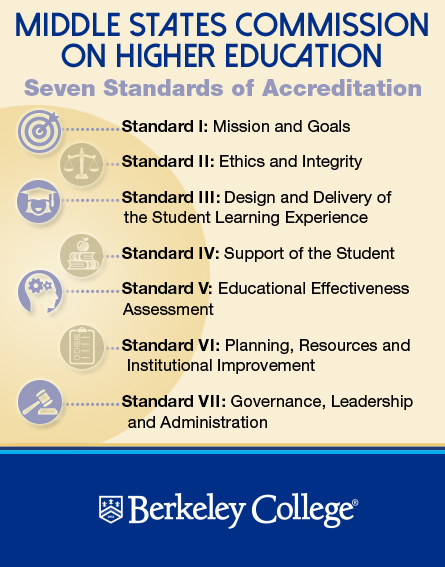 Click here to read full descriptions of the MSCHE Standards of Accreditation.