National Security Programs
National Security Bachelor of Science Degree (BS)
Emergency Preparedness and Response Certificate Program
Public-Private Partnerships Certificate Program
A career field that's more important than ever
The need for qualified professionals with the knowledge and skills to address threats to safety spans both the public and private sectors. National security careers are now a part of every industry. Recent events have demonstrated the critical need for those qualified to focus on tasks such as:
Combating and mitigating the effects of pandemics
Preventing foreign interference in elections and our democratic process
Understanding today's emerging global assets and threats
One of only a few programs of its kind in the area, the Berkeley College Bachelor's degree program in National Security can prepare you for a range of careers through a curriculum developed with input from a range of security experts based on the current and anticipated needs of various types of organizations. The program covers a broad understanding of homeland security, emergency management, technology, communications, intelligence, critical infrastructure, terrorism, and other important aspects of security.
Learn from highly qualified experienced professionals
Faculty members in the National Security program have been chosen for their excellent academic credentials as well as their professional experience. They've worked with such entities as the FBI, Joint Terrorism Task Force (JTTF), the West African Task Force (WATF), and the Olympics, and trained with the FBI, National Academy, the Federal Law Enforcement Training Center, the National Incident Command System, and the FEMA National Incident Management System, among other vital organizations.
What sets the Berkeley College National Security program apart:
Small classes with personal attention from instructors with professional experience with the in-demand skills required for this cutting-edge field
A focus on applying knowledge gained from the program to real-world security issues
An emphasis on critical thinking, problem solving, and communication skills
You may have the opportunity to participate in an internship or job-related assignment for a valuable learning experience
Exceptional networking opportunities through faculty and alumni connections
Concentrations
The National Security program offers four concentrations in specialized areas of study. Declaring a concentration can also help graduates stand out to potential employers. Students will not need to declare a concentration until registering for their third semester.
Intelligence
Intelligence is information gathered that involves threats to our nation, its people, property, or interests; development, proliferation, or use of weapons of mass destruction; and any other matter bearing on the U.S. national or homeland security. The intelligence community's primary mission is to collect and convey essential information that the policymaking, law enforcement, and military communities require to execute their appointed duties.
Critical Infrastructure
From hospitals to power plants, dams, water facilities, and transportation systems, critical infrastructure supports every aspect of our lives. The Department of Homeland Security has identified 16 critical infrastructure sectors whose assets, systems, and networks are so vital that incapacitation or destruction would debilitate the nation's security, economy, public health, and safety.
Public-Private Partnerships
Ensuring the security and resilience of the nation is a shared responsibility in the delivery of goods or services to the public. Public-Private Partnerships provide tremendous advantages for the nation to meet its national security needs and have been implemented to include a wide range of social services, public transportation, critical infrastructure, and key resources.
Information Security
Information Security refers to the processes and methodologies which are designed and implemented to protect print, electronic, or any other form of confidential, private, and sensitive information or data from unauthorized access, use, misuse, disclosure, destruction, modification, or disruption. Information security and cybersecurity are often confused. Information Security is a crucial part of cybersecurity, but it refers exclusively to the processes designed for data security.
Career Opportunities
National security careers are now a part of every industry. The field encompasses a wide range of domestic and global opportunities which include:
Emergency preparedness
Corporate security
Homeland security
And other important areas
Catalog
You'll find additional information in our Catalog, including the different degrees offered, descriptions of the courses you'll take, the department faculty, and much more. You can always live chat or contact us with questions.
Faculty Testimonial
Gary Krulish
Chair, Berkeley College National Security program
"National security professionals now play a critical role in every industry. The field is no longer limited to government agencies. Utilities, telecom, and transit are just a few of the areas that need to address threats to safety. The Berkeley College BS in National Security program offers students an exceptional opportunity—a broad foundation in all aspects of security and the opportunity to concentrate in one area of specialization."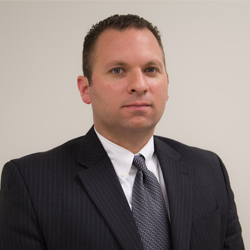 Locations Offered
The National Security BS degree program is offered by Berkeley College New Jersey and Berkeley College New York. The National Security program courses are offered online and at various campuses as identified in the Course Schedule for each semester.