Career Fashion Workshop Teaches Berkeley College Students How to Dress to Impress
Tonya Johnson
24 July 2018
When you're trying to secure a summer internship or land a great job fresh out of college, first impressions really do matter.
In partnership with the Berkeley College Career Services Department, Teresa Londino, Fashion Stylist & Corporate Sales Executive at Macy's Willowbrook Mall in Wayne, NJ, presented a fashion workshop on Tuesday, July 10, at the school's Paramus, NJ campus.
How to dress for a job interview
What to wear to an interview and how to present yourself as the best possible job candidate was an important topic of conversation for a broad mix of students, studying for careers in accounting, business, criminal justice, fashion, information technology, and legal studies. A prospective applicant for the Fashion Merchandising and Management degree program also stopped by.
"The employer provided excellent insight for men and women on professional attire. She also gave examples of professional clothing for candidates in the specific majors that were represented," said Ashley Alba, Career Counselor, Career Services (Online and Paramus).
Berkeley College students who were unable to be on-campus streamed in live over Facebook to get their questions answered about current styling trends – like how far to button up a shirt collar - and make comments on the suggested garments that were featured.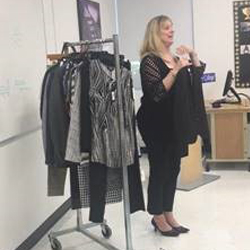 "The fit is crucial," said the Macy's expert. "If the pant that you're wearing is too long, you want to get the hem corrected. You don't want it to be super long and you don't want it to be super short. If you're a Men's size 32 in length and we only have a 34, then pay the $22 to have it hemmed so that it fits you properly."
Getting your foot in the door
Ms. Londino also discussed what types of bags and resume portfolio cases are appropriate to carry on an interview. Her best advice for students trying to break into the fashion industry is to seek out volunteer opportunities that connect you with any business that's in the realm of what you want to do because you never know what it might lead to. "Network with anybody you know," she said. "Those experiences look good on your resume!"
Following the Question and Answer session, workshop attendees received a 20 percent Macy's discount flyer and observed an Estee Lauder makeup demonstration on looks for interviews and networking events. Ms. Londino reminded shoppers to wait for a sale or buy at the end of a season for the best possible value.
Student and Alumni support
In addition to hosting workshops, the Berkeley College Career Services Department will assist students with resume and interview preparation and work with each student to pursue full-time positions that are best suited to students' majors, interests, and abilities. Berkeley graduates are eligible for free lifetime career assistance while the College is in operation.
The views and/or opinions in this article are those of the individuals interviewed. The academic achievements and/or employment outcomes described in this article are specific to each individual and are not a guarantee of similar results for past or current students. For up-to-date and detailed information, please visit BerkeleyCollege.edu and view our catalogs at BerkeleyCollege.edu/publications.