Mets Radio Network Donates $2,500 to the Berkeley College Foundation
Melissa Iturralde
24 August 2018
Citi Field welcomed Berkeley College on Wednesday, August 22, 2018, for a night highlighting some of the collaborative efforts between the College and iHeartMedia to help students succeed. The New York Mets versus the San Francisco Giants game featured a special pregame ceremony where iHeartMedia presented a check for $2,500 to the Berkeley College Foundation, as part of a partnership between their Mets Radio Network and the College.
The Berkeley College Foundation, Inc., provides support and resources to students pursuing quality experiences in higher education. Scholarships are awarded to current and prospective students to help defray the cost of tuition and to enhance participation in educational enrichment activities. The Foundation also awards grants to other worthy educational institutions and nonprofit organizations.
As part of the pregame ceremony, Edward Dennis, Assistant VP, Office of Military and Veterans Affairs, and Tami Pichardo, Senior Director, Office of Military and Veterans Affairs, shared the value of building lifelong relationships and supporting the six on-site Veteran Resource Centers as well as an online resource within the College. Listen to the interview here.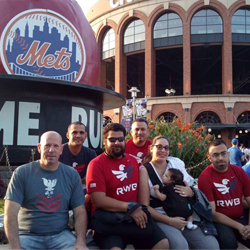 Berkeley College also donated tickets to members of Team Red, White & Blue® (RWB), which is a National Veteran service organization whose mission is to enrich the lives of America's Veterans by connecting them to their community through physical and social activity. Members of Team RWB® who attended the game on Wednesday evening, have served in the United States Air Force, Army, and Navy.
"I joined Team RWB to be with like-minded people inspired by and health and wellness of veterans and civilians," said Miguel A. Salamanca, a U.S. Navy Veteran. He, along with members of the team, shared their deep gratitude for the opportunity.
The Berkeley College Foundation and Berkeley's Office of Military and Veterans Affairs are part of an overall effort to provide opportunities for outstanding career-focused education and to assist servicemembers and their families in transitioning to civilian life and achieving their career goals. 
The views and/or opinions in this article are those of the individuals interviewed. The academic achievements and/or employment outcomes described in this article are specific to each individual and are not a guarantee of similar results for past or current students. For up-to-date and detailed information, please visit BerkeleyCollege.edu and view our catalogs at BerkeleyCollege.edu/publications.