Empowering lives for 90 years!
Berkeley College Interior Design Team Partners with NY Jets to Create a Fan Cave Masterpiece
Melissa Iturralde
07 October 2018
Interior Design students at Berkeley College engage in some really exciting hands-on projects that allow them to utilize the skills they learn while studying for a career they love. This year, the Interior Design team took on a project like no other, partnering with the NY Jets to give a super fan a new space he'll never forget.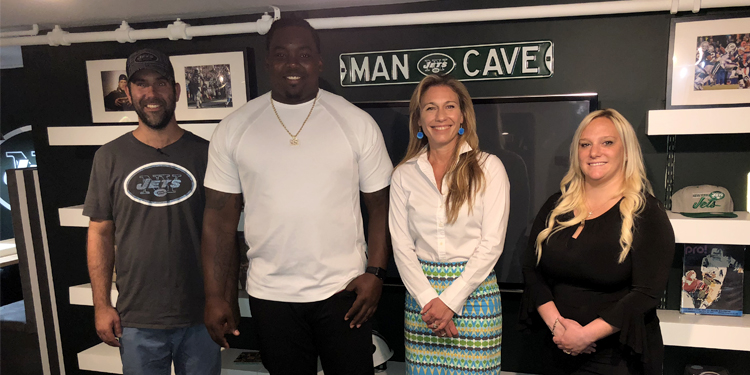 Brian DiVito, Jets Fan; Steve McLendon, Jets Defensive Lineman; Kenia Lama, Adjunct Interior Design Professor; Ashley Berdan, Interior Design Student

Berkeley's partnership with the Jets began last year, collaborating on community initiatives and developing content that highlights the unique features and programs at the College. Last Thanksgiving, Berkeley faculty and staff worked side-by-side with Jets players to serve dinner at the Food Bank of New York City.
The collaboration continues this year, giving Jets an inside look at Berkeley College's Interior Design program. A team that included Berkeley students, alumni, and staff will be featured on an upcoming episode of JetLife, a CBS TV program that takes an inside look at the Jets on and off the field. The episode aired on Saturday, October 6 at 11:35 PM EST on CBS 2 NY.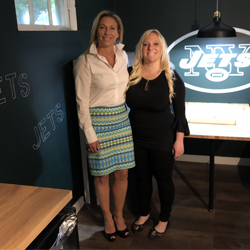 In the October 6 episode, the New York Jets partner with faculty, alumna, and students from Berkeley College's Interior Design program to create the ultimate Jets fan cave for one of their loyal season ticket holders. The segment gives a behind the scenes look at the design process through the final reveal.
Designers at work
The Berkeley College design team included Professor Kenia Lama, alumna Lauren DiGenova, and students Marta Deptula and Ashley Berdan. The team, worked closely with Jets defensive linemen Steven McLendon and Mike Pennel to create themes that incorporated Jets history and served as a tribute to the game. From the design through execution, the group collaborated to give season ticket holder, Brian DiVito the fan cave of his dreams.
"We took a basement that was originally used as storage and created a vibrant space where Brian could relax, entertain, and experience the game from the comfort of his couch or dining nook," said design team member and student, Ashley Berdan.
Preparing for a career in Interior Design
Interior Design degree programs at Berkeley College are CIDA-accredited and focus on the creative and technical aspects of this exciting industry. The Bachelor of Fine Arts (B.F.A.) and Associate's degree programs prepare students to pursue careers in creative positions, such as residential or commercial interior designers, exhibit designers, designers in architectural firms, and more. Professor Lama, who led the team, shared how the redesign incorporated curriculum from the program.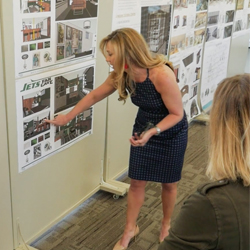 "At our studios, the students worked with AutoCAD, a program that allows them to create layouts and construction documents. They also worked with SketchUp to create a 3D model that presented the client with realistic renderings for him to get an accurate idea of how the project was going to look," said Professor Lama. "There was a lot of free rein in terms of creativity and the client was excited that the room design met his needs and exceeded expectations."
A New York Jet fan's dream makeover
From vintage Jets décor, to personalized pillows with Brian's seat numbers, the design team captured his love for the Jets and made a space of his own. This football season, Brian will spend game days in style.
"I can't thank the Berkeley Team enough. I would have never imagined utilizing the space the way they did. They are beyond talented," said Brian.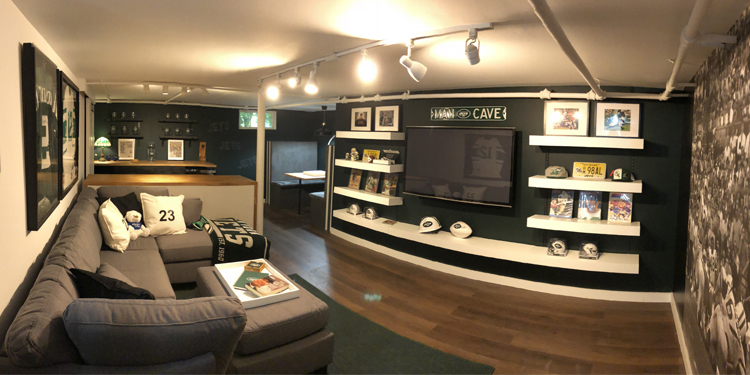 Final outcome of the FanCave designed by the Berkeley College Interior Design Team
The views and/or opinions in this article are those of the individuals interviewed. The academic achievements and/or employment outcomes described in this article are specific to each individual, and are not a guarantee of similar results for past or current students. For up-to-date and detailed information, please visit BerkeleyCollege.edu and view our catalogs at BerkeleyCollege.edu/publications. 
Related Posts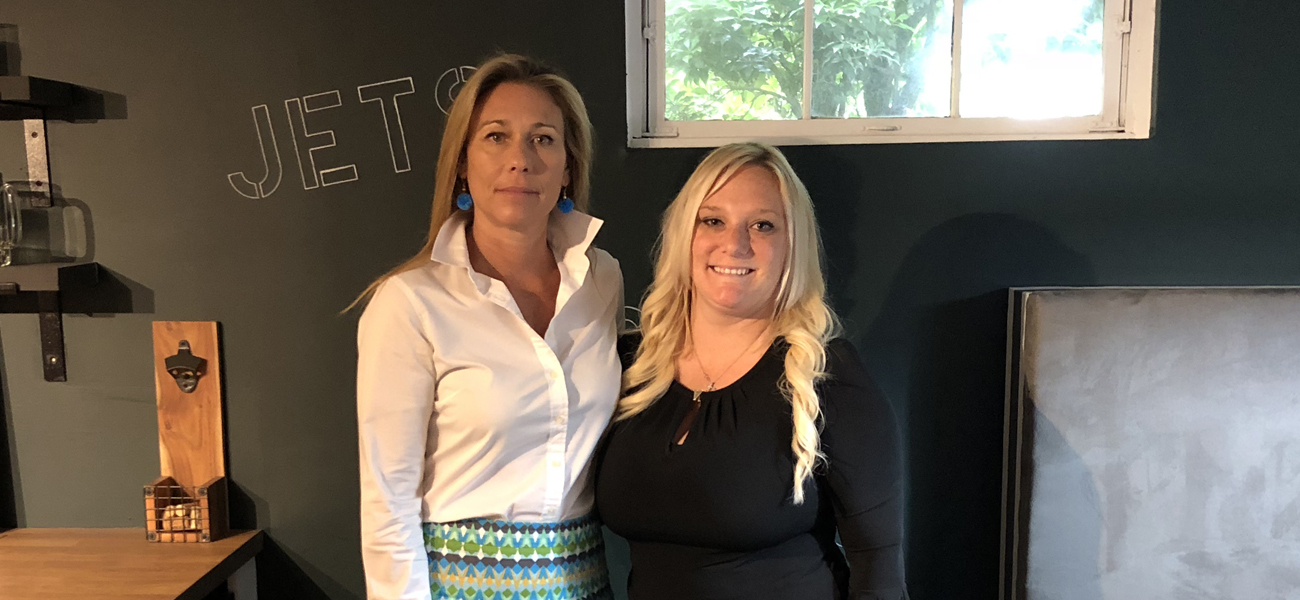 Alumni
Interior Design
Woodland Park
Paramus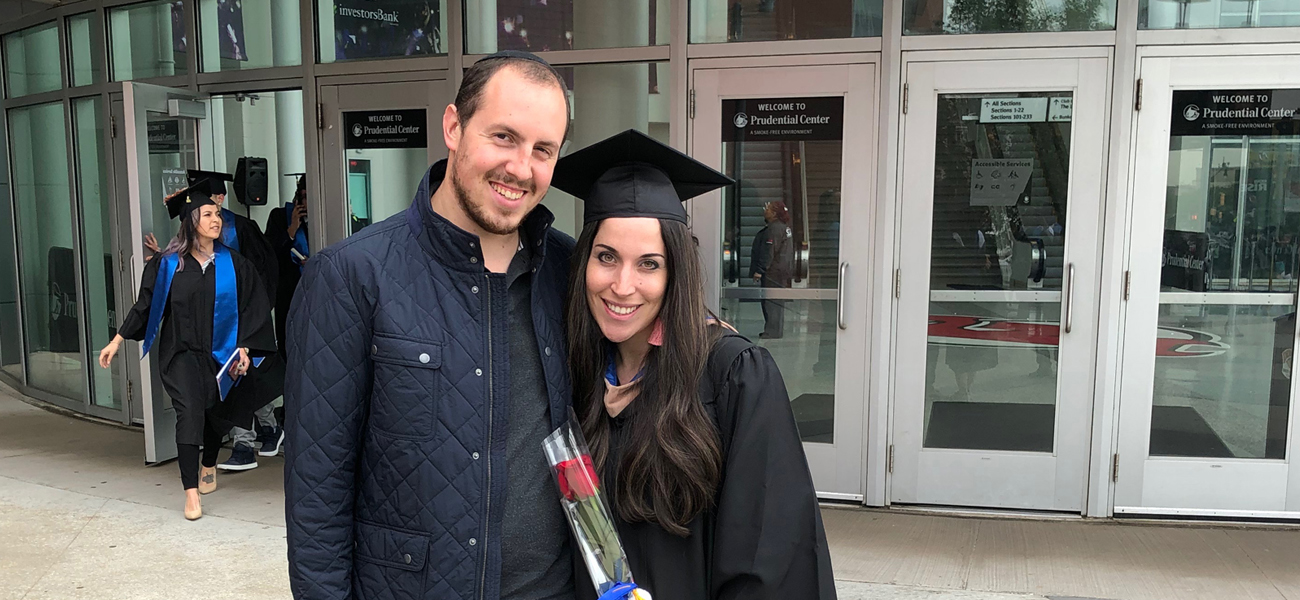 Alumni
Woodland Park
Interior Design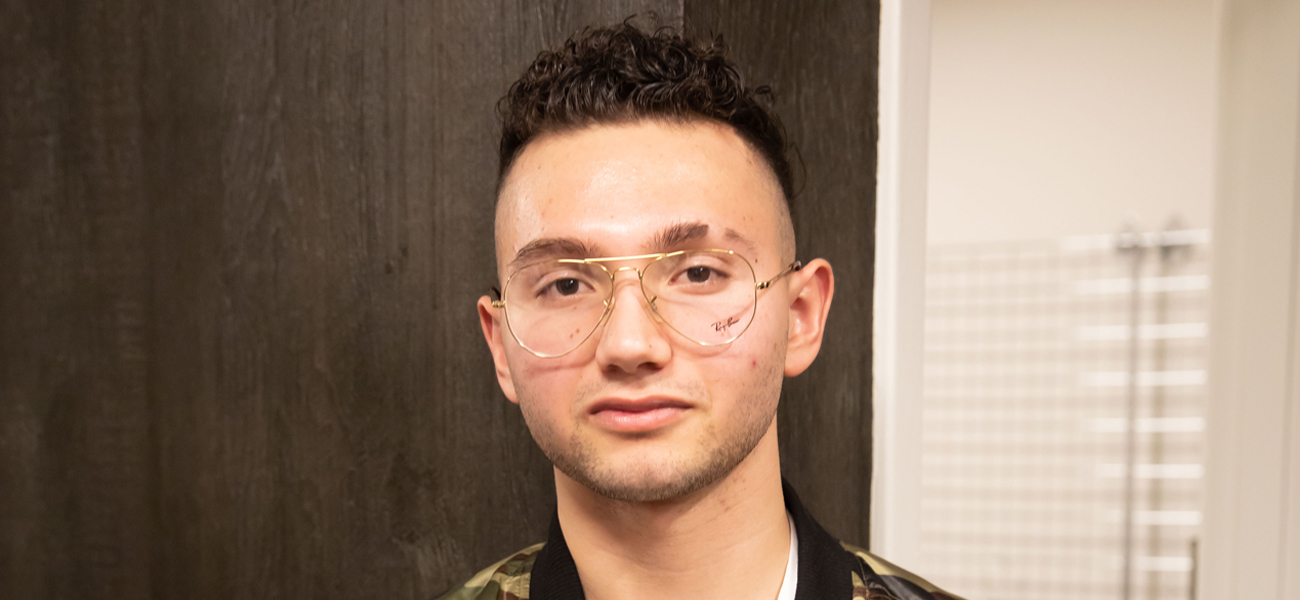 Woodland Park
Students
Interior Design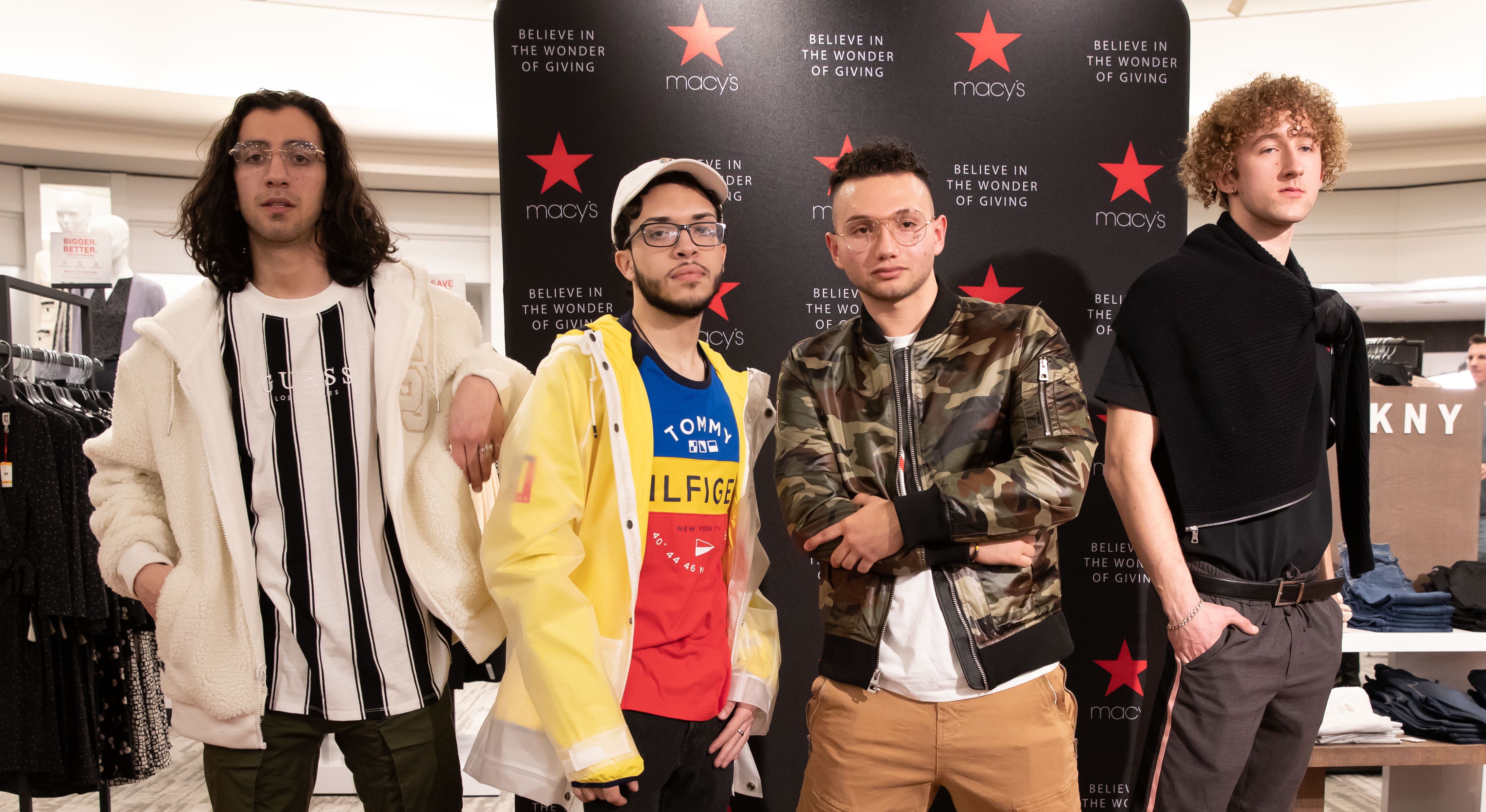 Fashion
Interior Design
Criminal Justice