Berkeley College strengthens its brand, reinforces its commitment to students
James Thorpe
09 July 2019
Berkeley College unveiled its new marketing theme and branding efforts in truly royal fashion—in the Grand Ballroom of The Legacy Castle in Pompton Lakes, NJ at an "All Associates Day" gathering attended by administration, faculty, and staff from all campuses and support offices.
New marketing campaign theme
Under the College's new tagline, "Your potential is our promise™," Berkeley has updated its messaging across all media, including a totally revamped and easier-to-navigate website (BerkeleyCollege.edu). "The new marketing theme is indicative of our commitment to our students," noted Michael J. Smith, President of Berkeley College. "It means that the entire Berkeley College community—administration, faculty, staff, alumni—is committed to helping Berkeley students reach their full potential. It's about what we can do for them."

A commitment across the entire organization
The All Associates Day presentation also included a new Berkeley College video which emphasized the commitment to students. In addition to the College's administrators and faculty, the video featured staff such as advisors, technical support, security and maintenance personnel, and others from all areas of College operations. The video also included footage from Berkeley's recent 2019 Commencement ceremony at the Prudential Center in Newark, NJ, where more than 2,200 graduates were awarded Master's, Bachelor's, and Associate's degrees, and Certificates.
"Berkeley really is a unique type of college," according to El Mehdi Bendriss, a Legal Studies major in the Berkeley Honors Program at the College's Woodland Park, NJ campus. "Everyone knows your name and is willing to help—not just the faculty and advisors, but all of the staff. They're genuinely interested in helping us succeed. It really is a family atmosphere where we get personal attention and can develop connections."
A new, powerful look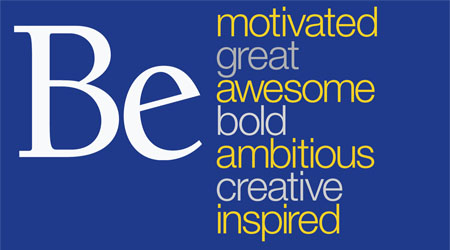 New marketing executions within the new theme are centered around the word "Be," taken directly from the Berkeley College logo. The word "Be" is followed by an endless series of descriptive motivational words that highlight Berkeley's commitment to its students. Examples include "Be inspired," "Be bold," "Be creative," "Be empowered," and "Be strong," among others.
"The new executions are simple," said Bill DiMasi, Vice President of Marketing at Berkeley. "They're powerful, versatile, memorable, and the idea comes right from our own name so it's uniquely ours and is very identifiable."
Newly designed "Be" messages are rolling out across all media for Berkeley, including the new website, print media, video, on social media, out-of-home placements, and in a range of exciting and innovative tactics such as bus and car wraps and more. New Berkeley merchandise will be available soon in campus bookstores, which will include the "Be" messages and the new "Your potential is our promise™" tagline. All Berkeley staff received "Be" shirts at the All Associates Day event to help spread the word about the new theme. Also, a recent graduate, Mabel Eustaquio, was featured on a Berkeley College digital billboard on Route 80 after winning a graduation contest on social media, which highlighted her "Be proud" moment.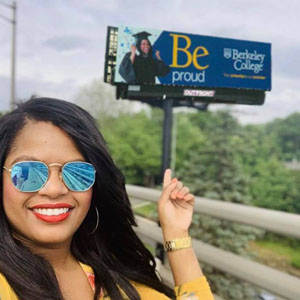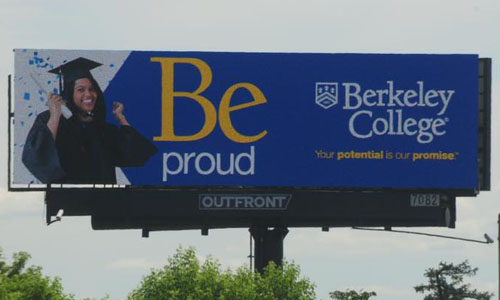 Helping students reach their potential
President Smith continued, "Berkeley College is all about preparing students to be successful, to be more than they've ever dreamed, and about giving them the skills, confidence, and opportunities to be the change in the world."
Your Potential is Our Promise
Berkeley College "Be" Video
To learn more about degree and certificate programs and support services and resources offered at Berkeley College, please visit BerkeleyCollege.edu.
Please visit our Domestic Viewbook for additional information for prospective students. For up-to-date and detailed information, please visit BerkeleyCollege.edu and view our catalogs at BerkeleyCollege.edu/publications.