New Chair shares her vision for the future
Talent and technology combine in the Berkeley College Graphic Design program
James Thorpe
24 October 2023
The website you browsed last night. That package that caught your eye in the store. The video that just went viral. These are just a few of the countless things that capture our attention every day—and they all involve the work of graphic designers.
"We work in a rapidly changing industry," noted Julia Hutchinson, who was recently named Chair of the Graphic Design program in the Berkeley College School of Professional Studies. "For professional designers, and for the students who are about to enter the business, there are so many opportunities." At the same time, she pointed out, "It's also essential to keep up with the technology and the trends."
Building a program that stands out
Professor Hutchinson spoke of the state of the graphic design field and how the Berkeley program prepares students to be ready for the professional world, "We've just undergone a thorough review of the program to ensure that our students are building the skills they need to succeed," she said. "Our curriculum focuses on courses that are both relevant and rigorous. Our faculty is equally important to the strength of the program. Each one brings exceptional industry and teaching experience so that students are exposed to a wide range of perspectives and disciplines. As a big Marvel [comics] fan, I call them my 'Faculty Avengers!'"
Bringing creativity to the classroom
With a passion for educating the next generation of graphic designers, Professor Hutchinson also finds time for freelance creative pursuits. "It's important to stay active creatively—I recently completed branding and packaging projects for Chic Sugars' retail locations and packaging designs for D-lei Naturals.
After earning her Bachelor's degree in Creative Arts & Technology at Bloomfield College and her Master's in Education Media Design and Technology from Full Sail University, she brings her own special brand of energy and excitement to Berkeley.
Learning from experienced professionals
Michael Klein, who teaches 3D design and Gaming courses in the Graphic Design program, spent his career working at several advertising and publishing companies before getting involved in children's television. "I was fortunate enough to work with Viacom when they were starting to develop original programming, and I worked on the Doug series," Professor Klein explained. "I later began to focus on interactive design, publication circulation, and finally, education."
"The Graphic Design program at Berkeley College has always focused on meeting students' needs beyond many other programs offered in the tri-state area," added Professor Klein. "Berkeley also provides Canvas, a learning management system that allows me to use visualized instructional tools such as image galleries, drag and drop bulletin boards, and instructional videos that are divided into small clips."
A powerful, practical program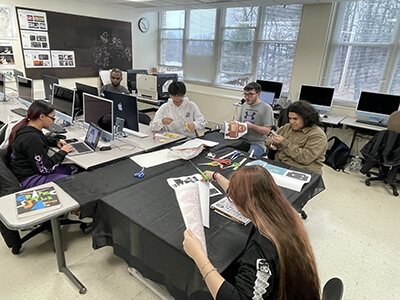 "The updated curriculum is very strong," Professor Hutchinson said. "Through real-world projects, students are gaining industry-like skills and experience. They're not just learning the artistic and technical skills like the many software programs that are used by graphic design professionals. They're also learning problem-solving, communication, collaboration, and other soft skills that employers look for. They're learning to work through every step of a project because critical thinking is a vital part of the graphic design business. Teamwork is very important—you can't be an island in this business."
Exceptional opportunities with flexibility
"It's a very interesting time in the industry," according to Professor Hutchinson. "The shift from in-office to remote work has opened up tremendous opportunities for graphic designers. You can work for corporate giants like Google, or for marketing or branding firms—from anywhere in the world! And with so many small businesses and startups, the need for branding and other promotional work is critical. And good graphics designers can play an important role."
Emphasis on emerging technologies
"There's so much talk about AI [Artificial Intelligence]," Professor Hutchinson was quick to point out. "But we're teaching students to use AI as a tool that can help enhance their work, rather than seeing it as a technology that will replace the need for talented graphic designers. We're committed to staying at the forefront of technology and exposing students to the integration of emerging technologies to make sure that they have the essential skills to enter the professional world and the mindset to continue learning."
"Exciting technologies are also a lot of fun for students and pique their interest," she said of her students as evidenced in a video she recently shared in which they create 3D versions of themselves and explore other character design technology taught in class. (Professor Hutchinson noted that the video contains no audio because she uses it in the context of a live audience)
A well-rounded student experience
"I love that the program exposes us to a wide range of areas of design—everything from web design to package design to 3D design," said Lesly Robles, a Berkeley Graphic Design student who expects to graduate at the end of the winter 2024 semester. She continued, "The professors are also very helpful. They see the strengths and weaknesses of each student and really offer attention and guidance." Having attended a Berkeley presentation while in high school, she visited the Woodland Park campus. "Seeing the student projects really helped me make the decision [to attend Berkeley]," she remembered. "I was a bit scared at first and second guessed myself. But the program and the professors have helped me become very confident over time."
Jose Serifi, a Graphic Design student in the class of 2024 (who is also in the Berkeley College Honors Program) added, "Berkeley has definitely helped me heighten my skills, not only as a graphic designer, but as a future employee in a career where I will be happy. The experience has helped me prepare for the professional world by learning to manage my time, work, and relationships. I have learned that I have responsibility to do the right thing, and that I should always work with purpose and dedication."
Learning outside the classroom
In addition to the rigorous courses that touch upon all aspects of graphic design, Berkeley students have opportunities to learn through industry expert guest speakers, industry events, through internships with area design firms, and more. "We live in such a great area for graphic design," Professor Hutchinson emphasized, who will also oversee this Capstone presentations by this year's senior students entitled, "Impact." "There are so many outstanding examples of cutting-edge design all around us. We really encourage students to get out and experience the world which they're preparing for. Networking is also such an important part of the business and students have the chance to make so many connections that can benefit them throughout their careers."
Even during the pandemic, Berkeley Graphic Design students benefitted from virtual internships with highly accomplished design professionals such as Aaron Padin, the former Head of Art and Design for legendary ad agency J. Walter Thompson, who now leads his own company.
Embracing diversity and inclusion in the world of design
"There's also a movement toward more diversity and inclusion in the field of graphic design," said Professor Hutchinson. "Throughout my entire undergrad in the late 90's, I rarely saw minorities prominently represented in the graphic design industry. Even in my earlier years teaching in the industry, most students had never had an African-American female Graphic Design professor!" She added, "In the recent years, things have definitely changed. Major software companies such as Adobe have made efforts to diversify their creative teams. My role as Professor and Chair represents the increase in opportunities for women and for people of color in the industry."
Students have opportunities to show their work
"Communication, presentation, and learning to 'sell' your ideas are also important skills for graphic designers," Professor Hutchinson stressed. "To help build those skills, we offer several forums for student work, including the Student Gallery) both on campus and online, as well as a Virtual Gallery Walkthrough".
People help make the program
Lesly Robles, who hopes to concentrate on web design after earning her Bachelor of Fine Arts degree, offered another observation, "Besides the attention we get from professors and the fact that they're always available to talk, my classmates are also very important. I value their honesty and recommendations during critique sessions, and I've come to really appreciate their insights."
While the technologies and the trends in the exciting world of graphic design will surely continue to evolve, Professor Hutchinson will continue to keep the program focused on preparing the next generation of innovators. And with their training and inspiration, it just might be a Berkeley College graduate who creates that design that catches your eye tomorrow.
The views and/or opinions in this article are those of the individuals interviewed. The academic achievements and/or employment outcomes described in this article are specific to each individual and are not a guarantee of similar results for past or current students. For up-to-date and detailed information, please visit BerkeleyCollege.edu and view our catalogs at BerkeleyCollege.edu/publications. 
Related Posts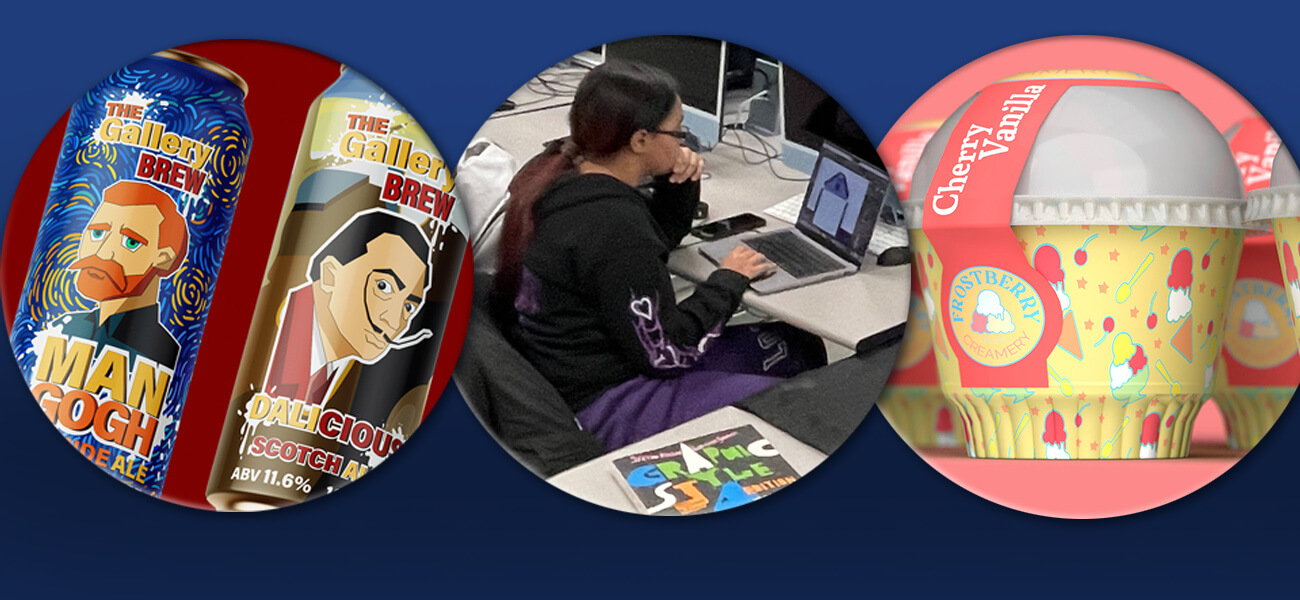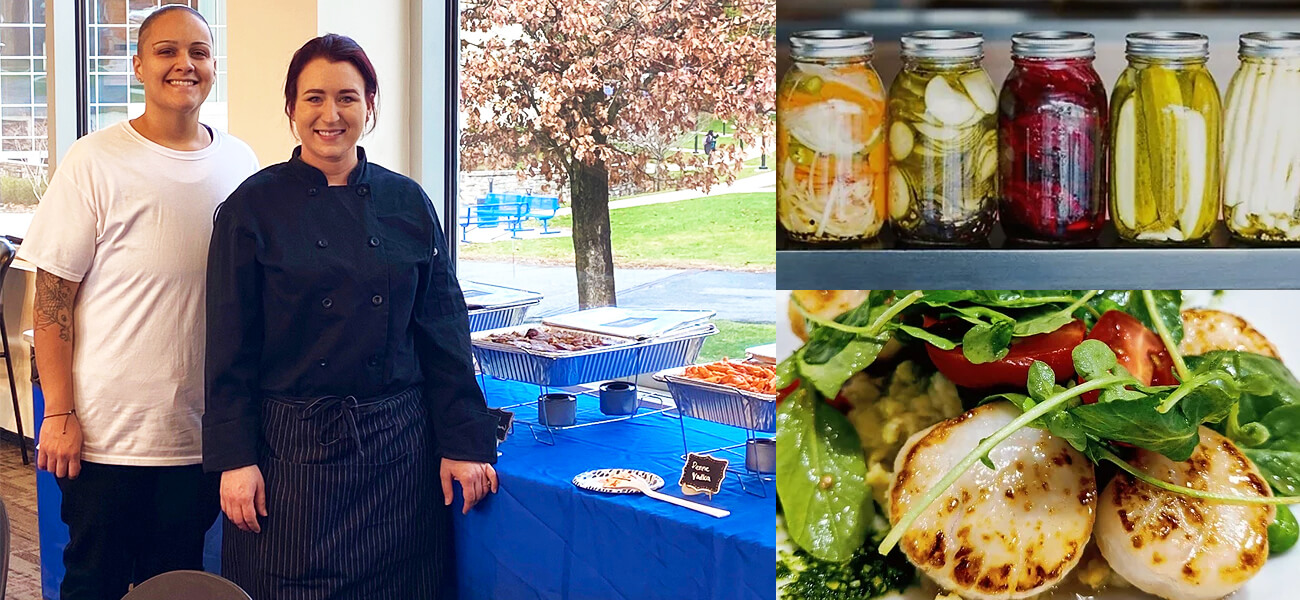 Management
Woodland Park
Graphic Design