M.B.A. Track Newsletter - August 2018
Making Bold Strides
Ruth Shaver defied more than a few odds to earn a Master of Business Administration (M.B.A.) in Management from Berkeley College and a recent promotion at Bayer U.S. – the global pharmaceutical company where she manages the intake of reporting on drug safety for North America.
Ms. Shaver was working two jobs in retail when she landed a temporary administrative job at a pharmaceutical company. By that time, she had been out of school nearly a dozen years, but realized she needed a G.E.D. to progress. She enrolled in a program at community college – and it was just the beginning of her educational journey. Ms. Shaver earned an Associate in Applied Science in Justice Studies – Criminal Justice from Berkeley College and a Bachelor of Arts in Social Science from Ramapo College, graduating with honors from both while juggling work and family. "I always tell my kids that they have to sacrifice as much as I did, but I always made the effort to be there for them," she said.
"She is an example of what someone can accomplish if they decide and put their heart into it," said her former manager at Bayer, Namita Joshi, who encouraged her to pursue an M.B.A. Ms. Shaver came to Bayer in 2008 and worked her way up in the Pharmacovigilance department, which monitors the effects of prescription drugs. She earned her M.B.A. in December 2017 and this year was promoted to Intake Group Manager. She supervises a team of four employees and four interns and has broad responsibilities, including involvement in federal drug-safety audits.
"The M.B.A. was a whole new world for me. My thought processes changed," Ms. Shaver said. "It helped me look at things from a global perspective and helped me get to the next level at my job." She traveled to India in 2017 – a "life-changing experience" – as part of the College's Global Immersion Program led by Professor Maya Reddi, Ph.D.
"Ruth is an excellent example of diligence, perseverance, and collaborative behavior," said Dr. Reddi, who watched her student blossom over the course of the program, seeking career advice and becoming more confident and engaged. The admiration is mutual. "Dr. Reddi was a huge influence," Ms. Shaver said. "She motivated me, pushed me, and made me want to learn."
Ms. Shaver, who lives in Haledon, NJ, said Berkeley's small class size and robust support system benefit the adult learner. "Even when I faced challenges, I could always talk to the professors and the dean," she said. She has returned to campus to participate in an M.B.A. business panel and hopes to encourage women at Oasis, a Paterson shelter where she sought refuge years ago, to further their education. In the future, she plans to continue her own education and pursue a Master's degree in Public Health.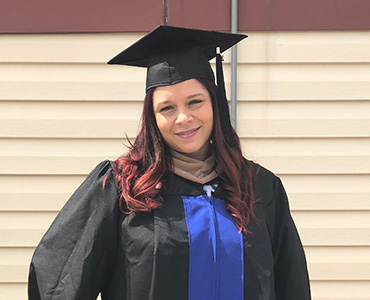 After earning her Master of Business Administration in Management from Berkeley College, Ruth Shaver has embraced her leadership potential at global pharmaceutical company Bayer U.S.
Photo Caption: Ruth Shaver earned her Master of Business Administration in Management in December 2017 and was promoted to a management position at Bayer U.S. this year.