M.B.A. Track Newsletter - August 2018
Meet Dr. Maya Reddi, Professor, School of Graduate Studies
Maya Reddi, Ph.D., joined Berkeley College in 2001 and is one of the founding faculty members of the School of Graduate Studies. Having worked in several countries, Dr. Reddi is a multicultural and global professional, and led students in a Global Immersion Experience to India in 2017. Dr. Reddi is passionate about her work with nonprofits. She served on the boards of the Girls Scouts – Connecticut chapter, and the Red Cross, and currently serves with the Fund for Women and Girls, Fairfield County's Community Foundation.
Q: What makes you passionate about your job? What are the most rewarding elements of being a professor in the Master of Business Administration in Management (M.B.A.) program?
A: Our student demographic is unique – typically, they work full-time jobs, take care of their families, and take the full load of courses. Seeing our students progress through the program, meet course requirements, and deal with academic challenges makes the teaching experience very satisfying. As professors, we see the agonies and the ecstasies and watch as they progress and deal with their hardships. We are partners in their individual journeys and we hold their hands every single step of the way. When a student walks across the dais and receives his or her diploma, it is equally our pride and satisfaction about a job well done!
Q: What stands out to you about the Berkeley College M.B.A. program?
A: The School of Graduate Studies at Berkeley College is much like other M.B.A. programs. The critical difference is the enormous amount of support provided to every student. The program is quite rigorous and as professors, we maintain very high standards. We believe that we should start at the very base and take our students very quickly through various rungs to the very top. Some students are able to do this easily, and some struggle until the very end. Also, students know that faculty are available to them for both personal advice and professional guidance. Our dedicated Career Services is an added value.
Q: What has impressed you about the current cohort of M.B.A. students?
A: The current cohort of M.B.A. students is highly motivated and driven to achieve. They have an inherent need to get their degrees within the two-year period so they can move on to the next phase of their professional careers, without losing more time. I am also impressed by the diversity of their experiences and personalities, their varied learning styles, and, above all, their work ethic.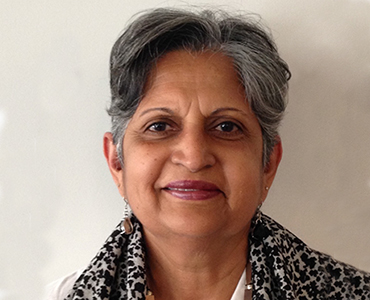 Photo Caption: Maya Reddi, Ph.D., is a global professional, and led students in a Global Immersion Experience to India in 2017.