Berkeley College Knights Win Battle of Top-Ranked USCAA Division II Teams, Defeating Villa Maria
 
FOR IMMEDIATE RELEASE
TUESDAY, JANUARY 29, 2019
Contact: Stephen Spagnoli
Assistant Athletic Director
973-278-5400, ext. 1-4394
Stephen-Spagnoli@BerkeleyCollege.edu
 

BERKELEY COLLEGE KNIGHTS WIN BATTLE OF TOP-RANKED USCAA DIVISION II TEAMS, DEFEATING VILLA MARIA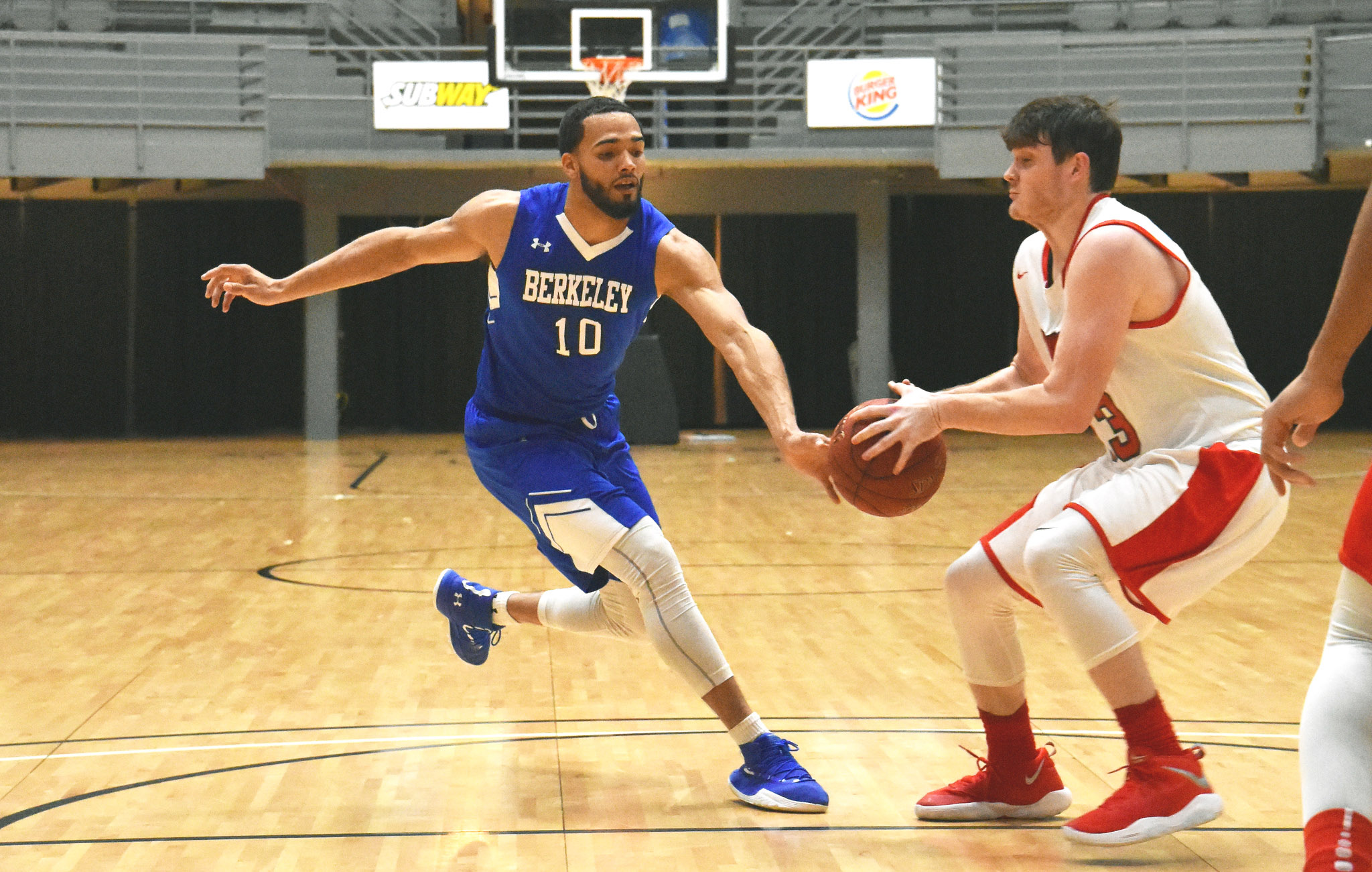 Share the News: @BerkeleyCollege #BerkeleyKnights #NewsBerkeley
The Berkeley College Men's Basketball team picked up a statement victory on January 26, 2019, holding off the Vikings of Villa Maria College by a score of 91-84. The battle between the two 2017-2018 United States Collegiate Athletic Association (USCAA) Division II finalists was held at Baruch College's ARC Arena in Manhattan, NY.
With the triumph, the Knights improved to 12-4 on the season. The Vikings entered the game as the No. 1-ranked team in the most recent USCAA Coaches Poll, with a 19-1 record. 
In the victory for Berkeley College, Nicholas Cora of Tampa, FL, posted game-highs of 23 points and 19 rebounds. He connected on 10 of his 16 attempts from the floor, while also completing three of his four shots from the charity stripe. He recorded three steals.
Anthony Hemingway of Brooklyn, a graduate of NIA Prep, and Deylon Bovell, also of Brooklyn, a graduate of Transit Tech CTE High School, recorded 13 points each for Berkeley College. Veterans Ricardo Ayuso of Brooklyn, a graduate of Redemption Christian Academy, and Nigel Hemingway of Brooklyn, a graduate of Grand Street Campus, recorded 12 points each for the Knights.
Despite the loss for Villa Maria, DeJaun Owens finished with a team-high 22 points and recorded five rebounds. Dominic Douglas contributed 18 points for the Vikings, and Lonnie Taylor had 13 points, 10 caroms, five assists, and two steals. 
The Knights will look to record six consecutive wins in January when they host Davis College in a Hudson Valley Intercollegiate Athletic Conference game at Borough of Manhattan Community College on January 30, 2019 at 7:30 p.m. 
Photo Caption: Nicholas Cora of Tampa, FL (above), posted game-highs of 23 points and 19 rebounds in Berkeley College's 91-84 win over Villa Maria College. Anthony Hemingway, Deylon Bovell, Ricardo Ayuso and Nigel Hemingway, all of Brooklyn, NY, also contributed to the victory.
About Berkeley College
A leader in providing career-focused education since 1931, Berkeley College is accredited by the Middle States Commission on Higher Education and enrolls more than 7,000 students – including more than 350 international students – in its Master's, Bachelor's, and Associate's degree and Certificate programs. Students can study in more than 20 career fields. Berkeley College is comprised of the Larry L. Luing School of Business®, the School of Professional Studies, the School of Health Studies and the School of Liberal Arts. The School of Graduate Studies offers an MBA in Management online and in Woodland Park, NJ.
Berkeley College has three New York campuses – Midtown Manhattan, Brooklyn and White Plains. In New Jersey there are four campuses – Newark, Paramus, Woodbridge and Woodland Park. Berkeley College Online® serves a global population. For five consecutive years, U.S. News & World Report has named Berkeley College among the Best Colleges for Online Bachelor's Programs and among the Best Online Bachelor's Programs for Veterans. The website address is www.BerkeleyCollege.edu. 
- end -