Meet the Knights: Ricardo Ayuso of Berkeley College Knights Leads the Way to Victory
 
FOR IMMEDIATE RELEASE
WEDNESDAY, JANUARY 23, 2019
Contact: Stephen Spagnoli
Assistant Athletic Director
973-278-5400, ext. 1-4394
Stephen-Spagnoli@BerkeleyCollege.edu
 

MEET THE KNIGHTS:  RICARDO AYUSO OF BERKELEY COLLEGE KNIGHTS LEADS THE WAY TO VICTORY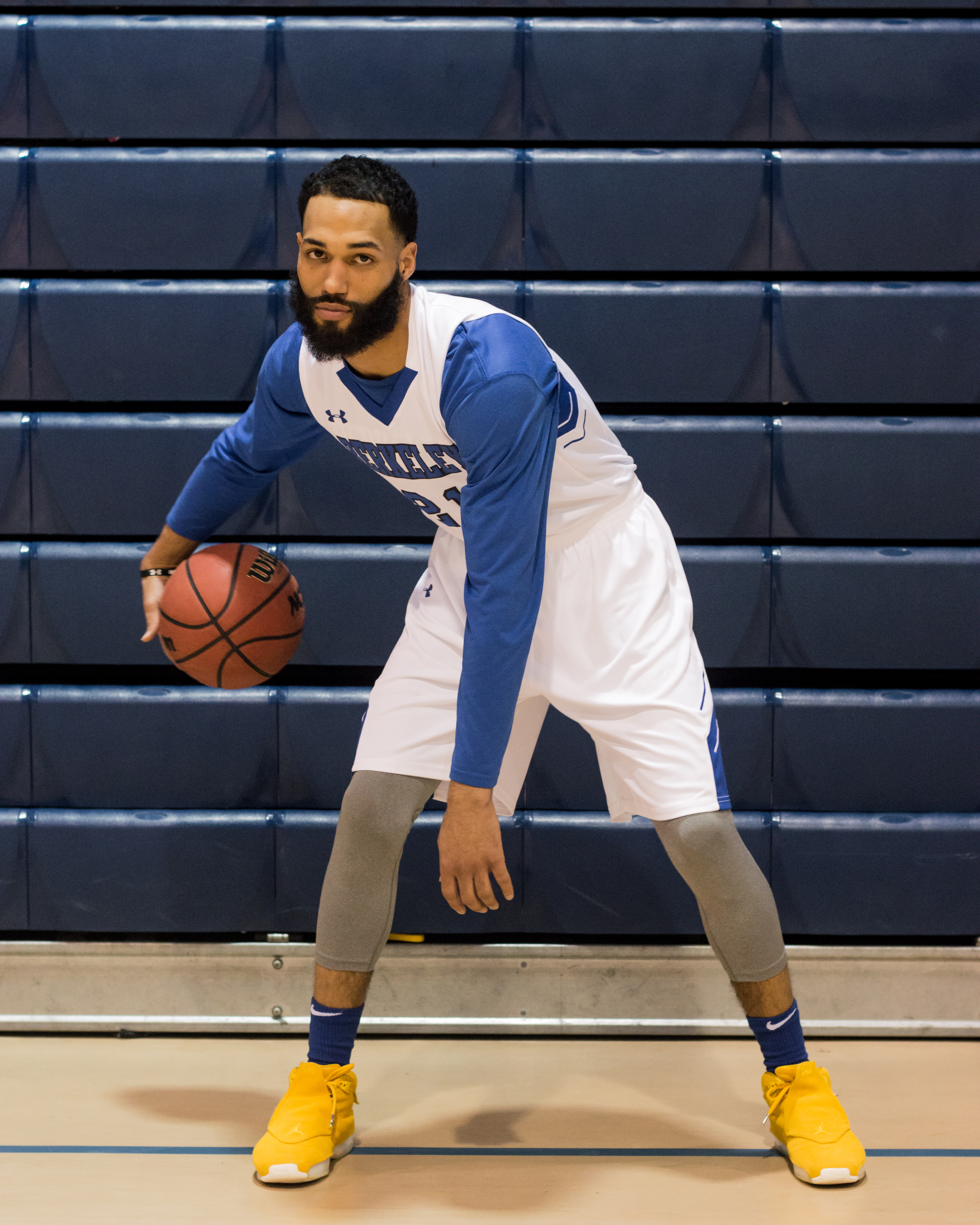 Share the News: @BerkeleyCollege #BerkeleyKnights #NewsBerkeley 
According to Jonathan Pena, Head Coach, Berkeley College Men's Basketball team, Ricardo Ayuso of Brooklyn, NY, has been a standout. "Ricardo continues to show how gifted he is whenever he steps on the court," Mr. Pena said. "He really is an exemplary player who displays many of the attributes of an all-star. He shows leadership, motivation, has great discipline and is mentally tough."
Mr. Ayuso was named Hudson Valley Intercollegiate Athletic Conference (HVIAC) Player of the Week two times this season. He scored the game-winning three-point basket against NHTI, Concord's Community College, NH, during the first game of the new year on January 6, 2019, to lead Berkeley College to a 90-87 win. His 18.4 points-per-game average is a team best.
The outstanding student-athlete also displayed his talents in previous seasons. Mr. Ayuso is a two-time HVIAC champion and a two-time United States Collegiate Athletic Association (USCAA) national champion. He was named 2017-2018 HVIAC All-Conference player and a 2017-2018 USCAA Second Team All-American.
Mr. Ayuso attended Redemption Christian Academy in Brooklyn and plans to graduate from Berkeley College in 2019 with a Bachelor's degree in Business Administration – Management. He recently shared his Berkeley College experiences and his plans for the future: 
Q: What is your message to young players joining the team next season? 
A: My message to the new student-athletes is: Be ready to work. Many people wish they could be a part of something as special as this. Take advantage of every opportunity and work hard every single day. 
Q: What is the best part of being a member of the Berkeley College Men's Basketball team for three seasons? 
A: The best part for me has been seeing all the work I put in pay off on the basketball court. As Coach Chris Christiansen (Head Coach Emeritus) often says, "You have to be uncomfortable before you feel comfortable."
Q: How has being a student-athlete at Berkeley College changed your perspective on life?
A: Being a student-athlete at Berkeley College has not been easy. With a job, classes and practice, I have less personal time. But it has changed my perspective in life by showing me that through hard work anything is possible.
Q: What are your goals following graduation?
A: Playing basketball professionally has been a dream of mine for quite some time. But I can look at careers in marketing and accounting also, since I will have my degree in Business Administration – Management.   
Photo Caption: Ricardo Ayuso of Brooklyn, NY, led the Berkeley College Knights to a 90-87 win against NHTI, Concord's Community College, NH, during the first game of the new year on January 6, 2019.  
About Berkeley College 
A leader in providing career-focused education since 1931, Berkeley College is accredited by the Middle States Commission on Higher Education and enrolls more than 7,000 students – including more than 350 international students – in its Master's, Bachelor's, and Associate's degree and Certificate programs. Students can study in more than 20 career fields. Berkeley College is comprised of the Larry L. Luing School of Business®, the School of Professional Studies, the School of Health Studies and the School of Liberal Arts. The School of Graduate Studies offers an MBA in Management online and in Woodland Park, NJ. 
Berkeley College has three New York campuses – Midtown Manhattan, Brooklyn and White Plains. In New Jersey there are four campuses – Newark, Paramus, Woodbridge and Woodland Park. Berkeley College Online® serves a global population. For six consecutive years, U.S. News & World Report has named Berkeley College among the Best Colleges for Online Bachelor's Programs and among the Best Online Bachelor's Programs for Veterans. The website address is www.BerkeleyCollege.edu.
- end -