Empowering lives for 90 years!
Berkeley College Knights Win Fifth Consecutive HVIAC Title
 
FOR IMMEDIATE RELEASE
TUESDAY, FEBRUARY 19, 2019
Contact: Stephen Spagnoli
Assistant Athletic Director
973-278-5400, ext. 1-4394
Stephen-Spagnoli@BerkeleyCollege.edu
 

HVIAC CHAMPIONS!

BERKELEY COLLEGE KNIGHTS WIN FIFTH CONSECUTIVE CONFERENCE TITLE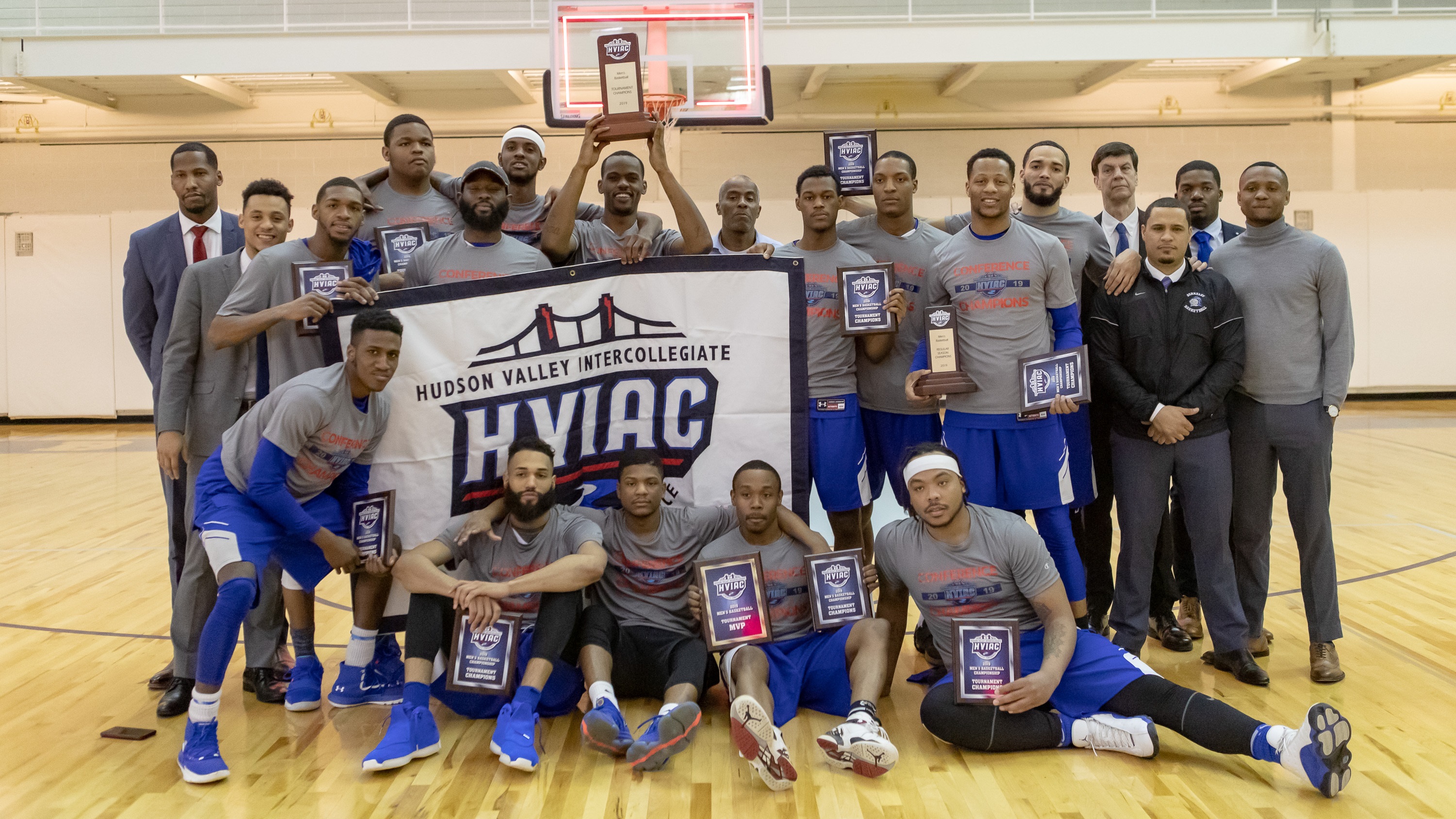 Share the News: @BerkeleyCollege #BerkeleyKnights #NewsBerkeley
The Berkeley College Men's Basketball team defeated the Blue Angels of the College of New Rochelle by a score of 92-82 on February 17, 2019, capturing its fifth consecutive Hudson Valley Intercollegiate Athletic Conference (HVIAC) championship. On March 4, the Knights return to the United States Collegiate Athletic Association (USCAA) Division II Basketball National Tournament to pursue their fifth national title.
The Knight hold a 14-game winning streak and a 21-4 record on the season. The team holds 11 HVIAC crowns.
"Our team came into this contest fully aware that we would be facing a hungry team that would be drawing energy from its home crowd, and I felt we did a good job of never letting the environment get to us," said Jonathan Pena, Head Coach. "Even when we fell behind by nine points, the guys never stopped believing in one another. We've made Berkeley College proud by showing grit, resiliency, and determination – and now we'll shoot toward our final goal of winning another national title."
The College overcame a halftime deficit to capture the win. Nigel Hemingway of Brooklyn, NY, a graduate of Grand Street Campus High School, was named Most Valuable Player of the tournament. He completed the game with 18 points, grabbed five rebounds, and recorded a pair of assists.
Shamiek Sheppard of Brooklyn, a graduate of South Shore High School, connected on seven of his 11 attempts from the floor, and finished with a team-high 21 points. Ricardo Ayuso of Brooklyn, a graduate of Redemption Christian Academy, connected on eight attempts from the free-throw line, finishing the game with 18 points and three steals. Dequan Jones of Brooklyn, a graduate of Pacific High School, netted 13 points and added a game-high six assists. 
With the victory, the Knights receive an automatic bid to the 2018-2019 USCAA Basketball National Tournament. For the latest information on Berkeley College's quest for another USCAA National title, visit www.BerkeleyCollegeKnights.com.
Photo Caption: The Berkeley College Men's Basketball team defeated the Blue Angels of the College of New Rochelle on February 17, 2019, capturing its fifth consecutive Hudson Valley Collegiate Athletic Conference title.
About Berkeley College
A leader in providing career-focused education since 1931, Berkeley College is accredited by the Middle States Commission on Higher Education and enrolls more than 7,000 students – including more than 350 international students – in its Master's, Bachelor's, and Associate's degree and Certificate programs. Students can study in more than 20 career fields. Berkeley College is comprised of the Larry L. Luing School of Business®, the School of Professional Studies, the School of Health Studies and the School of Liberal Arts. The School of Graduate Studies offers an MBA in Management online and in Woodland Park, NJ. 
Berkeley College has three New York campuses – Midtown Manhattan, Brooklyn and White Plains. In New Jersey there are four campuses – Newark, Paramus, Woodbridge and Woodland Park. Berkeley College Online® serves a global population. For five consecutive years, U.S. News & World Report has named Berkeley College among the Best Colleges for Online Bachelor's Programs and among the Best Online Bachelor's Programs for Veterans. The website address is www.BerkeleyCollege.edu.
- end -