Berkeley College Supports HTCNJ on Medical Mission in Ecuador
 
FOR IMMEDIATE RELEASE
TUESDAY, MARCH 12, 2018
Contact: Ilene Greenfield
Director of Media Relations
973-278-5400, Ext. 1-5122
IGL@BerkeleyCollege.edu
 

BERKELEY COLLEGE SUPPORTS HTCNJ ON MEDICAL MISSION IN ECUADOR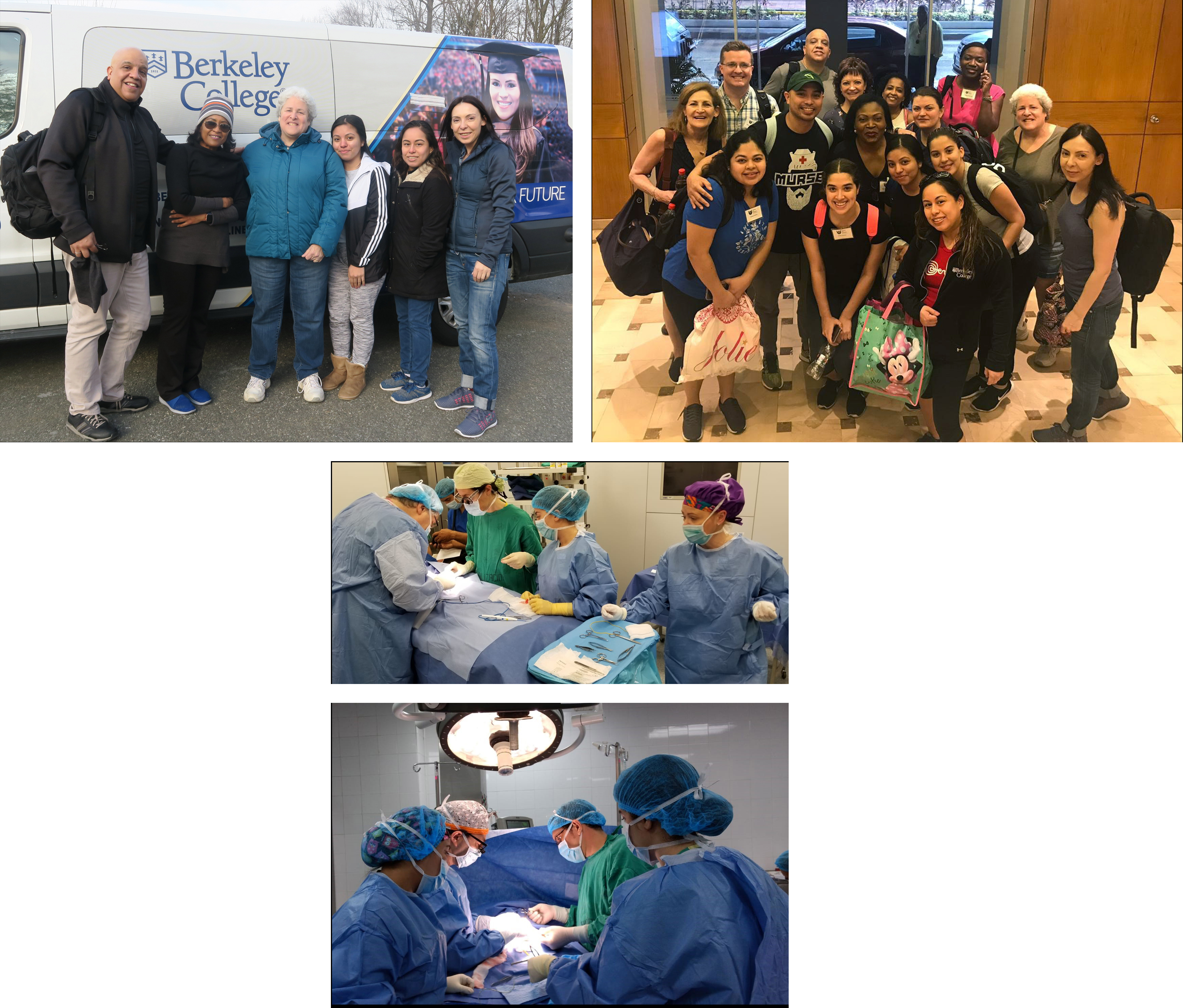 Share the News: @BerkeleyCollege   @HTCNJ
Photo Caption: A team of students, alumni and faculty from the Berkeley College School of Health Studies continue to make a positive impact in the world one young patient and family at a time, through humanitarian efforts in cooperation with other New Jersey healthcare professionals and Healing the Children New Jersey (HTCNJ) at the Roberto Gilbert Children's Hospital in Guayaquil, Ecuador. The team arrived on March 9, screened patients at the clinic on March 10, and began conducting urologic surgeries in two operating rooms on March 11, 2019.  In all, they expect to make a profound difference in the lives of more than 100 children and families before they return to the United States on March 16, 2019. In addition to supporting medical missions abroad, faculty, alumni and students in the Berkeley College School of Health Studies have provided pro-bono care, extending learning beyond the classroom. Students also volunteer their time to count, package and sterilize medical equipment for upcoming medical missions. Professionals on this trip from Berkeley College include physicians, nurses, surgical technologists and surgical processing technicians. Berkeley College has partnered with HTCNJ for more than five years.
About Healing the Children New Jersey
HTCNJ is a nonprofit organization that provides medical treatment and services to disadvantaged children around the world through three unique programs: Medical Teams Abroad, International Inbound, and Domestic Aid.  Volunteer medical professionals travel at their own expense to developing countries to provide life-changing, free surgical care to children who would otherwise go untreated. Since 1981, HTCNJ has helped over 37,000 children worldwide. 
About Berkeley College
A leader in providing career-focused education since 1931, Berkeley College is accredited by the Middle States Commission on Higher Education and enrolls more than 7,000 students – including more than 350 international students – in its Master's, Bachelor's and Associate's degree and Certificate programs. Students can study in more than 20 career fields. Berkeley College is comprised of the Larry L. Luing School of Business®, the School of Professional Studies, the School of Health Studies, and the School of Liberal Arts. The School of Graduate Studies offers an MBA in Management online and in Woodland Park, NJ.
Berkeley College has four New Jersey campuses – Newark, Paramus, Woodbridge and Woodland Park. In New York there are three campuses – Midtown Manhattan, Brooklyn and White Plains. Berkeley College Online® serves a global population. For six consecutive years, U.S. News & World Report has named Berkeley College among the Best Colleges for Online Bachelor's Programs and among the Best Online Bachelor's Programs for Veterans. The website address is www.BerkeleyCollege.edu.
- End -