Robert Parker of Berkeley College Knights - Exceptional Student and Exceptional Athlete
 
FOR IMMEDIATE RELEASE
THURSDAY, APRIL 18, 2019
Contact: Ilene Greenfield
Director of Media Relations
973-278-5400, ext. 1-5122
igl@BerkeleyCollege.edu
 

ROBERT PARKER OF BERKELEY COLLEGE KNIGHTS –

EXCEPTIONAL STUDENT AND EXCEPTIONAL ATHLETE

USCAA Honors Goalkeeper for Academics and Community Involvement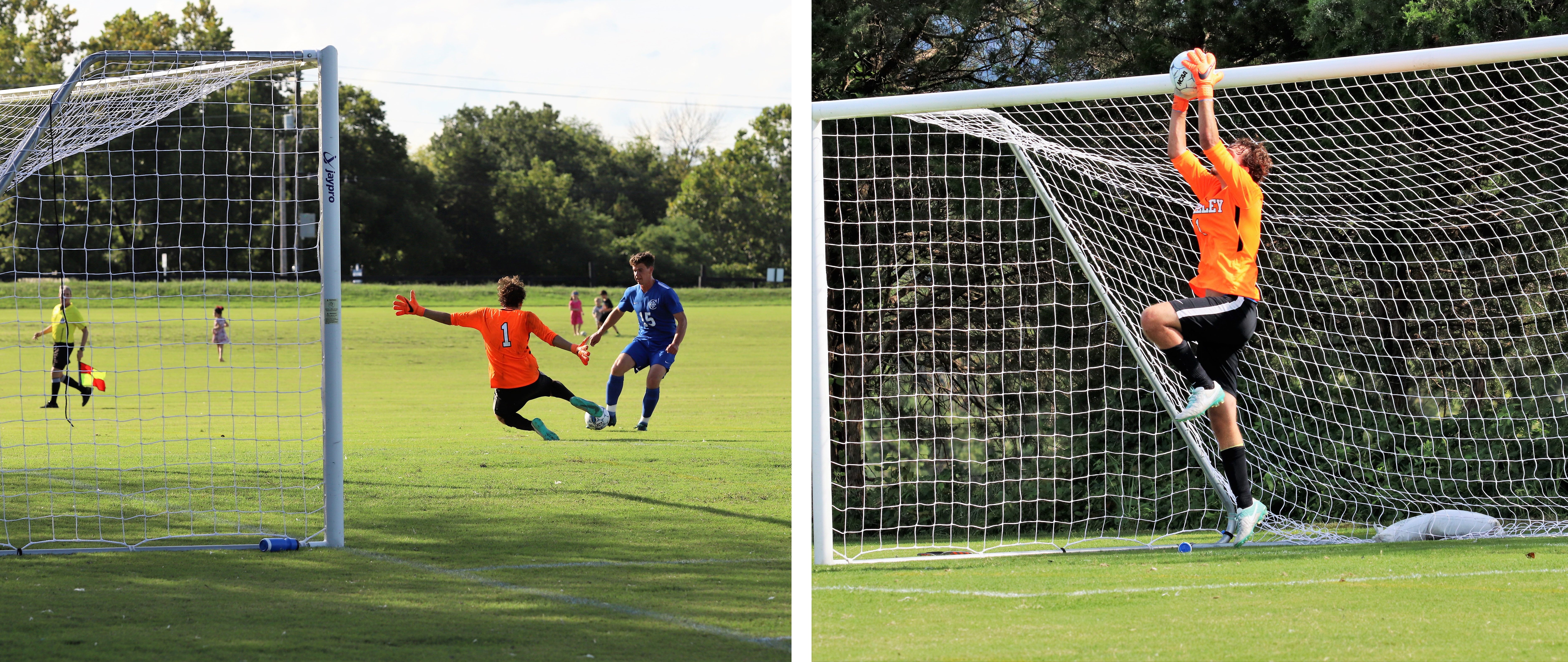 Share the News: @BerkeleyCollege #BerkeleyKnights #NewsBerkeley
Passion. Initiative. Love of learning. Those are the qualities of a student who stands out among his peers and, if you ask Bruno Ferreira, Head Coach, Berkeley College Men's Soccer team, those are the qualities that Berkeley College student Robert Parker of Woodbridge, NJ, possesses.

"Robert is a hard worker in academics with a 3.96 GPA," Coach Ferreira said. "He is also amazing as a goalkeeper on our Berkeley College Knights soccer team. I call him an exceptional athlete, but he's also an exceptional student."
Mr. Parker was named United States Collegiate Athletic Association (USCAA) Division II Men's Soccer Student-Athlete of the Year in November 2018. The emphasis of the award is on academic and community involvement, beyond athletic performance. One player is selected as the award recipient each year in each USCAA sport and division.
"Robert excels on the field," Coach Ferreira said. "In soccer, the best goalkeepers, like Robert, make a lot of moves and last-minute decisions while being aware of other players, and keeping their eyes fixed on the ball." On the field, Mr. Parker logged more than 1,180 minutes last season, and he made 82 saves while posting a goals-against average of 2.06.   
Mr. Parker also is well rounded according to Coach Ferreira. Off the field, he has orchestrated toy drives and local soccer tournaments. He also has volunteered with the Senior Olympics. 
Mr. Parker, who attended Woodbridge High School in Woodbridge, NJ, will graduate from Berkeley College in 2019 with a Bachelor's degree in Business Administration – Management. He is employed as an Inside Sales Representative at the New York Red Bulls, an American professional soccer club in Harrison, NJ.  
Mr. Parker recently shared his experiences and his plans for the future: 
Q:  What are your takeaways from being a student-athlete at Berkeley College? How has it changed you?
A:  I enjoy meeting new people. Sports are a great way of making friendships. And there's nothing like the satisfaction you get when you put in the work and everything comes together.
Q:  What is the best part of being a member of the soccer team?
A: The best part is the family culture that surrounds the team and being able to compete with lifelong friends. 
Q: What is your message to young players joining the team next season? 
A: I always say your individual performance doesn't outweigh the importance of team chemistry. Always stick with one another. Remember it's a team.
Q:  What is your goal following graduation?
A:  I plan to attend Seton Hall University to study for a Master's in Sports Management.  
Photo Captions: Robert Parker of Woodbridge, NJ (in orange shirt), shows his athleticism on the soccer field as he makes a save. The Berkeley College Knights goalkeeper and outstanding student-athlete was named United States Collegiate Athletic Association Division II Men's Soccer Student-Athlete of the Year in November.    
About Berkeley College
A leader in providing career-focused education since 1931, Berkeley College is accredited by the Middle States Commission on Higher Education and enrolls more than 7,000 students – including more than 350 international students – in its Master's, Bachelor's, and Associate's degree and Certificate programs. Students can study in more than 20 career fields. Berkeley College is comprised of the Larry L. Luing School of Business®, the School of Professional Studies, the School of Health Studies and the School of Liberal Arts. The School of Graduate Studies offers an MBA in Management online and in Woodland Park, NJ.
Berkeley College has four New Jersey campuses – Newark, Paramus, Woodbridge and Woodland Park. In New York there are three campuses – Midtown Manhattan, Brooklyn and White Plains. Berkeley College Online® serves a global population. For six consecutive years, U.S. News & World Report has named Berkeley College among the Best Colleges for Online Bachelor's Programs and among the Best Online Bachelor's Programs for Veterans. The website address is www.BerkeleyCollege.edu.
- end -