Berkeley College Faculty Commencement Speaker Moya Bansile-Williams, JD, Acknowledges Hard Work of Graduates, Notes This Is Just the Beginning
 
FOR IMMEDIATE RELEASE
THURSDAY, MAY 16, 2019
Contact: Ilene Greenfield
Director of Media Relations
973-278-5400, Ext. 1-5122
IGL@BerkeleyCollege.edu
 

BERKELEY COLLEGE FACULTY COMMENCEMENT SPEAKER MOYA BANSILE-WILLIAMS, JD, ACKNOWLEDGES HARD WORK OF GRADUATES, NOTES THIS IS JUST THE BEGINNING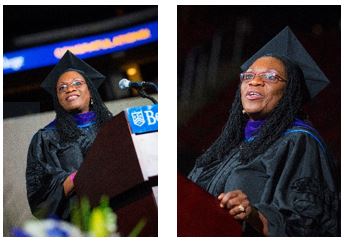 Join the Conversation: @BerkeleyCollege  #BerkeleyGrad2019  #NewsBerkeley
To see a video clip of Commencement go here.
Photo Caption: Moya Bansile-Williams, JD, Legal Studies, Berkeley College School of Professional Studies, took her place on the platform as Faculty Speaker during the 2019 Berkeley College Commencement ceremony, held at Prudential Center, in Newark, NJ, on May 10, 2019, to acknowledge all the hurdles these graduates have overcome to reach this destination. "You took on and won every challenge, blocked out every negative voice and thought, got up when you fell down … and steadied yourself when you stumbled," Professor Bansile-Williams said. "But you kept your eyes on the prize and oh, yes, you crossed the finish line." 
"But today is not the end of your journey – it is only the beginning," she added. "Today is Day One of your next launch. Get ready to take off … it is time to rise to the challenge and apply what you have learned in your field of study."
Ms. Bansile-Williams is a self-employed attorney with more than 20 years of professional experience in the field and 15 years of teaching experience at Berkeley College in the fields of Legal Studies and Criminal Justice – Justice Studies.  She serves as Pre-Law Advisor for the Berkeley College Pre-Law Advisory Center and is a Legal Seminars Instructor in the New York/New Jersey Metro Area. She is a member of the New Jersey State Bar Association and the New York State Bar Association, a Certified Mediator in the State of New Jersey and a Minister of the Gospel in the State of New Jersey. She received her Juris Doctor from Seton Hall University School of Law and a Bachelor of Science in Accounting from City University of New York, York College. She is a resident of Maplewood, NJ.
 
About Berkeley College
A leader in providing career-focused education since 1931, Berkeley College is accredited by the Middle States Commission on Higher Education and enrolls more than 7,000 students – including more than 350 international students – in its Master's, Bachelor's, and Associate's degree and Certificate programs. Students can study in more than 20 career fields. Berkeley College is comprised of the Larry L. Luing School of Business®, the School of Professional Studies, the School of Health Studies and the School of Liberal Arts. The School of Graduate Studies offers an MBA in Management online and in Woodland Park, NJ.
Berkeley College has three New York campuses – Midtown Manhattan, Brooklyn and White Plains. In New Jersey there are four campuses – Newark, Paramus, Woodbridge and Woodland Park. Berkeley College Online® serves a global population. For six consecutive years, U.S. News & World Report has named Berkeley College among the Best Colleges for Online Bachelor's Programs and among the Best Online Bachelor's Programs for Veterans. The website address is www.BerkeleyCollege.edu.
- End -